Guide to identify and avoid BOBBI BROWN fake palettes
I have seen in run up to Christmas an increase in sales of these FAKE/COUNTERFEIT BOBBI BROWN*palettes.One of my workmates has purchased these fake *Bobbi Brown*on eBay,for like£45 !I paid for my genuine B.B palette *MAUVE FACE*£40!! So please read the following and educate yourself on how to spot these counterfeit B.B palettes.
1)GENUINE Bobbi Brown palettes,always have proper B.B brushes with their logo ! FAKE palettes have these plain BLACK,cheap sponge applicators.
2)AUTHENTIC B.Brown,palettes always have proper names on the box such as :SURF&Sand,PINK RASPBERRY&MAUVE FACE.
The FAKE PALETTES DON'T have these names just some madeup title such as :12 colour EYESHADOWS PALETTE or Eyeshadows Palette 12colour shimmer 02!
3)Authentic B.B palettes, will always have on the back of the box proper names of the shades such as:BARE,NUDE,BUFF,COCOA.
FAKES will have :brown,gold ,copper etc you get my meaning!Always ask the seller prior to bidding about the EXACT names of these shades!
See photo comparisons of the fake and genuine palettes.
Below AUTHENTIC B.B palette*MAUVE FACE*PALETTE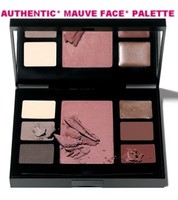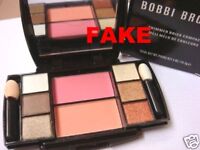 Above FAKE B.Brown,palette,notice the cheap SPONGE APPLICATORS!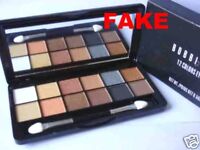 Above another *FAKE* 12 eyeshadow palette&SPONGE APPLICATORS!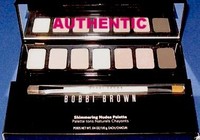 Above *AUTHENTIC*B.B Shimmering Nudes palette*notice the B.Brown,BRUSH with these genuine palettes!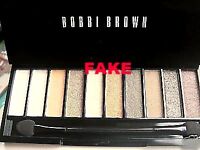 Above FAKE B.B palette,again sponge applicators,shades described as;gold,brown!?
seller **top**boy :counterfeit B.B mascara,eyeshadow palette - 280334236484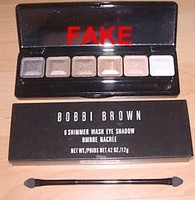 above counterfeit B.Brown palette,described as SHIMMER WASH?
Seller :Lauradsdealz2008 -item number:280318493709 sold 30 of these for £271!!These fakes retail for about £4 each!!
This seller also sells counterfeit MAC mascara,B.B mascara etc!
Joblot of 90 Mac zoom lash mascara :item no:280332117030
Im_sales1987- they sell truckloads of fake B.Brown waterproof MASCARA
Yumma22 -same as above
happyhappyuk- fake B.Brown mascara and eyeliner

Londongirl4040-fake B.Brown mascara,fake MAC eyeliner pencils
Mollymonster2004-fake B.B lipgloss*imported from China*
Bobbi Brown occasionally sells end of the line or overruns which usually can be purchased in larger amounts from US.

Some sellers do not care if they sell you fakes,some pretend ignorance!BEWARE of such statements on the AUCTIONS* RARE *HARD TO FIND*that is totally meaningless and it's still a FAKE!
*Most important ! Fakes have DANGEROUS,DUBIOUS,UNTESTED INGREDIENTS,YOU simply do not know what YOU will be applying directly onto your skin etc!Some of these ingredients have cancer causing agents too!
If you buy these fakes please report them and the SELLERS to eBay and Paypal and keep eBay safe for other users.You may need to take the fake item to Trading standards too in order to obtain a refund from Paypal.
If you purchase a fake please leave,FACTUAL,CALM,NEGATIVE FEEDBACK to protect other bidders and keep Ebay SAFE from counterfeiters.Also know this that if you file a claim with Paypal for SNAD,you cannot take your fake PALETTE/PIGMENT to BOBBI BROWN counter ,and ask them to give you letter in support of your PAYPAL claim.You have not bought this from B.B,so by law they cannot get involved !
If you found this guide helpful,please don't forget to vote :) Thank you
Chiara