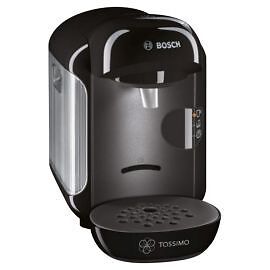 Bosch Tassimo T40 Coffee Machine
When we first had ours I had no idea it was made by Bosch, more known for their drills etc. What I can say is the coffee is great much better than we had with our old filter machine. Its can be very strong if you like it that way or try a bundle pack from Tassimo to see what you like. There are coffees and other drinks by•Carte Noire

•Café Hag
•Kenco
•Jacobs
•Twinings
•Milka
•Suchard
•Cadbury
•Costa
•Oreo
Not just coffee

As you will notice from the list above its not just coffee but Tea, Chocolate even Oreo
Its quite a range. The machine is so simple to use all you do is place the water in the tank on the side. Then pop in one of the pods and press the button. Note get some tall glasses before you use as some drinks are quite big. One thing to be careful of is placing the pods in as on the odd occasion they can move and if you push a hole in the pod and don't notice it can be quite messy. Yep I did it the coffee can be around £4 a pack but shop around or buy in bulk. One tip if you have a garden is cut the old pods open and use it on the garden the plants love it the slugs hate it.

I can sum up how good this machine is by admitting I have a bin bag full of pods out my garden waiting for me to sort out. I know I drink to much coffee but its so lovely and there is no waiting around for it to boil its instant.
I would highly recommend one.