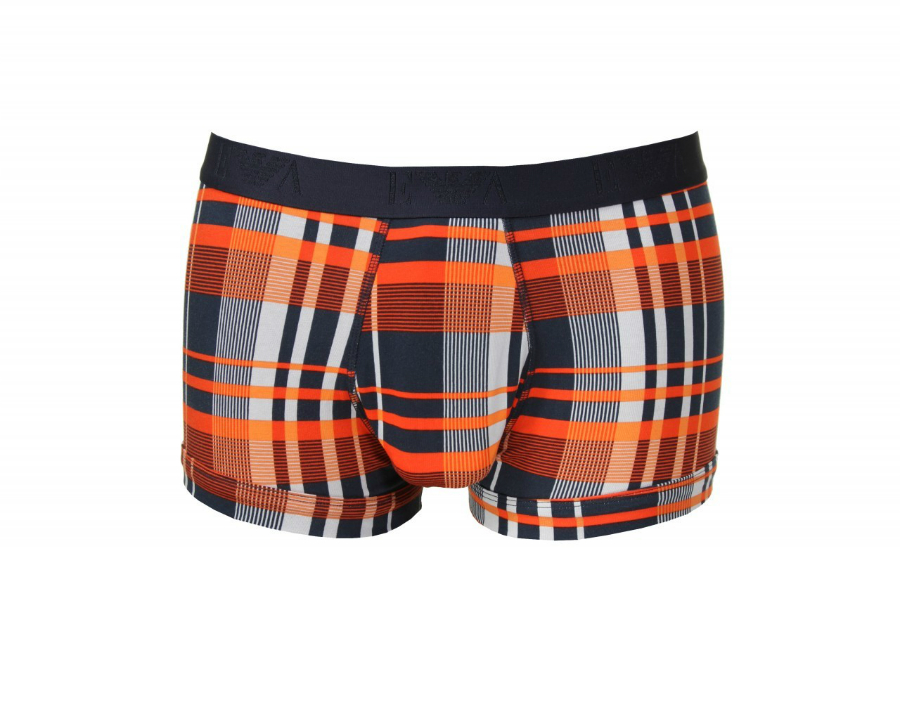 Men's underwear comes in many shapes and sizes, and one of the most popular options is the boxer trunk. Boxer trunks are a type of boxer with shorter legs than the boxer and longer legs than the boxer brief. Most boxer trunks feature a working fly that may or may not include a button or snap.
Boxer trunks come in a variety of different fabrics with different styles but most commonly cotton, polyester and microfibre. Boxer trunks feature solid colours as well as patterns and designs including in plaid, popular culture designs, and even flowers. However, most boxer trunks are quite similar across models despite small differences in seams, fabrics, sizing and even the fly.
Some people are allergic to certain fabrics, and boxer shorts that are too rough, do not have enough stretch, or are too tight could cause a rash, especially on a hot day. Boxers made of stretch fabric with non-elastic legs that do not ride up are a great alternative. When purchasing a boxer, choose boxer trunks for comfort, based on the styles, fabrics, and appropriate size. Although boxer shorts are readily available at retail stores, online auction sites such as eBay also offer a great variety of this product category.
Why Boxer Trunks
Boxer trunks are the perfect in-between underwear for men who do not want to wear full length boxers, boxer briefs, or briefs. Most men find that boxer trunks are comfortable for most activities including work, exercise such as running, swimming, and for relaxing as well. They are one of the most comfortable and least restrictive types of men underwear for the three reasons listed below.
Stretch Fabric
The fabric on boxer trunks is generally made of combinations of cotton, rayon, nylon, spandex, lycra, and polyester, meaning that they have at least a tiny bit of stretch to them. This means they do not cut into the skin or cut off circulation, even during exercise.
Non-Elastic Legs
Unlike boxer shorts and boxer briefs, boxer trunks usually do not have elastic in the legs. Because the leg is shorter, they end right around the thickest part of the thigh and rely on the natural stretch of the fabric to stay down. Because of this, boxer trunks are usually a little more breathable during exercise so the wearer does not have to worry about the legs and crotch area overheating.
No Riding Up
Another important reason that boxer trunks are a great choice for men who want to wear them regularly or during exercise is that they do not usually ride up. Boxer trunks fit snugly to the body due to their elasticity, but are long enough that they do not ride up or cause discomfort like a smaller brief or men's thong could.
Styles and Variations
As mentioned above, there are several styles and variations of men's boxer trunks, but usually they are quite similar. Almost all men's boxer trunks have a working fly, although some can be purely decorative and may not work.
Depending on the model and brand name of the boxer trunk, the fly could be solid body and not designed to open. Some brands also feature buttons and snaps as part of the model.
Other optional features include specific colours and designs as well as patterns. While many men choose solid colours for simplicity reasons, there are plenty of patterns, designs, and other options to choose from, especially when shopping online.
Choosing Fabric for the Climate
The fabric of boxer trunks is an important consideration depending on where the wearer lives. Usually men choose fabrics based on the climate they are living in because it can make a big difference to their comfort and function.
Cotton
Usually the best choice for men who exercise, live in damp climates, or live somewhere cold is cotton. Cotton naturally aerates by allowing air to move through the fabric and wicks away moisture, meaning that it can prevent painful irritation that another material such as polyester might only aggravate. Usually the best quality cotton is Pima Cotton, Supima Cotton, and Egyptian Cotton. However, while being softer than other types of cotton, these types of cotton can be more expensive as well.
Wool
Wool is a cold weather fabric and not really intended for anything but staying warm. Men who choose to purchase wool boxer trunks should ensure that they have another pair to change into for exercise.
Lycra and Spandex
These two stretchy materials are usually found in amounts of 2 to 10 percent in most men's boxer trunks. However, some boxer trunks do not have any stretch, meaning that they are less elastic and less suited for exercise.
Polyester and Rayon
Polyester and rayon are both imitation materials that are generally quite soft and comfortable but are lower in quality retain moisture. Usually these materials are more affordable which makes them excellent budget boxers. Because they usually have a tight weave and hold in moisture, they can cause rash and irritation if the wearer is exercising or in a humid or hot climate.
Microfibre
Microfibre is one of the thinnest materials known to man but is also absorbent, meaning that it shares cotton's quality of wicking moisture away from the skin. Many men choose microfiber because it is soft, comfortable and usually combined with lyrca and spandex to provide a tight fit, attractive look, and flexibility.
Choosing a Size for Comfort and Fit
The next step to choosing men's boxer trunks is to the proper size. Most men's underwear is sold in sizes S, M, L, XL, XXL, and so on. However, there are huge differences in the size across brands and some are sold as 'one size only' or 'plus size'.
Depending on the amount of elastic or spandex in the boxer short, it can be very tight or very loose, meaning that the correct size in a boxer trunk without spandex could be different than the one with spandex.
It's also important to pay attention to the location of the boxing trunks if they are being purchased online. Usually Asian sizes are one to two sizes smaller than traditional western sizes. For example, a size M would most likely be a snug to comfortable fit on a size S and so on. Remember that the exact size depends on the model and the brand, so always check the size chart for the boxer short before purchase.
| | | | | | | |
| --- | --- | --- | --- | --- | --- | --- |
| Size | S | M | L | XL | One Size | Plus Size |
| Measurements | 76-82 cm | 86-92 cm | 91-102 cm | 106-112 cm | max 91 cm | 81-101 cm |
While these are the average measurements for men's boxer trunks, it is important to remember that there are exceptions. Brands do differ between models and there is a great deal of difference between the minimum and max sizes for each size. Be sure to check the measurements and verify that it fits before making a purchase.
Jock Cup and Size Issues
Boxer trunks for men include jock cups, but these are not sized in the same way that women's underwear is sized. The smaller the boxer trunk, the smaller the cup is and vice versa. Men who need a larger cup most likely have to purchase a size or two up from what they would normally wear. In this instance, the best option is to purchase boxer trunks with 10 percent or more of lycra or spandex so that they still fit on the waist without sliding down.
Leg Opening
Most boxer trunks are created with a 'few sizes fit all' mentality. This means that one cannot purchase boxer trunks based on the width of the legs. A person with larger legs might have the problem of a loose waist band with legs that are too tight. Once again, the better option is to go a few sizes up with a high spandex boxer trunk.
Back Seams and Gussets
Back seam and gusset are two terms that most men hardly ever come across, however; they are very important when choosing men's boxer trunks, the thicker the fabric in the boxer trunk, the more likely that the boxer trunk has a back seam as part of the design. This is a seam right down the back of the boxer. This can cause discomfort when one is sitting. Many newer models of boxer trunks do not have back seams, but heavy cotton and wool versions probably do.
Gussets on the other hand are triangles of fabric inserted to allow more room in strategic areas, usually the thigh and the crotch.
Finding Men's Boxer Trunks on eBay
eBay has a large collection of men's boxer trunks including well-known and designer brands, budget brands, and non-branded options. eBay has almost every pattern, colour, and size option available so you have plenty of choices.
If you know your measurements or what size you are looking for, you can type 'Men's Boxer Trunks ' into the search bar on the eBay home page. From there, you can choose options for colour, size, and even pattern.
Select the category that you want, find boxer trunks that you like, and then check the size chart. If one is not provided, try asking the seller or sellers about standard sizes or asking if they are willing to refund or exchange the item if the size is not as expected.
If you want to receive your boxer trunks quickly, make sure you select a local seller who can ship your underwear out more quickly than someone overseas.
Conclusion
Men's boxer trunks come in different sizes and materials but most choices should be based on comfort. Decide what materials would be best for lifestyle and activity level, what budget is and, whether or not they are presentable should appearance be a concern.
Remember that comfort is the most important thing and, if the boxer trunks have spandex in them, it is always better to go a size up than a size down.
Cotton and microfibre are usually comfortable materials, especially if they have a little bit of stretch, because of this they are normally the more popular materials used in men's boxer trunks. It should also be considered that many designer and well-known brands are of higher quality, a little more comfortable, and last longer than cheaper alternatives.
Purchasing men's boxer trunks on eBay is relatively easy. Any well known brand can have the same measurements and quality as an in-store purchase, and most boxer trunks come with a sizing guide. If not, it is easy to ask the seller for additional information.