Unless you're the Hollywood action hero of a blockbuster boxing flick, chances are you won't want to use an old cow carcass to practise on. While it worked for Rocky Balboa, something a little more conventional is in order for your home. Whether you're a gym regular or new to boxing, these pointers to setting up your own punchbag at home will have you ring-ready in no time.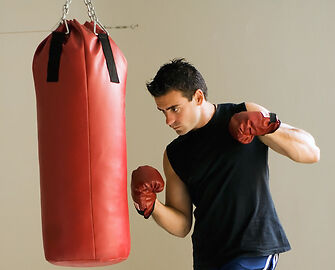 Before you glove up...
Three crucial questions
What types of punchbag are available?
Hanging your punchbag
Additional useful kit
Boxing
is fast becoming a fitness regime in its own right, with many participants taking up the sport to improve all-round fitness and stamina rather than as a combat sport. More and more people are incorporating boxing training techniques into their exercise plans, and that means punchbags are starting to appear in home gyms as frequently as exercise bikes and cross-trainers.
Many gyms are equipped with a range of different
punchbags
. But by installing your own you can skip the queue and know that the bag you use is in good condition. Ask yourself the following three questions and you'll home in on just the right bag.
What kind of training are you planning?
Depending on the nature of the training you hope to begin, you'll need a specific type of bag and certain place to put it. Strength and power conditioning calls for a
heavy bag
, while a smaller,
hanging speed bag
lends itself to reflex and co-ordination workouts.
Think about all the skills a boxer displays: stamina, explosive power, agility. All of this and more can be developed by regular practice on a specialised punchbag. If you have enough space, you might even consider installing multiple bags to ensure a well-rounded boxing training routine.
Where do you plan to install your punchbag?
In an ideal world you'd have a dedicated home gym where you could set up your training equipment. However, reality sometimes dictates having to be a little more creative with the space available, and often you'll have to pick the spot least likely to get in the way.
If you like the idea of a heavy, hanging punchbag, you'll need access to a joist or heavy load-supporting beam. These are often found in a garage or cellar, if you have one. You'll also need plenty of room surrounding the bag so that you can work your way around it. However, it might be more convenient to mount a bag on a stand so that it can be stored when not in use.
How much do you want to spend?
As with most things, you really do get what you pay for with punchbags. If you want to go 12 rounds with a bag, look for tough-wearing leather – it'll prove more expensive but it's far more durable than vinyl. Fittings, straps, supports and the filling will last longer in higher-end punchbags – and you'll find the wear and tear they suffer is greatly reduced in the long run, too.
Punchbag
Type of conditioning
Ability level
Advantages
Heavy bag
Strength, power, endurance
All

Packed with shredded material to give a realistic impact.
Can be bought in various weights to improve fitness.
Can be hung or floor-mounted
Ideal for longer training sessions.
Designed to withstand powerful blows.

Speed ball
Speed, co-ordination, stamina
Mid to high

Won't take up much room.
Perfect for short, controlled, high-speed workouts.
Available in various sizes with different fillings.

Heavy maize ball
Power, endurance, agility
Mid to high

Allows powerful hooks and uppercuts to be developed at close range.
Available in small and large sizes.
Maize filling deadens the impact of heavy punches, which means it's not ideal for long sessions as you may injure your hands.
Smaller version swings to allow ducking and rolling skills to be enhanced.

Angle bag
Strength, power, endurance
All

All-round favourite of many boxing enthusiasts.
Incorporates the best aspects of the heavy bag and the maize ball.
Angled sections let you practise a wider range of punches, developing different areas of your body.
Less dense than the maize bag so exercise sessions can last longer.

Wall-mounted bag
Footwork, body movement, punch combinations
High

Specialised equipment designed to help you improve specific skills.
Rigidity of the system boosts your punching power.
Encourages you to combine deft footwork with punch combos.

Free-standing bag
Strength, power, endurance
All

Great if space is at a premium.
Available in standard heavy bag or 'human torso' form.
All the benefits of a heavy bag, minus the important bounce-back swing after impact.
For a better all-round boxing workout, it's almost always preferable to hang a bag where possible. If space is tight a free-standing punchbag can still be useful and, with a water- or sand-filled base, can offer enough resistance for the most intensive workouts. But a hanging punchbag allows you to hit harder, with more varied shots; as the bag recoils following a punch you are forced to readjust your stance to deliver the next blow.
You'll also find that the punchbag tends to last longer as the impacts are spread around it, while punches tend to land in broadly the same area when a free-standing unit is used.
Here's how to hang one.
Step 1
: Pick a spot that will give the bag about one metre of free space all the way around.
Step 2
: Locate a joist or a stud beam in the ceiling. This is essential to bear the load of the punchbag, even if it is a smaller speedball. You don't want to risk pulling a patch of ceiling down.
Step 3
: Drive an eyebolt appropriate for the weight of your bag into the joist or stud beam. If you are hanging a speed ball, screw its bracket into position instead.
Step 4
: Attach the chains on the top of the punchbag to a swivel hook, and then to an S-hook. The S-hook then slots into the eyebolt. For a speed ball, attach the swivel hook on top to the bracket. In both cases, make sure they are set at your height.
| Item | Why do you need it? |
| --- | --- |
| Boxing gloves | The right gloves are critical to ensure you don't damage your hands. Training gloves are also available. |
| Punchbag chain | You'll need a sturdy chain to withstand your workout. A heavier chain on a hanging punchbag will offer greater resistance for you to work against. |
| Punchbag hook | If you don't want to fix an eyebolt into your ceiling, use a hook set instead, which spreads the weight of the bag along the stud beam it is attached to. |
| Punchbag stand | An alternative to hanging a bag from the ceiling is to suspend it from a specially designed stand. This can then be put away after use. |
| Boxing hand wraps | These will offer further protection from impacts and friction caused by the skin rubbing against the inside of the boxing gloves. |