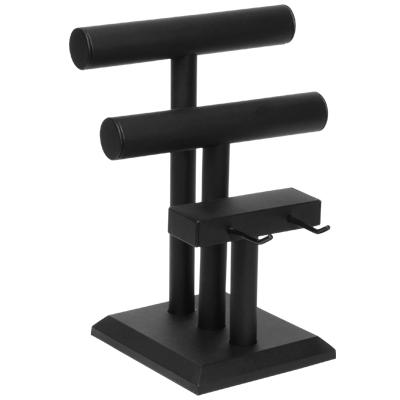 Most people own far more bracelets than they could ever wear at one time. Whether one prefers to wear a string of bangles on each arm, or is content with wearing only one or two bracelets simultaneously is immaterial. All bracelet lovers have one thing in common. The need to suitably store their precious items. For the majority of individuals, the easy answer lies in throwing their bracelets in a drawer, and then digging through the mess when they want to find the appropriate one to wear. Unfortunately, this can cause their well loved jewellery and bracelets to become tangled, and difficult to find. One thing's for certain. People need somewhere to store their bracelets. One excellent option bracelet owners can choose is a display stand. The advantage of a jewellery display stand is that it shows off each bracelet individually, making it easy to find the right one without worrying about them becoming tangled, scratched or difficult to find.
Other Options for Storing Bracelets
Not everyone uses a jewellery display stand to store and display their bracelets. Different people have different methods of storing their jewellery, based on their needs, situation, and even the amount of space they have available. No one solution may meet every person's needs, but understanding all the options makes the decision-making process that much easier.
Using a Jewellery Box for Bracelets
One option many people choose is to store all their bracelets together with their other jewellery in a dedicated jewellery box. This keeps everything in one place, and many often have dividers allowing the owner to keep earrings, necklaces, rings, and bracelets in their own separate compartments. The problem with this option is that there is not a lot of space, which can be an issue when someone has a large amount of jewellery, and that by laying bracelets together in a single compartment within the box they can become tangled.
Keep Each Bracelet in the Box it Came In
Another option, particularly for someone with more expensive tastes, is to keep each bracelet in the box it came in. This has the benefit of providing individual protection for each bracelet so the owner does not have to worry about them becoming entwined. However, a stack of small jeweller's boxes can take up a lot of space, and make it difficult for a person to find a specific bracelet they may be looking for. What's more, opening a dozen boxes can be time-consuming.
Using a Jewellery Display Stand for Bracelets
Using a jewellery stand to store and show off bracelets is an excellent way for owners to make sure they keep control of their jewellery. A stand not only keeps the bracelets separate, but also makes it easy to display the bracelets to their best advantage. This way of displaying jewellery is not only attractive, but also useful as it makes it easy for the owner to see exactly what they have to choose from.
The following table shows some of the advantages and drawbacks that come with each of the different methods of storing and displaying bracelets. Paying attention to these features makes it easier to make a decision that best fits any purchaser's needs.
| Feature | Jewellery Box | Individual Boxes | Display Stand |
| --- | --- | --- | --- |
| Display | No | No | Yes |
| Ease of Organisation | No | Yes | Yes |
| Tangle Prevention | No | Yes | Yes |
| Ease of Access | No | No | Yes |
As can be seen from the above, the display stand has a number of advantages over both the single and individual jewellery box options. It is the only means that allows owners to actually see all of their bracelets at a glance.
Bracelet Jewellery Display Stand Basics
There are two basic kinds of jewellery display stand that can be used to display bracelets. The idea behind the first kind is to replicate a human arm by providing a bar to support the bracelets. It makes perfect sense, the bar provides a surface to both support and set off the bracelet so that it is clearly visible. This kind of stand is especially useful for those bracelets which remain fastened, as the bracelets can be slipped on and off the end. The other basic kind of stand provides a larger but still curved surface. These stands are used to display bracelets in the open position, and are commonly seen in shops. Most buyers who are looking for something for their own personal collection choose the former kind of stand. Even with only one basic type of stand to choose from, there are several factors to consider.
The Number of Arms on the Jewellery Display Stand
Not all display stands have the same number of arms. Many are made in the form of a simple T-stand with one arm extending from each side. These types of stands can provide an attractive display for a number of bracelets. Owners of additional bracelets may be better off with a stand that has two or three arms. When buying such a stand it is a good idea to make sure the upper arms are shorter than the lower ones to ensure balance.
The Material of the Display Stand
There are a number of different display stand materials available to suit different budgets and personal styles, ranging from bare metal and wood to the softness of velvet. Buyers can choose a material to fit either the style of the room, or their own personal tastes. Many bracelets look particularly good when displayed against a field of black velvet. Wood also works well. There are wooden display stands with removable bars so that a large number of bangles can be displayed or removed as desired.
Choosing the Right Bracelet Jewellery Display Stand
The key to choosing the right display stand for any given collection of bracelets is knowledge. The first thing a buyer should do is take the time to inventory their bracelets so that they know what they have to work with. The nature of the bracelet collection helps the owner determine just what they need in a display stand. Someone with a number of expensive bracelets made of gold or other soft metals is more likely to need a stand covered with velvet or other soft material to protect the bracelets. Someone with a large collection of inexpensive bangles is more likely to use something less expensive like wood. Another thing they should consider is their budget. Setting a firm budget helps make it easier to weed out the jewellery display stands a buyer has no intention of buying, so that they can focus their time and attention on the stands in their price range. Also, understanding both their needs, such as the number and kinds of bracelets they need to display, the space in which they have to display them, and their budget makes it easier for a buyer to make an informed purchasing decision.
Buying a Bracelet Jewellery Display Stand on eBay
One excellent place to buy a bracelet jewellery display stand is eBay. The site has a wide variety of display stands and a great set of tools you can use to find just the right one for your needs. The quickest way to find the stand you are looking for is to put your terms in the search box, there is one on every eBay page, and watch the results fill your screen. Once the results appear, you can use the filters in the sidebar to hide the ones that do not meet your needs. You can filter your results by a number of things, including your budget and seller location. Then, once you have the ones that meet your needs, you can take advantage of eBay's sort functions to arrange them so those that best fit those needs are at the top of the list.
After you have found the right jewellery display stand, the next step is to find the seller that best matches your needs. The first place to look is the seller's profile page where you can see everything from their feedback to location. You can also check to see if they offer bundles, or even whether you can pick something up in person if the seller is local.
Conclusion
The key to buying the right bracelet jewellery display stand is knowing the needs of the buyer. For many people, a display stand is the best way to keep their bracelets both safe and organised. The biggest advantage to using a display stand rather than hiding bracelets away in a box is that it makes it easy for the owner to see every bracelet they have at the same time. This makes choosing the right bracelet for a given occasion much easier, as there is no need to search through a pile of boxes to find just the right one. It also prevents bracelets from getting tangled, as can happen when several bracelets are dropped in one compartment of a jewellery box. Buyers can find stands of almost every conceivable material, as well as ones with enough arms to support a huge bracelet collection. Regardless of the number and kinds of bracelets a person may have, there is a display stand for every person that fits all budgets.