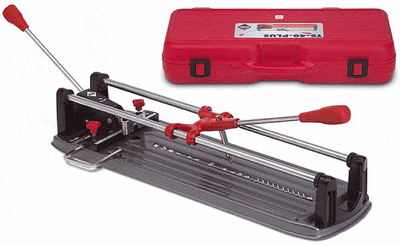 The RUBI tool range was the brainchild of the Boada brothers in Spain. The first fledgling steps of RUBI as a brand were made in 1951 after Germans Boada, S.C produced their first manual cutter for hydraulic mosaic work; from which point the brand and the RUBI name grew exponentially. By the end of 1953, this new product had been decorated with a number of awards, not least at the inaugural national exhibition of inventions held in Barcelona, where it achieved the gold medal and diploma of honour.
Professional Tiling Tools from RUBI
Whilst initially RUBI was just a single cutter, it quickly blossomed into a diverse range; with subsequent products upholding the values and core quality of the original. They also never strayed away from the concept of cutting and laying ceramic tiles, with products specifically designed for the various intricate stages of the process. This specialised approach has made them the global forerunners in this field, which, coupled with their impeccable production standards, has helped them garner a reputation for quality and functionality.
The craftsmanship that goes into each and every RUBI tool is reflected in the quality and accuracy of the results that they produce. Their modern selection of products covers an extensive range of items to help tackle the challenges of tile cutting and laying. Ranging from the
RUBI TX
, built to tackle tiles with a thickness of between 6-20mm, and the diminutive Pocket RUBI tile cutter, design for quick jobs with a maximum thickness of 12mm; RUBI have an unwavering understanding of the requirements that both professionals and DIY enthusiasts have when it comes to tiling.
Specialist RUBI Tools
For those jobs where you need to do something a little out of the ordinary, requiring something other than a standard squaring off of a tile, you may need a specialist stoneware drill. Unsurprisingly RUBI are on hand with a professional solution in the form of Foragres and Minigres diamond coated drills. Purpose-built to tackle the challenges of cutting masonry, ensuring tiles remain secured in place and that they aren't unduly damaged during the drilling process. These are exceptionally accurate and, thanks to the diamond coating, extremely long lasting drill bits; each one can be used in conjunction with any electric drill as long as it isn't a hammer variety.
Essential Tiling Accessories
Of course tiling isn't just about cutting tiles to size; recognising this, RUBI have continually developed products designed for the entire process. From the sponges used to wipe clean the tiles surface to the
RUBI Washboy cleaning tray
, designed to clean the aforementioned sponges after usage, and everything in-between.
Grout saws
,
rubber mallets
and specialised
tile nippers
, anything needed for a complete tiling job you can bank on RUBI producing.