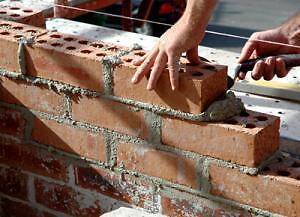 Bricklaying Tools
Bricklaying is a physical, varied occupation that requires organisation, an eye for detail, accuracy and skill. Bricklayers can either work on commercial or residential projects where they use specialist's tools to lay bricks, block stone, glass block or terracotta. Structures include interior and exterior walls, partitions, fireplaces, chimneys, arches and bridges.
The bricklayer uses a wide range of specialist bricklaying tools to work from plans, typically drawn up by architects, building up layers (better known as courses) to arrive at the completed job. Brickwork and blockwork masonry are possibly the most common building jobs, the strength, accuracy and standard of this work usually determining the final outcome of the construction or renovation project in hand
Basic Bricklaying Tools
Top of the bricklayer's hand tool kit list has to be the mighty trowel - the essential "tool of the trade"! A number of trowels are necessary, each with a clearly defined role to play. Firstly, there are brick trowels for picking up and holding, then laying and spreading, mortar on top of the previous brick course and for clearing away surplus "muck" and applying it to ends of brick for the perp joints. They also tend to be used for cutting softer bricks.
The specific choice of shape, size and handle is very much a personal matter, but with almost continuous everyday use and the harsh conditions on site, choosing the best engineered brick trowel from a quality brand is always a good decision. WHS Tyzack does an amazing choice of quality trowels such as the popular
WHS 11" Canadian Brick Trowel with a leather handle
. This has been developed for the professional "Brickie" and will meet the rigors of daily use. The Canadian brick trowel is solid forged from a single piece of high quality carbon steel. The hardened and spring tempered steel has been used to give the right balance between rigidity and flexibility, and the resulting lightweight blade has been taper ground for consistent results. A clear lacquer coating has been applied to the blade to provide protection and the straight edge of the blade is even strong enough to chop bricks and the plastic end cap on the handle allows tamping down without risking damage to bricks. Other quality brands include Marshalltown and Spear and Jackson.
Tool Venture has a wide range of trowels including
Canadian
,
London
and
Philadelphia
style
brick trowels
, stainless steel
pre-worn trowels
,
pointing trowels
,
gauging trowels
,
square corner trowels
,
flooring trowels
,
bucket trowels
and
tuck pointing trowels
.
Spirit Level
It's impossible to build a straight wall without a
spirit level
so make sure you invest in a good quality brand such as
Stabila
or
Stanley
for an accuracy you can trust. Spirit levels come in varying sizes and are used to check the brickwork as it is laid to ensure that the bricks are level (horizontal) and plumb (vertical).
A 120cm or 180cm level is generally the best for building corners and a smaller 60cm or 90cm level is good for general levelling when setting out the first course of blockwork to make sure that course is upright. It may be worth investing in a set of levels. Stabila have handy, quality
level sets
with a carry bag included; alternatively buy individual levels from Stabila or Stanley in your preferred size.
Line & Pins
A
Line & Pin
set is essential for bricklaying or marking out on site, for example when digging trenches for concrete. The line provides a straight edge to work against when tensioned between the two line pins. Line pins are usually made from solid steel and have a large head to prevent the line from becoming detached from the pin during use. The pins also have a tapered end to allow them to be easily inserted into the ground. Having ensured "level and line", is it plumb? Making sure your work is vertical uses both the long level and a plumb setter with plumb bob.
Corner Blocks
These are made from wood or plastic and are used in pairs as an easy method of holding the line up between corners of the brickwork. These are inexpensive and invaluable to the professional "Brickie" and can be used in conjunction with line twigs which are used to keep the brick line from sagging between the line blocks.
Hardpoint Saw
Universal hardpoint saws
are needed for making profile boards and the other homemade "specials" such as a gauging/ranging rod and brick bat gauge. Some jobs may also require a masonry block saw for cellular concrete and other types.
Brick Hammers
Unfortunately most jobs will not be completed with just full bricks. As many types of brick cannot be cut easily with just the one edge of the trowel, other tools will be necessary. A
brick hammer
can be used to either break them or, more commonly, to neaten and shape following cutting to size using a bolster chisel and a
lump (or club) hammer
. Estwing and Stanley are a popular choice for high quality brick hammers.
Demolition Hand Tools
When not actually laying bricks, other tasks call for different tools. For example, sometimes you need to do a little demolition of old masonry first! The
club hammer
, cold chisel and the bolster come into play but pry bars and
crowbars
can also be invaluable. And, as they would say in the Scouts, "be prepared". For many renovation and maintenance projects it is worth having utility knives with a variety of blade types, a small set of wood chisels, a hacksaw with
bi-metal blade
and a couple of tough
screwdrivers
or drill
bit holders
and drill bits if you prefer to use a power driver. Do not forget a
claw hammer
too.
Advanced Brickwork Tools
As in other trades, technological advances and the ever increasing desire to work faster, safer and above all work smarter have brought many new products and improved ways of doing things in the bricklaying and building industry. From demolition to finishing off, the latest options work better and last longer. Here are just a few examples: "Hard cap" chisels with an unbreakable reinforced polymer end cap – giving the dual benefits of having much enlarged surface area to hit and reducing hammer rebound impact on wrists and elbows especially if combined with a cushion grip. Angle grinders with appropriate mortar raking diamond blades making removal of old mortar for re-pointing quicker and easier. Another possibility is a power drill with rotary stop, fitted with an SDS extension and matched with a variety of SDS chisels to either go where the angle grinder cannot reach or for brick cleaning.
Versatile Bricklaying Tools & Accessories
Also helping to reduce dependence on cold chisels and "elbow grease", dry diamond cores can easily create holes for outlets, flues etc., the rapid precision cutting out then requiring no "making good" so saving time and money. With the benefits of modern materials technology, stronger coated measuring tape rule blades giving a longer life are available, so are tougher construction and increased accuracy levels, anti-vibration "tuning fork" hammers and others. Versatility is another theme, the functional utility bar (or FUBAR) is a one multi-purpose tool to do most of the main prying and wrecking tasks. Not forgetting comfort and safety, hard shell knee pads help with ground level working and the innovative "wrap around" style eyewear also provides better all-round vision and protection.
Essential Eye Protection
When using all the different chisels suitable eye protection is a must, add items such as an authentic pair of
safety glasses
in shatter resistant polycarbonate. Choose a CE marked pair and make sure they fit well and are comfortable – you need to be wearing them!
Caring For Your Hand Tools
Finally, as we believe you cannot go too far with health and safety precautions, keeping your tools in good condition means not just keeping them clean and contained. They should be checked and maintained. Watch out for damage to shafts, loose heads and, for example, obtain a bench grinder with a high resistance brush to get rid of any "mushrooming" on the various chisel heads.