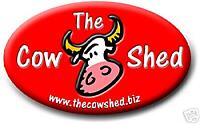 Introduction

Building your log cabin is easier than you may think.
Detailed instructions accompany each log cabin kit, but the information on this page is intended to only give you an indication of how easy our log cabins are to construct. Piece by piece the components fit together to create a log cabin that is at once appealing and enduring. The result is a DIY job to be proud of.
Thorough preparation is the key to success. Familiarise yourself with the instructions, floor plan, and component list before unloading the pallet. Make sure the ground is firm and level.
And don't worry if you have neither the time nor the inclination to build it yourself; any reputable builder should be able to do the job for you.
Foundations

A firm, level base is essential before constructing your log cabin. Remove all organic material from the area on which you intend to build. Then lay concrete, slabs, or compressed gravel to support the cabin's foundation timbers.
An alternative is to lay the foundation timbers on supports spaced no more than 600 mm apart. For concrete or slab foundations we recommend laying a moisture barrier (plastic sheeting or roofing felt) between the foundation timbers and the underlying foundations.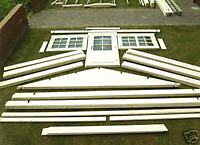 Stage 1
Check off your log cabin components one by one. Lay them out in order around the cabin footprint. Place each component close to where you need it.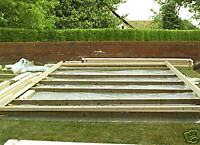 Stage 2
Lay foundation timbers at regular intervals. Place half-height side pieces over the outermost foundation timbers. Allow a 10 mm overhang.
Stage 3
Wall, logs slot together alternately. Nail the first layer to the foundation timbers, then build subsequent layers to an even height all round. Align any vertical drill holes.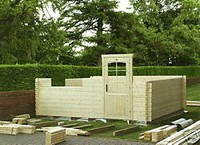 Stage 4
Fit door frames after four or five layers - and windows after another three to four layers. Ensure door and window frames are properly aligned.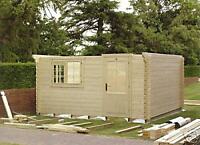 Stage 5
After laying the last wall log, check that the structure is square and that timbers are matched. Once again, check the alignment of windows and doors.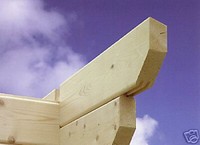 Stage 6
Make sure that timbers fit tightly. If your log cabin includes threaded steel bars or storm lathes, fit them now and hand-tighten the nuts.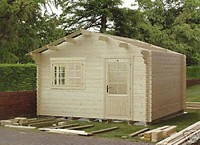 Stage 7
Fit the roof timbers and tighten all bolts after 3-4 days.
Stage 8
Nail the last two roof boards flush with protruding purlins and wall logs.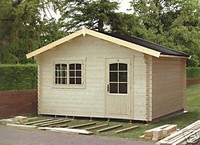 Stage 9
Fix all the roofing shingles, then the floorboards and the terrace.
Stage 10
Add a few finishing touches and you log cabin is here to stay. Call your friends, throw a party, enjoy your handiwork.
Please visit our shop for our selection of Log Cabins, Sheds and Garages
*Please note this Guide is for information only and details will vary between cabins. Always read the Manufactures instructions.
Thank you for reading my guide. If you found it to be informative or helpful, Please click the "YES" button below, your vote is appreciated.