This is a brief guide to building an American Civil War Confederate wargames army using 1/72 scale plastic figures. I use the excellent Fire & Fury rules and make up units, markers and scenery required under that system. However this guide will also be of interest to those using other rules who like to see fellow hobbyist's pictures and maybe pick up one or two new ideas.
Note: I have also written a 'Union' guide (See: Union Guide ) so please excuse some inevitable repetition in parts. Doing seperate US and CS guides does however let me show another 10 pictures and the old saying about a picture being worth a 1000 words is pretty true.
'It is well that war is so terrible less we should become too fond of it." Robert E. Lee
Army size - Like many addicted to this strange hobby I have got carried away and over the years accumulated more figures than I have time left in my life to paint - and I am not yet 40! I have had to limit myself to Napoleonics, Lord of the Rings and the American Civil War. It is with the latter that this guide is concerned and in particular the Confederate side representing the Southern States - 'Johnny Rebs' to face the Union's 'Billy Yanks'.
If you are starting from scratch I'd suggest you need no more than 10 or so infantry units to begin with, plus a few artillery stands, a mounted and dismounted cavalry unit and a few command and supply pieces. Generally the Confederacy was outnumbered by the Union so bear that in mind. Around these core units you can build additional units for all parts of the army as money, time and inclination dictate. One trick you may wish to consider is making flags that slide on and off flagpoles. This enables you to swap state and national battle flags depending on which unit you are depicting. The same figures can therefore be from Tennessee fighting in the West one day and from Virginia fighting in the Eastern theatre the next.
Basing - How many figures you put on each base is up to you. The more you add the bigger your bases will need to be and the more time it will take you to build up your forces. I make my infantry units up of single figures based on 20mm square plastic building card. This allows me to build up many units quickly, to paint the figures more easily, to maximise and appreciate the detailing on individual figures and to easily store the units in the plastic tool boxes I use for this purpose. Cost is also a factor, although at only about 10p each for an unpainted figure it's not a major one compared to metal figures.
Painting - I use Vallejo Game Color acrylic paints and Javis sable brushes. (See:Vallejo Paints & Javis Brushes ). Vallejo are excellent value, compatible with other makes, highly pigmented and come in 17ml eye dropper design bottles usually retailing at £1.40 or less. I won't go into huge detail on painting here as I have written a seperate guide on the subject (see Painting Toy Soldiers ). However for Confederate troops you are going to need a fair amount on Grey (Vallejo Game Color #47, #48, #49 & #50) and Butternut type colours (#37, #39, #40, #42, #43, #45, #61 & #62). Do think about giving your units different blanket and hat colours to help you differentiate and identify them on the battlefield. Obviously the flags you use and the poses you choose will also help this.
Figures - A full listing is given at the end of this guide. See the following pictures for how some of them look painted and based.
(nb - You can see many more painted figure pictures on my hobby gallery site: drumandflagdotcom)
Stonewall Brigade
The above picture illustrates the famous Stonewall Brigade of Virginians originally led by Thomas 'Stonewall' Jackson. I have used a bit of artistic licence here and have a Lou Armistead conversion leading the unit forward. I mix makes and poses up a bit more in Rebel units to reflect their less uniformed look. Most of these guys are from Imex and Accurate/Revell sets. The markers are based on 1p and 2p coins and indicate a breakthrough charge (Armistead), low on ammo (reloading trooper), disordered (wounded man), destroyed (prone casualty) and worn (cotton wool 'smoke'). Two of the latter means the unit is spent and of limited effectiveness any longer.
Orphan Brigade
Here's a unit representing Kentucky. Their nick-name arose from their status as fugitives from their own border state largely controlled by the Union. Again a mix of figures from Imex/Revell/Accurate. The unit destroyed marker is an Esci figure. Note different colours used to represent motley appearance of some units at some stages of the war. It's a debatable point just how smart or ragged Confederate troops were on their various campaigns.
Charleston Zouave Cadets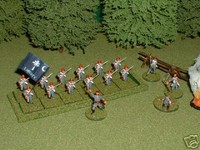 In marked contrast to their Kentucy comrades this South Carolina unit is depicted in smart early war uniform. The pose used here is from the Revell CS Infantry set. My ubiquitous officer figure waving sword is present again - an excellent pose. He too is from Revell - the Union Artillery set. The flagbearer's rifle has been carefully removed and a brass rod flagpole inserted instead. In Fire & Fury the flag stands are the last to be removed and I hand them over to the opponent when the unit is destroyed, surrenders or quits the field as you would with chess pieces. All adds to the flavour...
Tar Heels
Using the same poses as for their South Carolina brothers this set depicts troopers from North Carolina. This state was reputed to be better able to supply regulation uniform to it's soldiers for much of the war and this is how they are shown here. I like the officer figure who is from the Imex Confederate Artillery set (#502). The standing wounded marker is one of the few figures I use from the A Call to Arms Union Infantry set. I presume the North Carolinians were got their nick-name from standing firm in the face of the enemy as if their heels were stuck in tar?
Wheat's Zouaves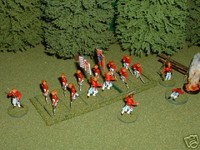 Although the Union had more Zouave units than the South the Rebels were not without their fair share of colourful troops. This unit from Louisiana is depicted in straw hats, red jackets and blue/white stripped pants. It is based around poses from the Italeri Union Infantry set (#6012) with head conversions from assorted Confederate sets. The movement trays help speed up moving your stands about. I make mine from plastic card. The dimensions are approx. 14cm x 5cm. To change to march column all you need do is change the facing on the tray of your stands. For bigger formation assault columns or lines simply put trays one in front of another or side by side.
Louisiana Tiger Zouaves
Here's another Zouave variant from Louisiana. It uses the same poses as Wheat's Zouaves but without the need for head conversions on the main troops from the Italeri Union Infantry Set (#6012). With fearsome reputations I often use these soldiers to represent units with higher ratings in my CS orders of battle. (ie Elite rather than Veteran or Green etc...) Be careful not to over do the elite and famous units in your army though as most armies most of the time were comprised of the solid rank and file.
Dismounted Cavalry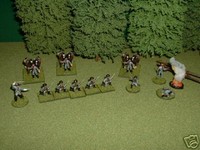 By the time of the Civil War weapon ranges and effectiveness had improved and the role of cavalry as shock troops had declined from it's Napoleonic heyday. This was exacerbated by the terrain fought over in America with more hilly and wooded areas than the open fields of Napoleonic Europe. Hence the cavalry tended to be used for raiding and scouting. When they did fight it was usually dismounted and you will therefore need to depict this in your Confederate force. For every four mounted troopers you will need three dismounted poses and one horse holder marker. The leader figure in this group is from the Revell Confederate Infantry set. The troopers are from the Italeri Union Infantry Set (#6012). The standing wounded man marker is from the Esci CSA set. The horse holder markers are from the Italeri CS Infantry set (#6014) for the man and for the horses the Union Cavalry set (#6013).
1st Virginia Cavalry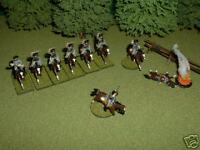 This group depicts cavalry from the Eastern theatre early in the war. Confederate cavalrymen quickly moved to pistols and shotguns rather than sabres as the war progressed. As with the infantry units markers are required and I enjoyed making disordered, breakthrough and destroyed markers for this regiment. All these figures are from the Italeri Confederate Cavalry set (#6011).
Artillery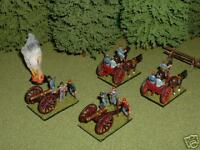 The Confederates had some good Artillery officers but overall this arm was smaller and not as well supplied as their Union opponents. Many batteries were comprised of various calibre pieces requiring different types of munition with all the inherent difficulties that entails. The Union was a major source of CS artillery pieces as it was for captured clothing, boots and small arms. These two pieces are based on a couple of red Napoleons I saw in the Bull Run scenes of the film 'Gods & Generals'. The crew and limbers are from the usual mix of Imex/Accurate/Revell ACW sets but the guns themselves are from Revell's Napoleonic British Foot Artillery set which I thought looked good in this later setting. The Union had more and better pieces, particularly rifled guns with longer ranges. However in many battles where visibility was poor due to hilly woods and thickets the brutal blasting power of the smoothbores was still very effective.
As with infantry and cavalry units you'll need artillery markers. I use a limber for each piece to transport it around. If the limber is damaged or captured the piece is stuck so they are not just markers. Smoke indicates a damaged battery. A wrecked battery stand indicates a destroyed battery. So smoke and ruined pieces of artillery together with your other markers allows you at a glance to get a pretty good idea of the state of play in a manner that adds rather than detracts to the visual appeal.
Vignettes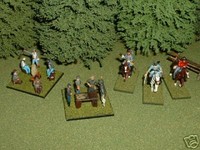 "I have lost my right arm" - Robert E. Lee on the Death of 'Stonewall' Jackson
Here we have a camp fire scene and a staff meeting to add a bit of flavour to your battlefields. It's difficult to make out in these small pictures but most of the seated figures are drivers or passengers from limbers and wagons sitting on barrels and ammo boxes from various accessory sets. The fire is a smaller version of the smoke markers made with cotton wool. The staff meeting figures are Jackson, Lee, Longstreet and an officer of engineers. Jackson is converted from a figure in the Imex Alamo Defenders set. Lee is from the Imex Union Infantry set (#5050), Longstreet from the Revell Union Infantry Set and the officer of engineers from the Revell Pioneers set.
The three mounted figures are painted to represent J.E.B. Stuart, Robert E. Lee on Traveller and A.P. Hill in his red shirt. They are from the Italeri Confederate Cavalry set (#6011). Fire and Fury requires divisional, corp and army leaders that can be attached and detached from units for movement and morale benefits. I have a pool of single mounted leaders, flagbearers and trumpeters that I group together depending on the battle. An army leader stand would have all three held together by masking tape across the underneath of their bases, a corps leader stand would have two figures and a divisional leader stand just the one base. The leaders shown on foot in conference above would be either for display only and their stand carry no significance in the battle (as opposed to the mounted leader stands) or I would designate it as an HQ stand and, as with ammo wagons, assign a victory points value to it and/or morale penalty should it be over run or raided by the enemy cavalry.
1/72 Plastic Figure Sets
Don't be limited by sets that say 'Confederate' on the box. Union sets are just as useful as are several others outside of the American Civil War conflict. See my Union guide for Union sets. (See: Union Army ). Also don't feel compelled to use every pose in a set. Good looking units may require only a few poses from several sets. Use the spares for markers, conversions, vignettes or to sell as surplus back on eBay. For more information on ACW plastic sets in 1/72 scale sets visit plasticsoldierreview.com. If you are into plastic figures in this scale and you have not yet discovered this site yet you are in for a treat - pages and pages of reference material.
Italeri
#6011 Confederate Cavalry (Somewhat larger, chunkier mouldings than the Union set for some reason. Excellent for leaders though and also contains a super dead horse pose for use a a marker).
#6014 Confederate Infantry
#6030 Battlefield Accessories. (Ideal for representing siege works)
Imex
#502 Confederate Artillery (Includes some good infantry poses too)
#504 Confederate Cavalry (Includes some dismounted cavalry and infantry poses).
#506 Confederate Infantry
#507 Civil War Accessories
#509 Alamo Defenders. A good source for Texan caps/hats. Also the flagbearer pose has potential as do some of the officers for conversion.
#514 Munitions Wagon and Ambulance. I give each unit a supply wagon to keep it topped up with ammo and for it to defend from raiding enemy troops, especially cavalry.
#519 Battlefield Accessories. Similar but different to set #507.
#533 Alamo Accessories. Some parts may come in useful.
Accurate
#7203 Confederate Infantry (Same as Revell #2558. Includes 'shot' pose ideal for wounded disorder markers)
#7208 Confederate Artillery (Same as Accurate #7204 Union Artillery = Revell. Contains the excellent officer wielding sword above his head pose.)
#7209 Confederate Pioneers (Same as Accurate Union Pioneers and Revell #2564. Good for vignettes, accessories, officer pose and maybe 'making breastworks' markers. Caution - figures are a tad on the larger side for some reason.)
Strelets
#47 Confederate General Staff. These are mounted. Somewhat stocky and caricatured but could be useful.
Reference Material: See my Union Guide for a list of recommended Civil War books and other media.
You need look no further than eBay for most of the sets listed above. I myself sell numerous Civil War related items in my eBay store across various product lines. Inventory changes regularly so please take a look from time to time. (See: Civil War Items ).
You can see many more and better pictures in the galleries at my hobby site: drumandflag.com
I hope this guide has been of interest. Don't forget to check out my Wargames Markers and Union guides too. (See: Union Guide ). I am happy to answer any questions - contact me via eBay messages, user ID flagbearer101. Thanks for reading this.