This is a brief guide to building an American Civil War Union wargames army using 1/72 scale plastic figures. I use the excellent Fire & Fury rules and make up units, markers and scenery required under that system. However this guide will also be of interest to those using other rules who likes to see fellow hobbyist's pictures and maybe pick up one or two new ideas.
Note: I have also written a Confederate guide so please excuse some inevitable repetition in parts. Doing seperate US and CS guides does however let me show another 10 pictures and the old saying about a picture being worth a 1000 words is pretty true.
"If you don't want to use the Army I should like to borrow it for a while." Lincoln to McClellan
Army Size - Like many addicted to this strange hobby I have got carried away and over the years accumulated more figures than I have time left in my life to paint - and I am not yet 40! I have had to limit myself to Napoleonics, Lord of the Rings and the American Civil War. It is with the latter that this guide is concerned and in particular the Union side representing the Northern States.
If you are starting from scratch I'd suggest you need no more than 10 or so infantry units to begin with, plus a few artillery stands, a mounted and dismounted cavalry unit and a few command and supply pieces. Around this core you can then build up additional units for all parts of the army as money, time and inclination dictate. You may wish to think about theming your troops around either the Eastern or Western theatre and maybe early or late war. The Union Army at Bull Run will have looked pretty different to that at Atlanta for example.
Basing - How many figures you put on each base is up to you. The more you add the bigger base you will need and the more time it will take to build up your forces. For several reasons I make my infantry units up of single figures based on 20mm square plastic card. This allows me to build up many units quickly, to paint the figures more easily, to maximise and appreciate the detailing on individual figures and to store the units more easily in the plastic tool boxes I use for this purpose. Cost is also a factor, although at only about 10p each for an unpainted figure it's not a major one compared to metal figures.
Painting - I use Vallejo Game Color acrylic paints and Javis sable brushes. (See: Vallejo Paint & Javis Brushes ). Vallejo are excellent value, compatible with other makes and highly pigmented coming in 17ml eye dropper design bottles usually retailing at £1.40 or less. I won't go into huge detail on painting in this guide as I have written a seperate guide on the subject (See: Painting Toy Soldiers Guide ). However for Union troops you will need a fair amount of Imperial Blue (#20) and Electric Blue (#23) from the above range. Do think about giving your units different blanket colours to help you differentiate and identify them on the battlefiled. Alternatively you could model your id system on that used by the Army of the Potomac with their different coloured and shaped badges for each Corps, Division & Brigade.
Figures - A full listing is given towards the end of this guide. See the following pictures for how some of them look painted and based.
(NB - You can view many more pictures on my hobby gallery site drumandflag.com)
'Iron Brigade'
The figures above are mainly made by A Call to Arms (set #60). The prone casualty marker has had his base cut off, his limbs flattened out somewhat and is based on a two pence coin. I use this type of marker to mark the spot where a unit is wiped out or quits the field. The other markers are on one pence coins. The reloading figure indicates low on ammo status, two of these indicate that the unit is out of ammo. The converted leader figure brandishing his sword indicates a breakthrough charge. This is one of my very favourite figures and comes from the Revell Union Artillery set (#2565). The converted standing wounded figure to the left indicates the unit is in disorder. This is also one of my favourite figures and comes from Revell's Confederate Infantry set (#2558). Lastly the cotton wool explosion indicates that the unit has moved from 'Fresh' to 'Worn' effectiveness level. Two of these means it is 'Spent'.
Pennsylvania Bucktails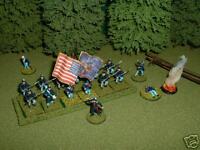 These figures are mainly from Italeri's Union Infantry set (#6012). The injured figure (disorder marker) to the rear is from Revell's Union Infantry set (#2559). Italeri figures tend to be slightly larger than the other makes. If this bothers you you can just use all or no Italeri figures in a particular unit or your whole army.
Irish Brigade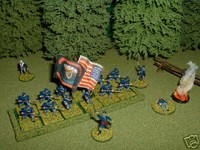 It should be noted that in reality elite units like the Irish Brigade, the Iron Brigade and the Bucktails were few and far between. However for the purposes of showing what can be done with your miniature troops and indeed for differentiating units on a wargames table this is perhaps a bit of a licence we can afford ourselves. Most of the Irish Brigade figures are wearing overcoats as they would have done at Fredericksburg. They are from Revell's Confederate Infantry set (#2558).
'Fire Zouaves'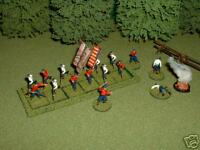 Particularly at the beginning of the American Civil War there were numerous Zouave units. They modelled their dazzling uniforms on the attire of the North African French troops. They look great and are easy to identify but again don't over do it as most units in any sizeable Union force wore regulation dress. These figures are mainly from HaT's Union Zouave set (#8004). The casualty with crutch is one of the few poses from Esci ACW sets I like. The officer is from the Italeri Union infantry set.
The HaT Zouave set is excellent and comes with several useful head options, rifles and packs. HaT are a terrific, prolific manufacturer and yet have only produced this one Civil War set to date. Whilst the market is pretty well served there is still a lack of good Confederate and Union Western theatre troops in slouch hats - too many Kepis all round! Also the common pose of troops advancing or charging with their rifles balanced over the shoulder is not reprented at all - unlike in the metal 54mm collectable figures for instance.
1st Maine Heavy Artillery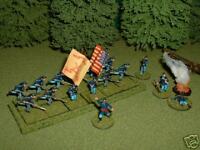 These artillery men saw action on the anniversary of Waterloo at the Battle of Petersburg 18th June 1864. In need of additional troops and reckoning it's major cities were safe enough the Union stripped some of it's heavy artillery batteries in the latter stages of the war to form infantry units. The main pose used here comes from Italeri's Union Infantry set (#6012). The movement tray pictured hold 12 'stands' of troops representing a regiment / brigade / division depending on the action you are fighting and the ratio you are using between your plastic army and the real thing.
Using a tray makes moving figures easier. I made them myself from plastic building card and the dimensions are approx. 14cm x 5cm. For movement in column formation simply change the facing of the stands. For mass assault column use one tray behind another and for bigger units in line put them side by side.
54th Massachussets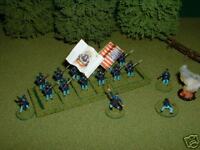 These guys are by A Call to Arms (#60). This set is half colored troops and half Iron Brigade and is very useful although you will need to convert and use figures from other sets as you only get four pose for each. Whilst this set is excellent beware the other Union set they do as it's less useful although I do like the officer waving his hat and the casualty figure. The 54th Massachussets saw action at Fort Wagner led by Colonel Shaw and Flagbearer Carney as immortalised in the film Glory. Slumped casualty figure is by Esci by the way.
20th Maine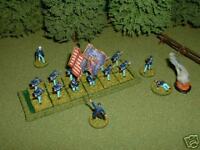 Another famous regiment again immortalised in a great film - this time Gettysburg. The 20th Maine led by Joshua Chamberlain held out on Little Round Top securing the US left flank for Meade on the second day of Gettysburg - July 2nd 1863. These poses mainly come from the Imex Union Infantry set (#505). The flagbearers in this and other sets are easily converted from a variety of poses. Simply remove the rifles with a sharp knife and insert a piece of brass rod for the flag pole. I often make my own flags but you can also source them from Warflag.com. A couple of pieces of gold cotton thread finish off the flag nicely. With Fire and Fury rules the flagbearers are always the last one or two stands remaining and the destruction or capitulation of the unit is symbolised by the removal and handing over of that stand (temporarily!) to your opponent.
39th New York Volunteers 'Garibaldi Guard'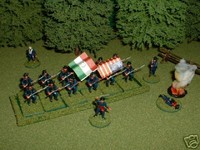 This unit was kitted out in it's distinctive style uniform in the early months of the war as were many other volunteers units and militias on both sides. Whilst they look interesting be careful before painting too many exotic units as First Bull Run / Manassas aside few fancy uniforms were seen in that many battles. I made these a while ago from a pose in Italeri Union Infantry set (#6012) adding heads from Italeri's Confederate set (#6014). These days a more sensible option would probably be to go for Waterloo 1815's Bersaglieri set (#015).
Artillery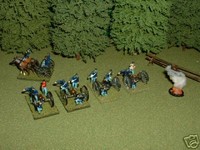 Although infantry was the main stay of both Civil War armies obviously the other arms were vital too - not least the artillery. Union and Confederate sides tended to use both Napoleon 12 pdrs and more modern rifled pieces such as the Parrot. The Union generally had more and better pieces with a greater uniformity of munitions as you'd expect from the richer and industrialised north. The figures shown are from a mix of Imex and Accurate/Revell artillery sets. See list towards the end of the article for more details.
With the Fire and Fury rules I use a limber for each artillery piece as well as a destroyed limber to indicate when a battery is eliminated. The smoke marker indicates a damaged battery. This together with the infantry markers allows you to monitor the status of your units in a manner that adds to the look of your battlefield. As the battle climaxes you get less troops in good order and more smoke, shattered artillery pieces and casualties as you'd expect.
Vignettes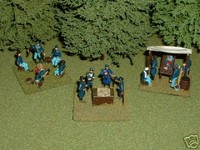 " I can't spare this man - he fights." Lincoln on Grant
I've run out of pictures allowed and my cavalry and leader units are being 'refurbished' at present so I've finished with some mini-dioramas that I use to add a bit of added flavour to the battlefield. From left to right you have a camp fire scene, a general's conference and a hospital.
1/72 Plastic Figure Sets
Note: Don't be limited by just using sets that say 'Union' on the box. Confederate sets are just as useful as are several others outside of the American Civil War conflict. See my Confederate guide for Rebel sets. Also don't feel compelled to use every pose in a set. Good looking units may require only a few poses from several sets. Use the spare poses for markers or sell your surplus back on eBay! For more information on ACW plastic soldiers in 1/72 scale visit plasticsoldierreview.com.
Italeri
#6012 Union Infantry
#6013 Union Cavalry (Includes an excellent dismounted cavalryman firing, a horse pose suitable for use as a 'horse holder' marker and several poses great for army leaders.)
#6030 Battlefield Accessories. (Good for Vicksburg, Petersburg etc...)
#6032 Union Atillery Set. (Awesome set with siege guns, Gattling gun and earthworks)
#6038 Union Artillery. (Same excellent crew as #6032 but with field pieces and a super 6 horse limber).
A Call to Arms
#60 Union Regiments (ie The Iron Brigade and Colored Troops)
Imex
#501 Union Artillery (Includes some useful infantry poses such as running flagbearer)
#503 Union Cavalry (Includes some useful infantry firing poses)
#505 Union Infantry
#507 Civil War Accessories
#514 Munitions Wagons and Ambulance. (I give each unit a supply wagon. If captured or destroyed they can't restock with ammo - adds another dimension and gives your cavalry something to do!)
#519 Battlefield Accessories.
#533 Alamo Accessories. (Some pieces useful for Civil War)
HaT
#8004 Union Zouaves
Accurate
#7202 Union Infantry (Same as Revell #2559)
#7204 Union Artillery (Same as Revell #2565. Contains superb officer with raised sword pose)
#7205 Union Pioneers (Same as Revell #2564 & Accurate 7209 - Contains some useful accessories and an officer of engineers good for staff meeting vignettes. Figures could be used as markers to indicate breastworks/fortifications being thrown up in longer battles such as Gettysburg. Unfortunately the troops in this set are a little on the large side for some reason.)
Esci
#232 Colonial India British Infantry. (Turbans useful for Zouave conversions).
#222 Union & #223 Confederate Infantry sets. (A few useful casualty poses for markers.)
#237 French Foreign Legion set. (For havelock head conversions, especially for early war)
Airfix
#1710 French Foreign Legion. (For havelock head conversions, especially for early war)
Waterloo 1815
#015 Bersaglieri 1859. (Use as Garibaldi Guard)
Emhar
#7212 Crimea Zouaves. Not yet released (as of June 2006) but could be useful for ACW Zouave units.
Strelets
#46 Union General Staff (All on foot. Contains some useful leaders, markers and vignette figures).
Books & Other Media
* Osprey Publishing. This excellent company produce many books across several series on the Civil War covering various aspects such as weapons, fortifications, campaigns, uniforms, famous units and orders of battle. More recent Civil War books have the other Civil War titles listed for you which is helpful.
* Histoire and Collections. Officers and Soldiers of the Civil War Volumes I&II. Lavishly illustrated paperbacks covering uniforms and flags of both sides and all three major arms - infantry, cavalry and artillery.
* Sterling. Uniforms of the Civil War. An indispensible pocket book for figure painters. Probably long out of print now but well worth seeking out.
* Pelican. Flags of the Union.
* Stackpole. Don Troiani's Civil War. Brilliant and luxuriant ACW artwork.
* Cozzens Hartwig. On Campaign - The Civil War Artwork of Keith Rocco. Up there with Troiani.
* Knickerbocker. Civil War Battleflags. Particularly useful if you are interested in the detail of the Army of the Potomac's unit identification system of different shapes and colours for each Corps / Division / Brigade.
* Michael & Jeff Shaara. The Killer Angels, The Last Full Measure, Gods & Generals. Superb trliogy by father and son covering different phases of the war.
* McPherson - Battle Cry of Freedom. Penguin. Probably the best single volume on this conflict.
* Foote - The Civil War Trilogy. Pimlico. Legendary narrative of the War.
* Fire & Fury. The main book contain not just rules but detailed scenarios for Gettysburg and complete Orders of Battle for both sides. It also features many colour pictures and gives hobby advice too. The Eastern and Western scenario books cover half a dozen or so major battles each. Surfing Google will also turn up additional information on adapting Fire & Fury, new scenarios, players tips etc...
* Talon Soft Battleground Series. Probably long out of production now and old fashioned compared to more recent software I still think these are great. Excellent wargaming to be had in it's own right but I also use them for helping me design my tabletop battlefields and for order of battle info. Civil War titles include: Bull Run (I&II), Shiloh, Antietam, Gettysburg and Chickamauga.
* Films. Gettysburg, Gods & Generals, Glory, Cold Mountain.
* Warflag.com. The place to go for flags.
You need look no further than eBay for most of the items listed above. I myself sell numerous American Civil War related items in my eBay store across various product lines. Inventory changes regularly so please take a look from time to time. (See Civil War Items ).
You can see a lot more and better quality pictures in the galleries on my hobby site: drumandflag.com
Hope this guide has been of interest. Don't forget to check out the Confederate Guide and my Wargames Markers article. Happy to answer any questions - contact me via eBay messages, user id flagbearer101.