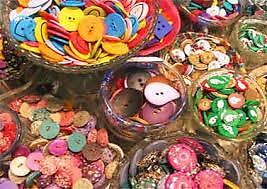 Buttons
Looking for the perfect button to finish the project you are working on. Look no further. Contained in this guide will be all the information you need to choose the perfect button.
Buttons can be made from various different materials. Metal, wood, acrylic, clay even fabric. You could even choose to make your own buttons.

Various shapes and sizes are available within the Ebay community and I have myself bought many buttons this way.
Choosing the colour of your button can have a big impact on your project. Just imagine the satisfaction when you find the perfect shade of periwinkle to revamp those vintage shoes or the perfect scarlet to match that fabulous tea dress you had your eye on.
Also remember to check the size of the required button I usually allow a couple of mm either way and dont forget that you can always check again tomorrow if you dont manage to find that perfect button today
I confirm will be compensated for writing this guide but have used my knowledge to share with you all