A crash helmet is an essential piece of kit for any motorcyclist who is serious about personal safety. Unfortunately, bikers are at a much greater risk than other motorists when driving, especially on country roads and motorways, so it is prudent to select the highest level of protection possible in case of a road accident. Our guide gives you an overview of the helmets available.
Buying a motorcycle helmet
Helmet brands
Choosing a helmet
Full face crash helmet
Open face crash helmet
Modular crash helmet
Vintage crash helmet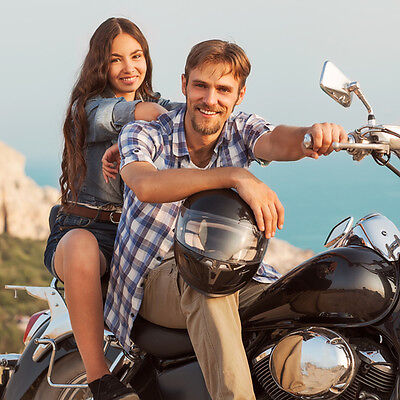 Before you buy
There are a number motorcyclist brands that come highly recommended by experts, but the final choice is often down to personal preference. Always put safety at the top of your priority list.
Motorcycle helmet brands
Choosing a motorcycle helmet
British Standards
When selecting a motorcycle helmet, remember that the main function of a helmet is to prevent and protect from injury. It is a legal requirement for motorcyclists to wear adequate protective headgear that meets either the British Standards SD 6658:1985 and is marked with the BSI Kitemark, or the UNECE Regulation 22.05, so ensure your helmet conforms to these standards.
Get fitted
A crash helmet should be fairly tightly fitted to the shape of your head so that it is sure to stay in place in the event of a crash. As you will be wearing the helmet frequently, it's important to choose a model that is comfortable and has good quality material inside. It is absolutely essential that you are properly fitted for a helmet before purchasing a size. If you don't try it on you may find on delivery that it is not a good enough fit to give you adequate protection.
Comfort
Just as it is important to be comfortable when wearing your helmet, it's vital that the visibility and ventilation are good. You don't want a visor that fogs up when you're driving, or a helmet that doesn't allow air to circulate effectively, leaving you hot and stuffy.
No-go
Never buy a second hand crash helmet. Helmets are single use items, as any severe impact will dramatically reduce their effectiveness and there is no way to guarantee that a used item hasn't been damaged in an accident.
Visibility
huge range of colours and styles of helmet are available to purchase for motorcyclists, but different colours offer different levels of visibility when driving at night. Be careful in choosing colours that are too dark, such as black or red, as these can be difficult to see in the dark. Multi-coloured helmets may also provide less than optimum visibility on the roads. White helmets provide the best visibility in dark conditions as they reflect light from headlights.
Full face crash helmet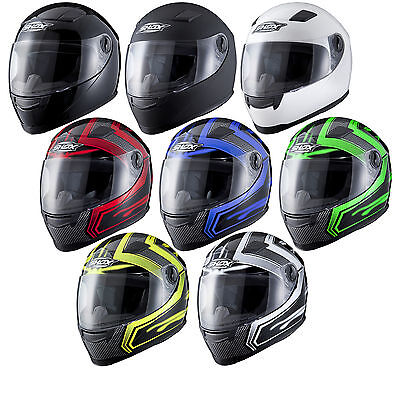 Full-face helmets are the most widely used crash helmet. They provide the greatest coverage and protection of all crash helmet styles as well as great protection from the elements. Full-face helmets greatly reduce the risk of serious skull and brain injuries in case of a collision by providing coverage for the whole skull, a visor to cover the eyes and face, and an added chin bar to protect the jaw. Additional aerodynamics provided by full-face helmets can also help to minimise driver fatigue.
Open face crash helmet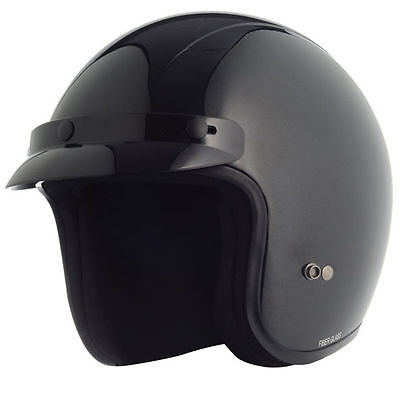 Although it provides the same level of protection to the back of the head as a full-face helmet, the
open-face crash helmet
provides no face protection. Visors may be added to these helmets to minimise glare and protect the eyes from debris coming from the roads, but they are not as protective in a crash. Some drivers prefer an open face helmet, as they are not as hot as full-face helmets during the summer months and do not block out as much noise, which may provide a greater sense of road awareness.
Modular crash helmet
Modular helmets
are a hybrid between a full-face helmet and an open face crash helmet. Like a full-face helmet they have a chin bar for absorbing any facial impacts when the helmet is closed. By opening the helmet the chin bar can be moved upwards or removed to resemble an open face helmet. There is some disagreement between experts regarding the usefulness of the added chinbar on a modular helmet in comparison to a full-face helmet when involved in a crash, although it is generally agreed that they offer more protection than open face crash helmets.
Vintage crash helmets
Mostly falling into the category of 'novelty' helmets,
vintage crash helmets
are not recommended. They perform significantly worse than certified helmets when tested for safety, resulting in a much greater risk of head and brain injury following a collision. Any vintage crash helmet must conform to the same safety standards, so if the helmet you're coveting doesn't have a BSE Kitemark, or isn't covered under UNECE Regulation 22.05, do not buy it.