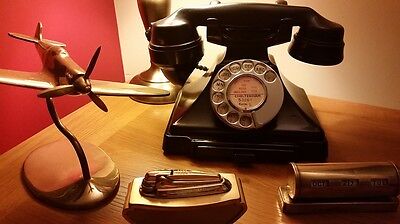 Add a caption
Bakelite Telephone - Spitfire - Perpetual calender - ronson lighter
Why I buy and sell history

For me, buying antiques and collectables is one way of revealing to me the past by looking at various
phases of history through Art, Fashion, Design and trends, from oak furniture, to 20th century household items and
interior design.touching many periods from Magna Carta right up to the modern day.
To wear the fashion styles of the Edwardians through the art deco period and beyond, adorning walls with paintings and prints as well as displaying ceramic ornaments from your favourite period and designers. Buying a piece Georgian silver to decorate your table or look at in your pride of place instead of melting down and destroying a
piece of history.
Part of the fun is visualising famous people of the period, using an item you have bought and to knowing what history was being written at the time, Civil War, days of the British Empire, the Napoleonic wars, the industrial revolution, both World Wars, the Swinging 60's. There are so many periods in history to choose from.
Nowadays there are films and TV dramas like Cromwell, Waterloo, Battle of Britain, Downton Abbey, Gosford Park, and countless others that can give us our fix for history and artefacts.
Even ones personal history becomes more significant the older you become, and a desire to reminisce
familiar parts of your own bygone days through the TV ads of your time: Milky Bar Kid, Esso Blue, Katie Boyles Camay Soap, Spangles Sweets .

The Bakelite phone that you see in black and white films and tv programs as used by John Gregson in 'Genevieve' 1953
Kenneth More in 'Sink the Bismarck' 1960 and as Douglas Bader in 'Reach for the Sky' 1956, and many more.
Remember the bright coloured home telephones that mum and dad had situated in the hall on a telephone table? The phones were in Cream, Black, Red, even Mustard coloured and for the more stylish the two tone Green or Grey were popular telephones. Corgi or Dinky toy cars a Black Riley Pathfinder, a light blue and white Austin Cambridge driving school car with the red wheel on the roof so you could steer it, the James Bond Aston Martin, other toys like your favourite Teddy or Dolly, wooden Dolls houses, The Bunty and Beano annuals, toy soldiers, it all contributes to a lasting memory of our own childhood and defines our past.

Antiques,Collectables, It is all about the look, when you journey to visit the past, there are good reproductions you could buy and there are not so good modern copies that just don't hit the mark.
BUT, if you want to capture the essence of your favourite period in time as well as relive the look and the history it can tell, then you won't go far wrong with an authentic and genuine article with all its patina, dents, scratches and general wear and use of time.
Then and only then can you appreciate the integrity of the item as to how it must have looked then and how it was used in its time, thats the advantage the genuine item has over reproductions and copies.
In the end, It's the item and its history, thats what it's all about isn't it?