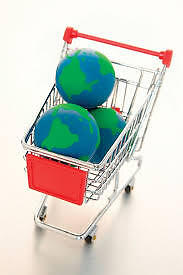 What to think before buying internationally
When you are thinking to buy from outside of your country please make sure you don't spend huge money because most of the country outside of your own will charge you for delivery and if anything goes wrong (e.g; faulty product,not fit purpose or not same as described) then you are liable to pay the return postal charge which can be expensive.

Even you end up sending the product to the seller you definitely want track of it cause you want to have a proof that someone received it which can again add extra charge for your return. So, instead of choosing cheaper always think only few quids extra from same country could save you from lot of stress and frustration.

Buying fragile items such as watch or ornaments from outside of you own country can be very very frustrating sometimes cause if you are waiting to join a party or travelling somewhere and you have ordered such items internationally,although it can take more time to arrive but at the end if the product you received become damaged on the way it is horrendous which might cause you unpleasant time.
Above all always check Paypal charges which will be mentioned in every seller's postage option in the bottom of the product page cause sometimes extra Paypal charge on top of product price which you might come to know afterwards can make you unhappy.