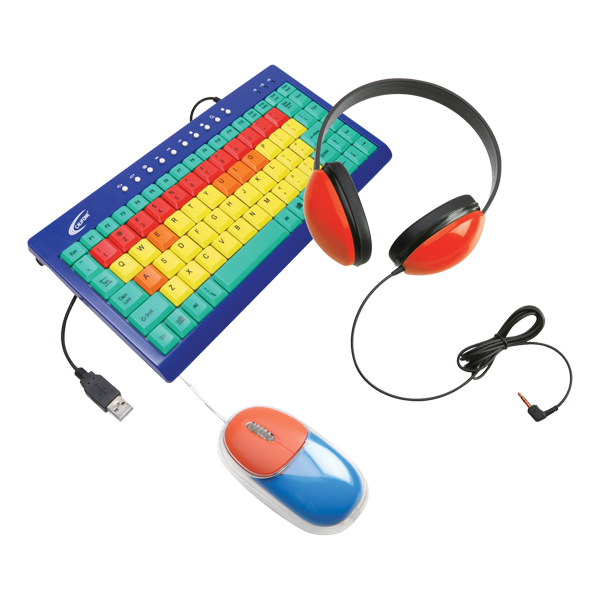 Kids love using computers, and these days, they start learning on laptops and desktops quite young. Consumers can easily adapt their laptop computer or desktop to make it more child-friendly, and easier for children to use without problems. Sharing a family computer is a good way to save money, and buying accessories to make the computer better for children is more affordable than purchasing another machine solely for children"s use.
Kids have smaller fingers and that can be addressed with specific types of keyboards and mice that are especially created for little ones. There are many types of accessories for laptop computers as well as desktop computers on eBay, including cases, desks, mice, and keyboards. Consumers should select age appropriate accessories for a laptop or desktop based on their specific needs as well as budget concerns. Not only do some accessories help children use computers with ease, but they can also protect computers from messy or sticky fingers. Accessories for computers are affordable purchases that serve a purpose when it comes to creating a child-friendly computer experience.
Laptop Accessories
Some accessories for laptop computers differ from their larger desktop counterparts. Laptop accessories make using this small computer easy and fun for kids, along with creating a more comfortable experience for them as well. Accessories made just for kids protect the computer from damage, and make it easier for kids to learn, type, and listen to music or video content on a laptop either at home or on the go.
Cases
A laptop case that is padded and has a handle makes it easy for a kid and young teen to take the laptop on the go. It is also a good option for storing the laptop at home when not in use, to keep it from getting damaged or dusty. Some laptop cases, called sleeves, are simply zip-up cases which do not have handles, but larger ones offer padding and handles or long straps to make carrying laptops easier.
There are many styles and types of cases for laptops including brightly coloured cases or cases with graphics or designs on them that kids enjoy using. There are cases that fit every size of laptop, from a small 12-inch model to a larger 15-inch or 17-inch style laptop.
Decals/Stickers
Decals for laptops are not only decorative, which appeals to kids, but for parents" peace of mind, they also prevent scratches and damage to the external portion of the machine. A decal goes on the outside of the laptop and they are made not to leave any residue so they are easily removable. Decals are available in a wide variety of colours and designs, and together with a laptop case, create a protective environment for the computer, which makes it easier for kids to use it and carry it around without damaging the computer.
Headphones
For kids who like to listen to their favourite music or watch movies and television shows on a laptop, a pair of kids" headphones saves the rest of the family from having to listen to kids" stuff whether at home or in the car. Headphones are created just for kids and fit tiny heads and ears properly. There are a couple of options when it comes to buying headphones for children. Smaller kids should wear the classic over-the-head style with the large earphones that fit over the ears.
Earbuds may be difficult for young children, but older children enjoy the versatility, comfort, and fun designs of children"s earbud headphones. Either way, headphones that fit the children correctly is a good addition to any child-friendly laptop computer.
Mouse
Some kids have a problem using the mouse that comes inside a laptop. Plugging an external mouse into a USB port on the laptop makes it easier for smaller children to use the laptop. There are mice that are created for kids, and made smaller to fit little hands.
Laptop Stand
It is not comfortable for small children to use a laptop as adults do, whether on a lap, on a high desk, or even on a dining room table. Purchasing a small laptop stand for kids is an easy way for children to access the computer on their own level. Laptop stands come in many sizes and small ones are perfect for children. Some of them are called laptop tables, and they are adjustable to meet the right height of each child using the laptop.
Screen Protector
A screen protector is useful when children are using a laptop. A screen protector is simply a clear cover that goes over the laptop"s monitor. It creates an anti-glare screen that protects children"s eyes when they are using the computer, and it is also useful for protecting the monitor from sticky fingers or scratches while being used.
Screen protectors range from a film that clings to the monitor, to thicker screens that fit over the monitor and block out all glare. They are an affordable way to protect children"s vision as well as the monitor itself from damage.
Keyboard Protector
Similar to a screen protector, a keyboard protector covers the keyboard and prevents spills, debris, or dust from getting down into the keys and making it near impossible to clean out. Keyboard protectors are generally made of plastic and are washable. Kids are still able to type on the computer easily, but parents do not have to worry about messes on an expensive laptop"s keyboard. They are easy to remove and care for, and reuse as needed.
Desktop Accessories
Desktop computers are also easy to make child-friendly by adding a few accessories to make these larger computers easier for little ones to navigate and use. Parents should consider the size of the child or children when selecting accessories for a desktop computer to make it easier for them to enjoy using it.
Keyboard
A child-friendly, kids " keyboard can be purchased to make it easier for kids to type. These are usually created with larger keys and rounded edges to make it simpler for kids to use. Another option is to cover the existing keyboard with a plastic keyboard cover similar to the ones available for laptops. This keeps the keyboard clean while children are playing on it, and any spills can be wiped up easily.
Some kids" keyboards offer colour-coded keys to make learning how to type fun for kids, and some are created to be more durable than regular keyboards are. Some keyboards are meant specifically for toddlers, and the keyboard itself is washable.
Mouse
Switching out the regular mouse for a child-sized mouse is a great option for adults who want to make a desktop computer more child-friendly for their little ones. Mice for children are customised to be shaped to fit kids" hands. Some are decorative and shaped like animals, and some are simply just smaller versions of mice for adults. This type of mouse is easier for children to get a grip on and successfully navigate a desktop computer.
Table and Chair or Desk
One of the main obstacles for kids using a larger desktop computer is the size of the desk or chair. Most kids cannot be comfortable using a computer if they are sitting in a chair that is too big. Switching out the existing chair or desk, or both, can create a better experience for smaller users.
A child"s computer desk is the right height for children to use and see a desktop computer with ease, and the keyboard is generally located in a pull-out position that makes it comfortable and simple to use. Kids should not strain to see the monitor or type on the keyboard, and a desk that is perfect for children to use is the best way to make a desktop computer child-friendly for young users.
How to Buy Child-Friendly Laptop or Desktop Accessories on eBay
If you are planning on making your laptop computer or desktop computer easier for children to use, there are many helpful accessories that can help you reach that goal. Find everything from keyboard protectors to kids" desks on eBay. Type your keyword search into the search bar on the home page or any internal page, or navigate to "laptop and desktop accessories" to find what you are looking for. Search for accessories for a laptop based on the size of the computer, and select new or used accessories.
If you are on a budget, you can enter a price range to help you stay within your budget when buying accessories for your computer. Buy laptop or desktop screen protectors, mice, and keyboards from reputable merchants who are Top-rated sellers on eBay, and once you have narrowed down your selection to a few different items, it is easy to compare them by price, condition, brand, or where the seller is located. Picking up an item, especially something large such as a desk or chair, can alleviate the frustration of shipping costs and guarantee you get your item immediately.
Conclusion
Grown up computers are hard for small kids to navigate, but learning and playing on computers is very enjoyable for children. Parents can make their experience easier, more fun, and more comfortable by purchasing specific accessories for kids to use when they are on the laptop or desktop computer. Some of these accessories are also meant to make the computer more durable and protect it from any harm such as spills or scratches.
Parents do not have to leave their laptops at home when they travel; they simply need to purchase accessories to make it safer and easier for children to use the laptop on the go. Computers are used for a wide array of games, videos, and music that all serve to teach and entertain kids whether they are at home or on the go. Computer accessories make these activities so much easier, and are generally an affordable expense when purchased on eBay.