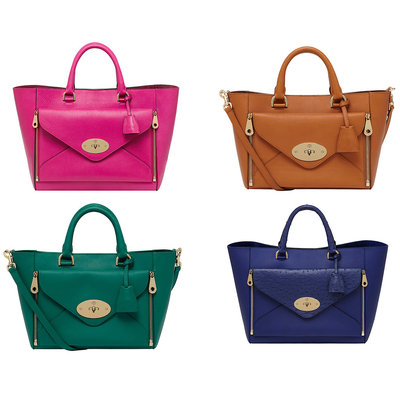 What to look for when buying Mulberry...
When listing items through my seller account, the most communicated question I get is "are they real" "how do I know they are genuine"
Of course, I know that the items I sell are authentic but how can I give that confidence to my buyers?
With Mulberry, there are some very easy signs to identify a fake and then there are the not so easy signs...
Made in... Mulberry originally made their bags in England but have begun outsourcing production to Turkey and China so don't be alarmed if you see this on the care label.
Old vs New... Mulberry are famous for best sellers and as well as constantly designing new handbags and purses, they are advocates of selling the 'classics' all year round. As with anything that has been around a while, there are slight changes to production and new ways of doing things. An example of this are zips and poppers. Older items used to have the Mulberry tree embossed into the zips. Newer ones do not. Poppers are the same. Mulberry used print a mulberry trees around the poppers but now simply place the words mulberry around them.
But on the Mulberry website... another question (or observation) I get is that when comparing my items to the Mulberry website, customers notice differences. A recent example is the placement of the Mulberry logo on the inside. "on the mulberry website" the placement is just below the card slots and on the items I sell, it is placed on the inside just below the zip. Customers first mistake is that they automatically head to the mulberry website as the encyclopaedia of all things mulberry and then become experts on the subject. The placement of the logo to underneath the card slots is a recent change and Mulberry being the originator will have the most up to date stock. what I ask people is to check other websites like Selfridges, Harrods and John Lewis. They sell the same items but their photos are older and show the old placement underneath the zip compartment. Also, this is only specific to the Oak coloured continental wallet and is in its usual place on other colours.
Why the low price?... realistically ebay sellers won't sell their items for the full RRP. If they did, then buyers would go direct to Mulberry to get that confidence and service they expect. what i have done is look at the market to get the best price for me and the customer to build up a confidence in my items.
Go into any high end retailer that stocks Mulberry and you might be lucky to go on a day when they have a one off event where stock is reduced by 20%. 20% off an RRP of £275 is £55. Meaning you can buy your brand new Mulberry purse for £220.
I list my purses for £190-£200 which is only £20-£30 less than that price. I have been playing with pricing since I began selling and have found that if i go to high then people won't pay because they aren't saving money. If i go to low, they are more likely to question the items authenticity because how can anyone sell an item for that price?
Honestly, I source my items at a price that means i can sell on to others at a price that attempts to be the best on eBay and earn a bigger customer base. A bigger customer base means more sales and more positive feedback for my seller account.
Not everyone is an expert... One thing I get a lot is where people are "Mulberry lovers" and therefore are experts in purchasing Mulberry and identifying fakes. All I can say in this situation is that i do this for a living and handle far more Stock than most people will see in their every day lives. I understand that to spend £200 on a purse from ebay is a big investment and a large amount of money for some people. Because you bought a purse 10 years ago which has lasted you this long does not mean that Mulberry have not changed their production methods to make items better and therefore have changed dramatically since your last purchase. i would say that for anyone thinking of buying mulberry on eBay, be aware of the resources that are available to you. There are a number of free websites out there that can help you authenticate your purchase after it is made. The Purse Forum is a fantastic way of posting the details of your item on line and have fellow buyers help authenticate your purchase.
Read the feedback... I work hard to get feedback from satisfied customers. it is the best way to let other potential customers know that the items and service i provide are first class. Some people message me with questions that can be answered just by reading my feedback. i understand that it is not the be all and end all but it goes some way to reassure some customers that if this many people are happy with their item then they will be too. I also ask that people who purchase my items take the time to write feedback. Other customers can only get the confidence to buy when people who had the same experiences write positive feedback.