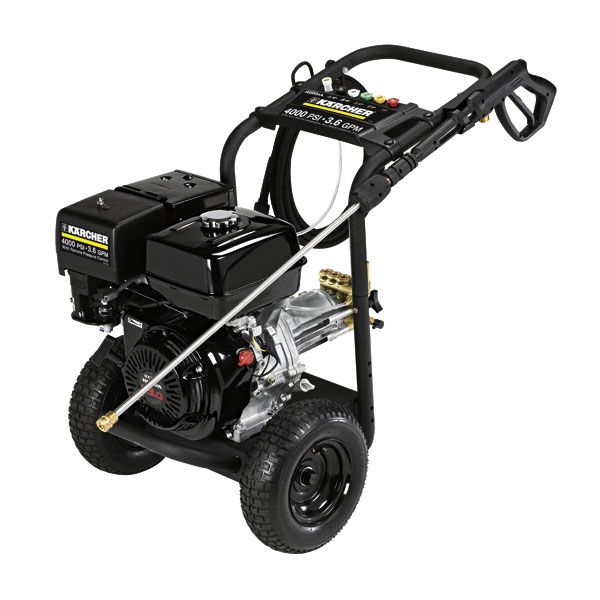 Pressure washers shoot powerful streams of water that users can aim at whatever needs cleaning. They are useful for washing down large industrial areas, parking lots, factory floors, and similar areas. Smaller pressure washers are available for domestic use, on garages, patios, and the exterior walls of houses. Some people use pressure washers to rinse debris from driveways, clean out clogged gutters, or remove old paint from decks or storage sheds.
In many cases, buyers prefer to select used pressure washers in order to save money. However, there are several key features that buyers need to keep in mind as they shop for used pressure washers. A buyer also needs to think about the purpose of the pressure washer, since that directly affects the amount of power needed and the type of pressure washer to be purchased. Pressure washers are available on eBay as well as from industrial supply stores and home and garden shops.
Uses for Professional Pressure Washers
Home or business owners may have exterior footpaths and parking lots that become covered with leaves, twigs, bits of paper, oils, and other unwanted substances and materials. A pressure washer can take care of all that debris, rendering the footpaths and parking areas clean and presentable for potential customers. The power of the pressure washer can remove bird droppings and dirt streaks from the exterior of homes or buildings as well. An industrial space littered with remnants and dust can be cleaned with a pressure washer as well, provided there is adequate drainage for the runoff water.
Types of Pressure Washers
Pressure washers can be divided into two main categories, depending on the source of power or fuel. Petrol pressure washers are used outdoors, and electric pressure washers can be used indoors or outside.
Electric Pressure Washers
Unlike petrol pressure washers, professional electric pressure washers are safe to use indoors. If a buyer need a pressure washer for an indoor area of a restaurant, manufacturing plant, or other facility, he should choose electric instead of petrol pressure washers. Electric pressure washers come in four different types: cold water, hot water, wall-mounted, and handheld.
Electric handheld pressure washers are portable and easy to use. However, they typically have a range of 10 to 11 m from an electrical outlet, since the cord is only that long. If one needs to use the pressure washer in an area where there is no nearby electrical outlet, then an extension cord is necessary. Handheld power washers are useful for rinsing off automobiles and washing down kennel floors, as well as for other purposes.
Cold water and hot water pressure washers usually have wheels for easy transport. They carry more power than handheld models and provide extra pressure for hard-to-clean areas. Stains, grease spots, and mould can be blasted away with hot water pressure washers. The powerful models can even tear away loose paint, so users should be sure not to direct them at delicate surfaces.
Wall-mounted pressure washers are useful if the same area needs frequent cleaning throughout the day. Car dealerships and repair shops often use them, as do commercial kitchens and food preparation facilities.
Petrol Pressure Washers
Petrol pressure washers can give off carbon monoxide fumes, so they are limited to outdoor use. The natural airflow allows the carbon monoxide levels to dissipate and prevents them from causing harm. Like electric pressure washers, petrol pressure washers also come in a few different models, designed to meet the different needs of a business or industrial environment. Hot water or cold water petrol pressure washers are large machines that need wheeled transportation. They also dispense very powerful water streams. One should always use both hands to direct the pressure washer to maintain control and avoid injuring people or damaging property inadvertently. Petrol belt-drive pressure washers are extremely powerful and should be used only in industrial settings as directed in the user manual.
The Functioning of Pressure Washers
The main types of pressure washers function the same way, although they have different fuel sources. The pressure washer uses the water in a regular garden hose but increases the power until it is many times more forceful. The motor inside the pressure washer is responsible for building that extra pressure.
The pressurised water is channelled through a short hose to a wand, a stiff section of tubing to which users can attach different nozzles. The wand allows the user to accurately direct the spray from the pressure washer. The nozzles provide the option for different spray patterns.
Power Levels of Pressure Washers
Not everything can be or should be cleaned with the same type of pressure washer. Some are ideal for cars, while others work well on pavement or concrete. Areas such as garage floors, patios, outdoor furniture, and the siding of houses are all made of different materials and may have different tolerances for water pressure.
Pressure Rating
The pressure rating is one way that buyers can determine the cleaning power of a pressure washer. It is often measured in "bar", a unit used to measure pressure, equalling 100 kilopascals. For instance, a pressure washer may have a regular working pressure of 70 bar and a maximum pressure of 105 bar.
LPM Rating
LPM rating refers to the amount or volume of water that is pumped through a pressure washer. LPM stands for litres per minute, and a higher LPM rating means that the pressure washer should clean surfaces more quickly.
Used Pressure Washers
As with any used product, buyers should take care when selecting a pre-owned pressure washer. Each part of the pressure washer should be functional and intact.
Cracks or Damage
A prospective buyer should examine the hose and the wand for holes or cracks that could allow water to escape prematurely. The exterior of the pressure washer itself may have a few minor dings and scratches, but it should not have any cracks, dents, or major damage. If extensive damage exists, it could be a sign of careless use on the part of the former owner. In such cases, damage to the internal components and the motor is more likely. The buyer should try to find a used pressure washer that not only works, but also appears well cared for externally.
Extra Nozzles
One should try to get a used pressure washer that includes more than one nozzle. This gives users a few options to try as they clean surfaces. Buyers can purchase additional nozzles online as well, provided they fit the model of the used pressure washer.
Fuel Efficiency
Older petrol pressure washers may not use fuel as efficiently as newer models. One should try to find a used pressure washer that is only a couple of years old. It is a good idea to ask the former owner how often the fuel usually needs to be replenished.
Safety
A used electric pressure washer needs to have a ground fault interrupter integrated into its cord. A used petrol pressure washer is an outdoor-only machine and must never be operated indoors. In addition, users should put on goggles, earplugs, and heavy gloves before starting pressure washers. Shoes or boots with good traction can help users maintain balance as floors become slippery with the water from the pressure washer.
Buying Pressure Washers on eBay
Along with thousands of other supplies and equipment pieces for businesses, eBay has many listings for pressure washers. Simply enter a basic terms such as "pressure washers" into eBay's search bar. A results page should appear almost immediately. You can narrow results by the condition of pressure washers, and choose "Used" when you are looking for pre-owned pressure washers. Be sure to save your search in case you do not locate what you want immediately. With the "save a search" feature, eBay can email you every time a seller puts up a pressure washer for sale on eBay.
Watch for listings that have a "Top-rated seller" seal, indicating that the seller has a reputation for quality products and service, with high feedback scores from previous customers. When you purchase from Top-rated sellers, you are more likely to receive a high-quality product delivered to you in a timely manner. Also consider other sellers who may offer return policies, bundles, package deals, or free shipping, even if they do not have Top-rated status.
Conclusion
Before buying used pressure washers, buyers must think about how they plan to use them so that they can select the right type of pressure washers with the appropriate amount of power for their needs. Buyers also need to set budgets so that they do not spend more than they can afford. A used pressure washer needs to be in good condition, with no significant exterior damage or internal malfunctions. Buyers need to decide whether they want petrol-powered or electric models.
While operating a used pressure washer, owners should take care to follow all recommended safety protocols as outlined in the user's manual. They should also wear protective gear for their eyes and hands so that flying bits of debris do not cause injury. With eBay's fast, easy search processes, convenient search filters, and broad range of products, shoppers should be able to locate and purchase used pressure washers that accommodate the needs of a home or a specific business.