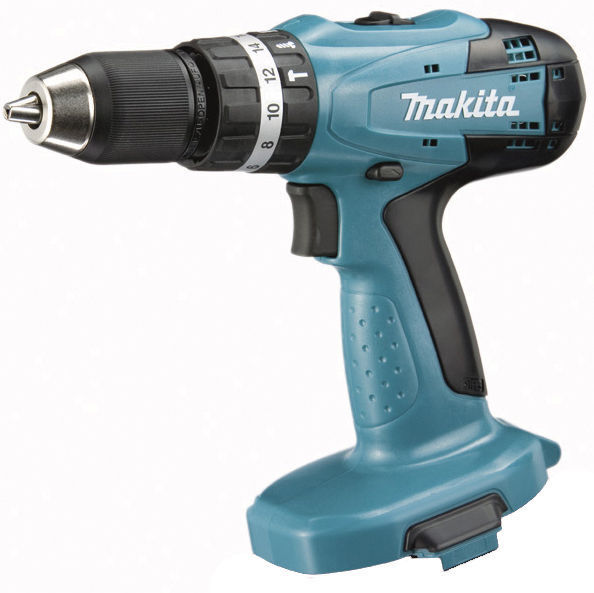 A cordless drill is more flexible and convenient than a corded model and takes the hassle out of working in hard to reach places or areas that are far away from power points. These drills are safer to work with as there is no wire to get in the way and they are usually lightweight for easy handling. In addition, a cordless drill can be used as an electric screwdriver. Buying a used cordless drill is a great way to save money and enables buyers to opt for higher end tools at lower prices.
Knowing what to look out for when buying used cordless drills makes all the difference. Decide whether a cordless drill is the right option and learn what features and attributes to consider before making a purchase. Determine how to evaluate used cordless drills before buying to get the best deal possible. Used cordless drills are available from second hand shops and sites like eBay in the DIY section.
Cordless vs. Corded Drills
While cordless drills have many advantages, some users may benefit more from using corded models . Cordless drills run on batteries so it is necessary to remember to keep the battery charged otherwise it may run flat halfway through a project. One way to avoid this is to keep a spare battery charged, but some may feel that this is not a cost effective solution. In addition, cordless drills are not as powerful as corded drills and are not ideal for using on masonry.
Corded drills have more power and torque, and a continuous power supply. However, they tend to be heavier than cordless drills. The user may need an extension cable to complete jobs far away from a power source and cables tend to get in the way. Those who occasionally need a drill often use electric screwdrivers, or work in hard to reach places should consider buying cordless drills.
Features to Look For When Buying Used Cordless Drills
Several features should be considered when buying used cordless drills. The user should be able to lift and use the drill comfortably without the tool being too light to perform more demanding tasks. If the user wants a drill for light projects, has small hands, or cannot support the weight of a large machine, opt for a less powerful drill. Rubberised handles improve grip and control; the handle should be suited to the size of the user's hand.
Power Ratings of Used Cordless Drills
The power rating of a used cordless drill is related to the voltage. The higher the voltage, the more powerful the drill. Voltages range from 7.2 to 24 volts. However, more power means a heavier, larger battery. The size of the battery does not influence the running time; it simply means more power is available to finish the job faster. Drills rated between 12 and 18 volts are perfect for general use.
Chuck Size of Used Cordless Drills
The drill's chuck holds the drill bit in place and can be key operated, keyless, or special direct system (SDS). This component determines the largest size of bit or accessory that can be fitted to the drill, but not the maximum diameter of the hole that can be drilled. A minimum of 10 millimetres is adequate for the majority of uses and the standard size is 13 millimetres.
A keyless chuck allows the user to change bits and accessories quickly and easily without the need of a special tool or key. A key operated chuck requires a special key when changing bits, but locks more tightly. This is an advantage when drilling through hard materials, but chuck keys are notoriously easy to misplace. An SDS chuck is keyless and found in higher end drills. This system is designed for drilling into hard materials.
Speeds and Gears for Cordless Drills
Cheaper drills generally come with a single gear that transmits power from the motor to the drill bit and chuck. This is good enough for general drilling, but users who require more flexibility should consider buying drills with multiple gears. The lower gear offers more torque at lower speeds for greater control when using the drill as a screwdriver. The second gear offers more speed, but less torque. Reverse gear is used to undo screws or free stuck drill bits.
The majority of drills offer multiple torque settings, making them easier to use on a variety of materials. Variable speed control allows the user to adjust the speed according to the task at hand. A drill's speed is measured in revolutions per minute (RPM) and affects overall performance. Low speeds are better for driving screws, while high speeds are better for drilling.
Batteries for Used Cordless Drills
A cordless drill's battery can make or break it. Lithium-ion (Li-ion) batteries are becoming increasingly popular due to their high performance and better charge holding capabilities. These batteries are kinder to the environment as they do not contain cadmium, a toxic heavy metal contained in nickel-cadmium (NiCd) cells. NiCd batteries offer adequate performance and tend to be the least expensive. Nickel-metal hydride (NiMH) batteries share the advantages of Li-ion batteries, but are less popular.
Battery Chargers for Used Cordless Drills
Also pay attention to the type of charger used. A smart charger recharges batteries faster and reduces charge as the battery becomes full. This avoids overcharging and extends the life of the battery. Regular chargers tend to take longer to recharge batteries and the user must ensure that batteries are not overcharged.
Added Extras for Used Cordless Drills
Cordless drills can come with a host of added extras. Ensure that the features chosen truly benefit the user. For example, a magnetic surface on top of the drill is a great place to hold screws or bits while working; an integrated spirit level makes for more accurate drilling or driving; and a second front handle allows the user to hold the drill steady while using it.
How to Evaluate Used Cordless Drills
Check the general condition of the drill. Cosmetic flaws should not influence the drill's operation, but scuff marks, dents, or cracks could be an indication that the drill was dropped. Even if it is still functioning, it may have been damaged and could stop working in the near future. Opt for a used cordless drill that has been well taken care of. Check the chuck and other components for obvious signs of damage or wear.
Checking Batteries for Used Cordless Drills
Ask the seller about the drill's battery life. It should last long enough to allow the user to complete the desired tasks. Also enquire about recharge times and whether it has a one hour fast charge feature, so that a dead battery is not the end of the world. Research the brand to establish whether replacement batteries are available and what they cost. In some cases, batteries may be interchangeable with other power tools of the same brand.
Checking Accessories for Used Cordless Drills
Ensure that all the accessories required come with the drill. This includes a chuck key and a battery charger. Doing adequate research leaves buyers with clear indications of fair market value and improved product knowledge. If the drill includes accessories when bought new that are not included in the sale, evaluate the cost of buying the accessories separately to work out whether purchasing a used drill without them really is a bargain.
Buying Used Cordless Drills on eBay
Finding the right used cordless drill for you is simple. Type a phrase, such as "used cordless Makita drill" or "used Black & Decker drill", into the search box that can be found on every page to see the items available from eBay sellers. Narrow your search by choosing the most suitable item features. For more control over your search, use the advanced search option.
Evaluate the Item and the Seller
Before you buy on eBay, take a moment to learn all that you can about the item and the seller. Click on an individual listing to view the item listing page where you can find details such as the full item description, paying options, postage and packaging costs, and the seller's feedback information. Always read the full item description. If you have any questions for the seller, click on the "Ask a question" link. eBay's seller feedback feature makes it easy for you to see what other buyers think of a specific seller's products and customer service. Click on the number next to the seller's username to view this information.
Conclusion
Cordless drills have a number of advantages over corded models, especially when it comes to lighter applications. They are easier and more convenient to use, tend to be lighter, and can double as electric screwdrivers. Choosing a used cordless drill allows the buyer to purchase a high-end model at a reduced price or to buy a model with additional or advanced features.
Before buying a used cordless drill, consider the user's needs and the products available. The drill should be powerful enough to complete the required tasks, but not too heavy to use comfortably. The chuck size should accommodate all the necessary bits and accessories. Changing bits should not be an onerous task, but the bits should stay secure while working. The battery chosen should last long enough to make the drill useful.
Used cordless drills should be evaluated before buying to ensure that they perform as expected. The general condition of the drill and its components can be used as a guide. Cosmetic blemishes usually do not affect the performance of tools, but cracks and dents could indicate that the drill was dropped. All the accessories required for operation should be included. Ask the seller for details about battery life and condition or investigate the possibility and cost of buying a replacement battery. eBay sellers offer a range of used cordless drills, from basic to advanced models.