Renowned for their sheer or semi-sheer appearance, voile curtains are as practical as they are elegant and will bring both light and privacy to your abode. Ready-made drapes of all different varieties can be bought off the peg, or you can make you own by purchasing a length of voile fabric.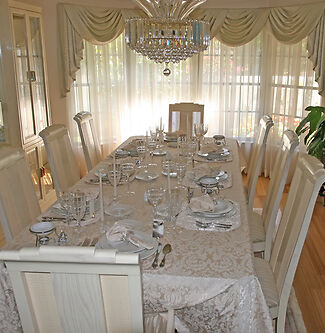 Your companion to voile curtains
Types of voile fabrics
Benefits of voile in the home
Sizes and measuring up
Table of popular voile curtain types
Care and maintenance










What to consider when buying
While bright, vibrant shades can complement an existing colour scheme, more neutral designs might be better if you're planning on redecorating. Off-whites and beiges work well with almost any kind of interior décor and won't need replacing if you have the painters in.
Types of voile fabrics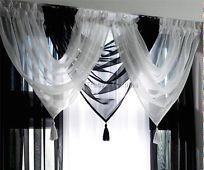 Voile is a beautiful, delicate yet highly-durable type of textile that can be used to create a wide range of curtains. It's often made from a blend of materials including polyester, linen and cotton, so let's take a closer look at the type of voile curtains available.
Polyester blends
Polyester blend voile fabrics are great if you have a tight budget as they tend to be a less expensive option and are easy to maintain. Typically made from 80 per cent polyester and 20 per cent linen, they're highly resistant to wrinkles and are less likely to fade through excessive sun exposure – great news as curtains take a battering from UV rays. Some curtains also contain viscose or cotton, especially if they display a particular pattern or design.
The stiff texture of embroidered voile curtains means they can be embellished with all sorts of elaborate designs, including stripes and floral patterns. Details can either be woven into the fabric or embroidered on top of the material to create a unique tone and texture. Embroidered voile is soft and feminine and tends to be cream or off-white in colour with splashes of pastel shades.
Open weave
As the threads are placed further apart from one another, open weave is far more transparent than a tighter weave. Of course, all voile is sheer; however, the thickness of curtains can vary significantly depending on the style, design and makeup of materials. Open weave is ideal for summer as it's highly breathable and when placed over doorways or windows will still let in a cooling breeze. It's used a lot in hot countries.

Benefits of voile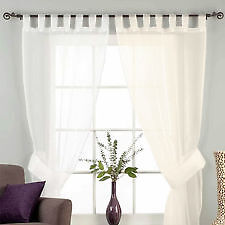 Voile curtains let in plenty of light through the windows while still offering a degree of privacy. It also helps to block out UV rays, which are not only harmful to human beings, but can also fade sofas, rugs and other expensive upholstery. Furthermore, voile is highly attractive and can add a touch of class to almost any style of home.

The other great thing about voile is that it can be layered up to control the amount of light that peeks through the material. Similarly, you can choose the type of voile material you require depending on your needs, with open weave curtains providing a sunnier environment than embroidered varieties thanks to their super-sheer appearance. Voile can also be used alongside thicker curtains to add different tones and textures.

Sizes and measuring up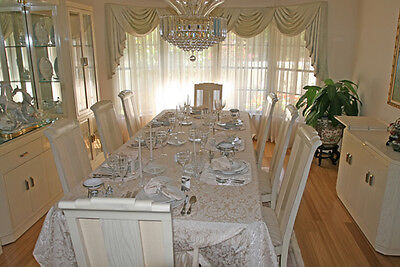 Before making a purchase it's essential to measure up correctly, taking into account the width of the pole or track and how long you want your curtains to be. Here's a rough guide on how to buy or make well-fitting drapes:

Step 1: Decide on a length. Do you want your curtains to skim the floor (a design which can look incredibly elegant) or would you prefer them to fall just below the window sill?

Step 2: Once you've made up your mind, take accurate measurements and write them down so you don't forget. If you opt for shorter curtains, stopping about 15 inches from the bottom of the frame should be just about right.

Step 3: To size the curtain's width, measure the frame width or the curtain rod and write down the measurements once again. As voile is a thin material, it's also wise to allow extra fabric for gatherings, pleats and ruffles. This is known as the fullness and can usually be achieved with a two:one ratio between the fabric and the rod. If you only order enough material to cover the window exactly it might look a little like a bed sheet being hung up rather than a stunning, glamorous feature piece.

Curtain types
Buyers have plenty of choice when it comes to selecting a voile curtain. As well as the fabric type, you can also choose the design of drape. Here's a table summing up some of the most popular voile designs:
| Type of curtain | Description | Best used for |
| --- | --- | --- |
| Panel curtains | A single panel of material with no sliding mechanism. Can be layered or bought in pairs. Typically have pockets at top where the rods go through. | Bathrooms, guest bedrooms or anywhere that could benefit from additional privacy but where the curtains don't need to be open and closed on a regular basis. |
| Café curtains | A plain, straight-hanging curtain usually hung in pairs on a pole by loops or rings. Used to cover the bottom part of a window. | Café curtains look beautiful in kitchens, utility rooms and conservatories. They're also ideal for high-set windows. |
| Tab top curtains | Fabric loops hang from the curtain poles and offer a unique, contemporary look that's great for modern properties. | Thanks to their quirky appearance they'll complement almost any room, from dining areas, living spaces and bedrooms. |
| Sash curtains | Voile is the perfect material for sash curtains as they're nearly always made from a sheer material that's hung from spring tension rods or sash rods mounted inside the window casing. | Sash curtains are designed to cover the bottom sash of a window and are both elegant and discreet. They can also be hung over glass doors for a bit of extra privacy. |

Care and maintenance
The care and maintenance of voile curtains depends on the material they're made from. While drapes made of natural fibres, such as cotton and linen, can usually be laundered at home, polyester and delicate fibres may need to be washed by hand or dry cleaned. If you do launder the curtains yourself, it's a good idea to choose a delicate wash cycle before hanging them out to dry and ironing carefully. Putting them in the tumble dryer is not recommended as they may shrink.