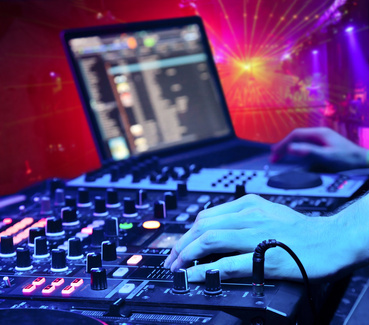 A seasoned DJ in a club is like a snake charmer that hypnotises the crowd to move their bodies, shout out, and jump to the music. With skilful hands, a DJ works on a mixer to intoxicate the club goers even more as they feel the reverberation of the speakers in their chests and allow the enthralling beats to fill their senses. A DJ in any party automatically attains a celebrity status; people raise their beer bottles to the DJ when they hear their favourite tune, jovially shout music requests, and congregate around the mixing table like a flock of devotees, swaying at the DJ's command.
There is no denying that being a DJ is an exciting and ridiculously fun job, and anyone with a right mixer and years of experience has a chance to become one. Being a DJ is a hundred times better than being a snake charmer, but if one aspires to be a DJ he or she needs to know how to operate a DJ mixer like a snake charmer knows how to blow tunes out of his flute. Even if mixing music is just a hobby, one needs the right DJ mixer to produce tracks that people can dance to. Both aspiring DJs and music mixing enthusiasts who need a DJ mixing console must know the different types, including the different music mixing software, as well as the proper maintenance of these consoles to make a wiser decision when purchasing one.
What to Know About a DJ Mixer
There are many things to know about a DJ mixer, but here are the basics to get buyers started. Buyers must know the anatomy, the types, both physical and software-based, maintenance, and replacement of DJ mixers to make him or her better-informed when choosing one.
Parts of a DJ Mixer
A typical DJ mixer has volume control sliders, a headphone cue selector, a headphone socket, and a headphone volume as core features. It is also common for a DJ mixer to feature per-channel EQs or equalisers to minimise either low or high frequency sounds in a song on its way to transitioning to another song.
Another feature is the level meter, a set of lights that represents the sound coming in and out of the mixer. It is very useful when a DJ is trying to gauge the loudness of the music. A crossfader, as the name suggests, allows a DJ to transition from one song to another with little or no silence gap or dead air. Dead air derails the enjoyment of the crowd, and transitioning with little or no dead air is a mark of a professional DJ.
Types of DJ Mixers
Just slapping a song on before a previous song is about to finish is awkward to the ears, so this is where a DJ mixer becomes useful. The function of a DJ mixer is to allow a smooth transition from one song to another. It is important to know the different types of DJ mixers, and their features to gain better understanding when deciding which mixer is the best option.
Scratch DJ Mixer or Battle Mixer
A scratch DJ mixer may come off as old school, but DJs favouring hip-hop still prefer this kind of mixer. Using vinyl records, a DJ can "scratch" or move a record back and forth whilst playing to produce scratching sound patterns that are pleasing to the ears. The sound patterns are also transitioning sounds in between songs. A scratch DJ mixer is often called a battle mixer because it is the mixer of choice in a scratching competition. Scratching can easily ruin the mixer's crossfader, so buy a scratch DJ mixer that has a durable and replaceable crossfader.
Club DJ Mixer
Unlike the battle mixer that allows scratching, a club DJ mixer produces musical beats to allow the smooth transition from one song to another. A typical club DJ mixer has equalisers for channels, automatic beat detection, and sound filtering as core features. This kind of mixer is also called a bedroom mixer because back in the 70s, aspiring DJs who practised in their bedrooms became the target market of manufacturers of this mixer.
General Mixer
DJs who want a mixer that allows them to scratch as well as to produce musical beats while transitioning to another song can buy a general mixer. This type of DJ mixer usually has a variety of on-board effects and three or more channels. Because a general mixer has the features of both a club mixer and a battle mixer, it is the top choice amongst professional DJs these days. This type of mixer is also called a house board.
Comparing the Three Types of DJ Mixers
The table below is a quick reference of the comparisons among the three types of DJ mixers. This helps determine the key feature of each type of mixers at a glance.
| Type of DJ Mixer | Other Names | Transition Features |
| --- | --- | --- |
| Scratch DJ mixer | Battle mixer | Produces "scratching" sound patterns as a transition effect by or moving the record back and forth whilst playing |
| Club mixer | Bedroom mixer | Produces music beats as a transition effect |
| General mixer | House board | Has both the transition features of a scratch DJ mixer and club mixer |
The table also shows another name for each type of DJ mixer. The transition feature is what distinguishes a scratch DJ mixer from a club mixer. A general mixer, on the other hand, provides the best of both worlds.
DJ Mixing Software
DJ mixing software can come as a collaborative tool for a physical mixer or a virtual counterpart of a physical mixer. A virtual DJ deck software is the virtual counterpart of a physical two- or four-deck DJ rig, so a DJ just needs to click on a computer to switch from one music loop to another or create a track with a layer of different music loops. A virtual DJ deck software can easily adjust the playback rate of one loop to match that of another loop to sync them in one track. This type of software also produces scratching and stutter effects, along with a slew of digital effects.
Hybrid mixing software, on the other hand, can break a recorded song into parts during a live performance to create a real-time mix. There is also a plug-in for Pro Tools and other digital audio workstations that slices a song into loops and apply digital effects to each loop to make a remix out of the song.
DJ Mixer Maintenance
To ensure that a DJ mixer is always presentable and in good shape, regularly clean its parts. Dust and dirt accumulate in the circuit board of a mixer, and when they mix with moisture, they become a conductor that can damage the circuit on the surface of the board. So it is crucial to clean a mixer regularly with a maintenance kit that is available online.
The crossfader of a mixer attracts more dust and dirt because of frequent usage, so cleaning it regularly is a must too. When cleaning a fader, get a can of compressed air, a tube of special lubricant, and a screw driver. Before starting, make sure that the mixer is unplugged to avoid electrocution. Detach the fader from the mixer with a screwdriver, and then further remove the cover plate from the fader. Next, blow air into every nook and cranny of the fader to remove dust and dirt, and then lubricate the fader before reassembling and screwing it back in the mixer. A well-maintained fader has a knob that glides smoothly.
Replacing DJ Mixer Parts
Due to wear and tear, there are parts of a DJ mixer, such as a crossfader, that inevitably need replacement. A crossfader is always prone to damage, and when it is time to replace it choose to buy a brand such as Behringer, Vestax, and Stanton, of course, depending on the requirement of a mixer.
Moreover, a pair of headphones is an essential tool for a DJ because it allows him or her to listen clearly to the music amidst background noise, and because a DJ use headphones constantly these wearable loudspeakers are also prone to damage. When buying a replacement pair choose a brand that is lightweight and with sealed or closed ear cups to properly hear the music even in a noisy setting. Speakers and amplifiers can also malfunction because of wear and tear from daily usage or transport from one venue to another, so a routine check before a performance is necessary, and repairing or replacing them is necessary when they start to produce crackling sounds.
Buying DJ Mixers on eBay
When you read articles or watch videos online about DJ mixers, you would find that many people suggest buying them online. Buying online is way easier than going out to a shop, and the best place to look for a DJ mixer is on eBay. eBay stores so many listings of audio mixing consoles, and if you know how to search, you can find great deals. You can even buy previously owned mixers in tip-top condition when you go to eBay.
Searching for a DJ mixer on eBay is easy. Just type on the search bar the keywords "DJ mixer", for example, and in no time you get a list of consoles of different makes and models. You can refine your search by typing specific keywords, such as brand names like Behringer or Vestax. When transacting on eBay, make sure that a seller agrees to the return policy of the Distance Selling Regulations in case receiving a mixer that is different from what is described in the product details. Buying from a seller whose payment method is verified and one who has positive feedback not lower than 90 percent gives you peace of mind as you are dealing with someone who is credible.
Conclusion
The most common types of mixers differ in transition sound patterns; a scratch DJ mixer produces scratching sound patterns while a club DJ mixer produces music beats. Both of these features are available in a general mixer, which is a preference of professional DJs. Advancement in technology allows a DJ to use music mixing software, copying the process of a traditional mixer, and adding digital effects to the performance.
A mixer needs regular maintenance if expecting it to reach a high level of performance. But despite routine check-ups and maintenance, there are parts of a mixer such as a crossfader that are replaceable because they tend to break due to normal wear and tear. Whether aspiring to become a DJ or just wanting to learn some scratching moves to show off to friends, having the right DJ mixer is essential. After discussing the different types of mixers and their features, the types of music mixing software products, and the proper maintenance of mixers making an informed decision when purchasing such product is easier.