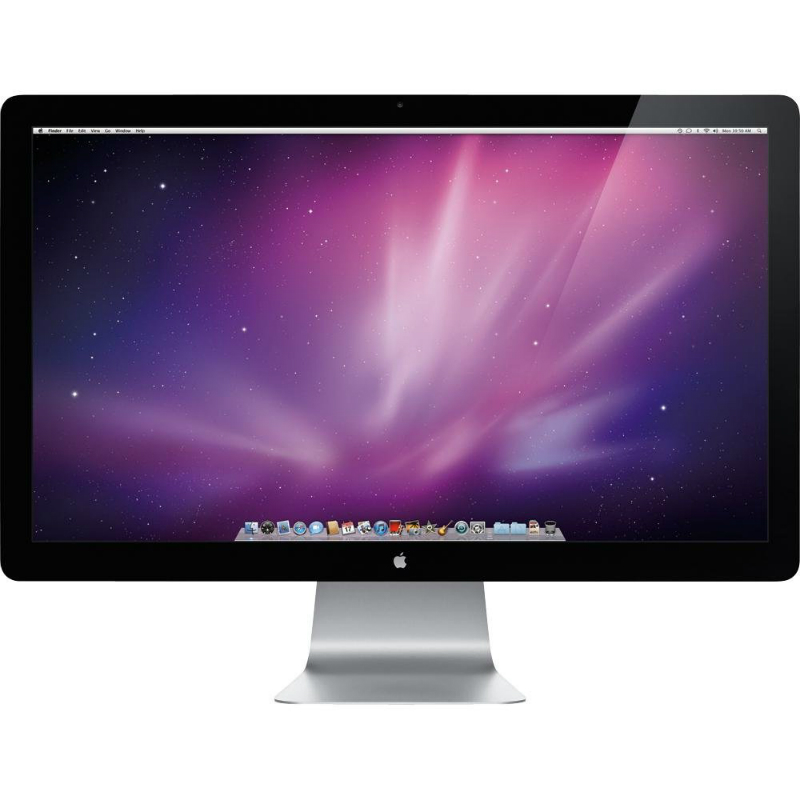 Apple computers, or Macs, are computers known for their user friendly setup and reliable technology. Macs run on a different type of software than standard PC computers, which are both easy to use and less susceptible to internet viruses. Although most Apple computers come with Apple brand monitors, they are not required in order to function properly. Many people choose to go with third party brand monitors for different sizes, resolutions, or features.
Computer monitors are purchased in brick and mortar electronic stores, directly from the computer manufacturer, or online using eBay. Whether you are purchasing a new Apple computer and need a monitor, or upgrading an old Apple computer, eBay has a large selection of monitors making it easy to find a monitor that fits within your needs and budget. Aside from compatibility, it is important to determine the size of monitor you are looking for, as well as display, resolution, and additional features involved. Before purchasing a monitor, it is important to understand the difference between Apple and third party monitors, as well as other considerations for purchasing a monitor.
Compatible Computer Monitor Brands
Choosing an Apple brand monitor is most likely going to be compatible with the computer as long as they have compatible output methods. However, Apple brand monitors are not required for Apple computers. Many people choose to go with more affordable monitors, or monitors with special features. The most important part in choosing a compatible monitor is choosing one with a compatible input method.
Apple Monitors
Apple monitors come in many sizes and displays, making it easy to find a monitor compatible with your Apple computer. Basic Apple monitors usually connect to the computer via a USB cord. More complex types of monitors with higher quality display, may have different inputs, such as an HDMI cord or multiple cords for different features such as audio and video. Before purchasing an Apple monitor, it is important to determine the inputs your computer has as well as the version of software.
If the computer is compatible with the monitor but does not have the proper outputs, adapters can be purchased separately to fix the problem. Most newer Apple monitors are made with LCD (liquid crystal display) screens, and newer Mac computers and laptops have the option of upgrading to a LED cinema display which focuses on better video and audio for gaming or watching movies.
Third Party Monitors
People choose third party monitors for many different reasons. Some basic monitors are more affordable, while others have additional features such as webcams or memory card readers. Many monitors have different features and inputs for different things, so it is important to understand which features you are looking for prior to making a purchase. Some televisions also double as computer monitors and offer a high quality display screen. When searching for a third party monitors, it is important to make sure that the monitor is compatible with Apple or Mac computers. Also, it is important for the potential customer to consider the input type, as well as if an adapter is needed.
Other Considerations When Choosing a Monitor
Aside from brand, there are many different factors to consider when choosing a monitor such as type, size, and budget. By understanding the different considerations for choosing a monitor, choosing the right monitor for your Apple computer is simple.
Monitor Type
It is important to understand the different types of monitors to understand which type best fits your needs. The type of monitor is one of the most important considerations when choosing a new monitor.
| Type of Monitor | Description |
| --- | --- |
| | Oldest type of computer monitor and most affordable. High contrast ratios and viewing angles |
| | Thin, flat screens make LCD screens the most space efficient. Can also be mounted on walls. High quality display and wide viewing angles |
| | Thin screens with fixed resolution, not usually used for computer monitors because of high temperature and energy usage |
| | Flat screens that allow the user to control the computer with touch, without a mouse or keyboard |
| OLED (Organic Light Emitting Display) | Much thinner and flatter than other monitors, works on glass or other similar surfaces and is transparent when turned off |
Different types of monitors have different price points, with the most affordable being CRT monitors, and the most expensive being OLED monitors. Before choosing a monitor type, it is helpful to compare different prices of each type of monitor to see which one best fits your needs and budget.
Monitor Size
Another important consideration when choosing a monitor for your computer is the monitor's size. Larger monitors are ideal for graphic design, watching movies, or playing video games. With larger screens, users are able to view more on the screen at one time, but large screens also take up much more desk space. Most monitors are measured diagonally across the monitor in inches, and you should first measure the desk space before purchasing a monitor. Most people choose to go with 17-inch or 19-inch monitors since they are large enough for easy viewing, and small enough whereas not to take up too much space.
Monitor Inputs
When considering a monitor, it is important to check the monitor inputs. The monitor connects to the computer with a specific cord, such as a USB cord. If the monitor does not have a compatible input with the computer, an adapter may be able to solve the problem. Aside from compatibility, inputs are used for many different things from connecting to live television or video games. Consider which types of inputs you would like for your computer, and look for a monitor with compatible inputs.
Monitor Resolution
The monitor resolution refers to the number of pixels displayed on the screen. Monitors with high resolution have a high number of pixels, which creates a clearer picture for the viewer. Pixels depend on monitor size, and the width of the monitor is always listed before the length. It is important to choose the main resolution size when choosing a monitor. Choosing a monitor with too little pixels makes the picture harder to see, while too many pixels makes objects on the screen smaller and thus similarly harder to see.
Monitor Sound
Some monitors come equipped with speakers, while others have an input to plug in a sound attachment. Before choosing a monitor, it is important to determine if sound features on the monitor are important. Some computers have speakers included, so speakers on the monitor are not necessary. Check to see if your computer has sound before purchasing a monitor.
Determine a Budget
It is important to determine a budget before purchasing a monitor. Because of their high quality, Apple computers are often more costly than standard PC computers. Since other brand monitors work with Apple computers, purchasing the computer in separate pieces with a different brand monitor, makes purchasing an Apple computer much more affordable. Large, high quality monitors are often expensive, so it is important to determine which factors are the most sought after when making a purchase. Additional factors, such as additional inputs and touch screens, have an additional cost therefore it is important to make sure the additional features are in fact needed before making a purchasing decision.
How to Buy a Monitor Compatible With Your Apple Computer on eBay
After determining the brand, type, and additional features you would like for your monitor, you are now ready to begin your search for the perfect option. Purchasing a computer monitor on eBay is easy because of the enormous selection and extremely low prices. Whether you are searching for an Apple monitor, or simply a third party option, eBay has a monitor that fits within your needs and budget. When shopping on eBay, you can make sure you do not go over your budget by setting your price maximum. Setting your price maximum ensures you do not overspend, or waste time searching through monitors that are outside of your price range.
When you are ready to begin your search on eBay, you can start with the use of keywords in the keyword search bar located on any eBay web page. If you already know the type or brand of computer monitor that you want, you can use a specific search term, such as 'Apple computer monitor'. To browse through different monitors with different sizes and features and see the prices of each, you can use a broader search term, such as, 'computer monitor'. Regardless of the type of monitor you are looking for, you are sure to find it on eBay.
Conclusion
There are many different factors to consider when choosing a computer monitor, but once you understand what features you want, choosing a computer monitor is simple. Apple monitors are a standard choice for Apple computers, but they are not necessary. Many third party monitor options offer additional features or lower prices, making it easy for each buyer to find exactly what he or she is seeking.
Choosing a large screen is ideal in terms of design, watching movies, or gaming, but tends to be more expensive than smaller options. Before purchasing a monitor, it is also important to measure the space you have available on the desk. Some computer monitors are able to be mounted on the wall, which saves desk space for other things. Monitors with many different features are available on eBay, therefore consumers are able to find exactly what they are looking for from the comfort of their own home at the best possible prices.