Why row?
If you only buy one piece of cardio equipment for your home, you'd be well set to make it a rowing machine. A short blast on it will burn dozens of calories, working your legs, core and upper body at the same time. You can do high intensity workouts to burn fat and tone up, go slow and steady to build heart strengthening cardiovascular endurance without the impact to your joints you can get when running, or you can focus on powerful pulls to develop lean muscle.
---
What to consider before you buy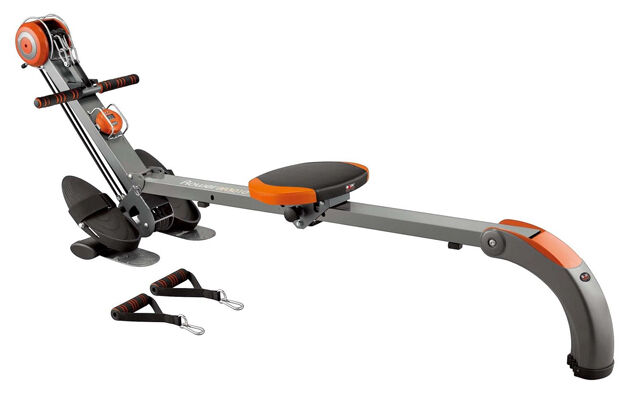 As with anything you buy for your abode, first you need to make sure it will fit. Most rowing machines can be stored upright (as long as your ceilings aren't too low) or folded up when not in use, but you'll need at least a floor space of approximately 3m x 1m. If your corridors are tight or you have to carry it upstairs, make sure the one you buy comes in segments that you can assemble in the room you're going to use it in, and be sure to check the maximum user weight (usually ranging from 115-130kg). Unlike treadmills and other cardio equipment, rowing machines shouldn't need a power source (apart from batteries for the digital dashboard). Instead, you provide the energy.
---
Which is the right one for me?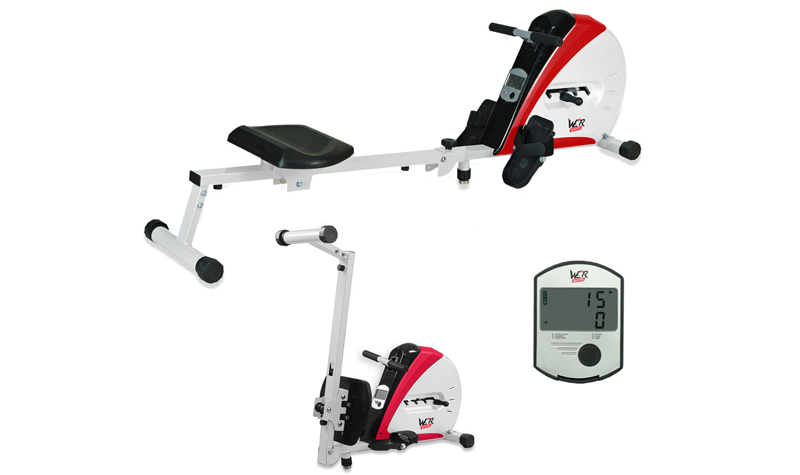 New rowing machines can range from around £100 up to just shy of a grand - although buying them second hand can drastically reduce the cost. But before even considering budget or brands, first you should identify your goal for getting a rowing machine.
Are you simply looking to get more active to help you get or stay fit? Or are you training for competition? If it's the former, low-cost hydraulic or magnetic rowing machines will replicate the movements of rowing for a full-body workout, but they won't provide the same sensation of pulling against water resistance as you get with air (flywheel) and water rowers. Note: both require a level of maintenance in terms of changing out the water to stop bacteria growing and oiling the chain to keep it in good condition.
If you're aiming to use a rower frequently for long spells or training for competition, you should look for a one that you can programme workouts on and save session statistics so you can keep track of your progress and download the results. Most will record the distance rowed, time of session and average pace, but the more advanced monitors will also show your time splits, calories burned, allow you to save workouts and sync up with a heart rate monitor for a better understanding of how hard you're pushing yourself.
Though pricey, Concept 2 is the gold standard of rowing machine. You can use stock workouts set to distance or time intervals or customise them yourself. A ruthlessly effective four-minute tabata session alternating 20 seconds effort with 10 seconds rest is an excellent place to start.
---
What to do with my new rowing machine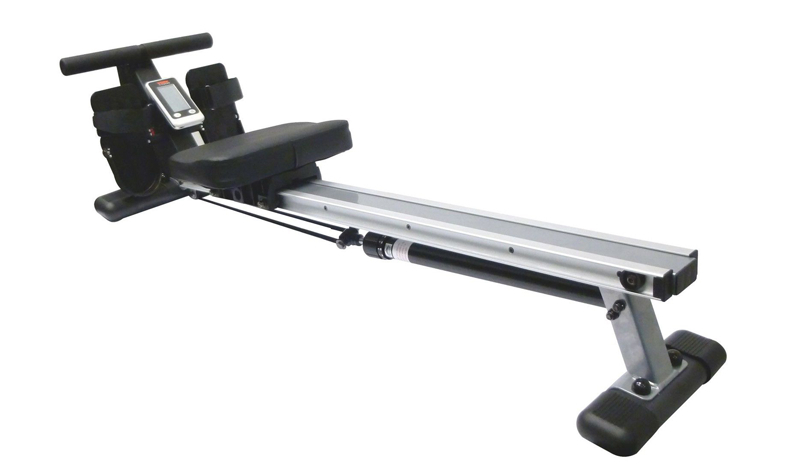 Once set up, your first priority should be getting your form and technique spot on. For each stroke, the power should start with your lower body and then transfer through your core to your back and arms. With your feet secure in the straps, your back upright and arms straight, press away with your legs until they're fully outstretched. Next, lean back fractionally and pull the handle towards your sternum for a full stroke. Reverse the move to return to the start. On flywheel rowing machines you can adjust the 'damper' setting depending on your preferences. If you're naturally powerful, put the setting higher to cover more metres with each stroke. This Men's Fitness article provides useful technique pointers and a 2K workout plan that will help you make the most of your shiny, new rower.
Top Five Picks
---
1
York Perform 210 Rowing Machine, From £249.99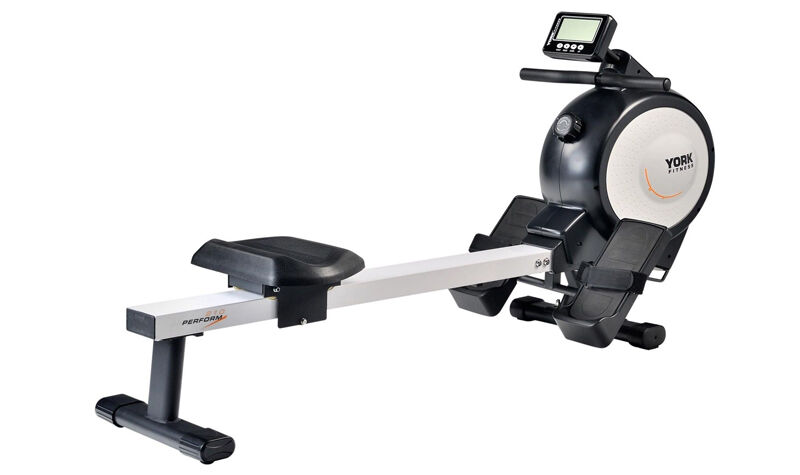 York, the gymnasium stalwart, offers a reliable, robust and comfortable rowing machine for the beginner. It combines magnetic resistance with a flywheel for a smooth, quiet stroke but the maximum (eight) setting isn't especially strong, making it a good option for long rows to build cardio but not so useful for powerful pulls when sprinting for high-intensity fat loss.
Pro: Allows for smooth, comfortable rowing action, has eight different resistance settings as you get more proficient
Con: Doesn't fold so takes up more storage when not in use, low top resistance isn't ideal for stronger rowers
---
2
V-Fit AR1 Artemis II Air Rower, From £179.99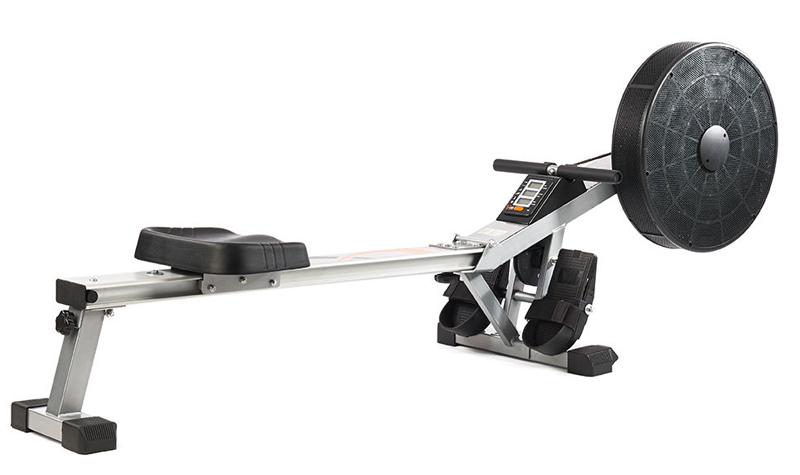 This flywheel rower is a great value option for the beginner looking to incorporate short rowing sessions into their training. It will provide you with the essential information required to monitor your progress and handles a maximum user weight of 115kg.
Pros: Good value air-resistance option, folds down to half the length (2.12m to 1.20m) for storage
Cons: Cannot programme or save workout data, cannot manually increase or decrease resistance apart from simply pulling harder with each stroke
---
3
WaterRower A1 Home Rowing Machine, From £351.98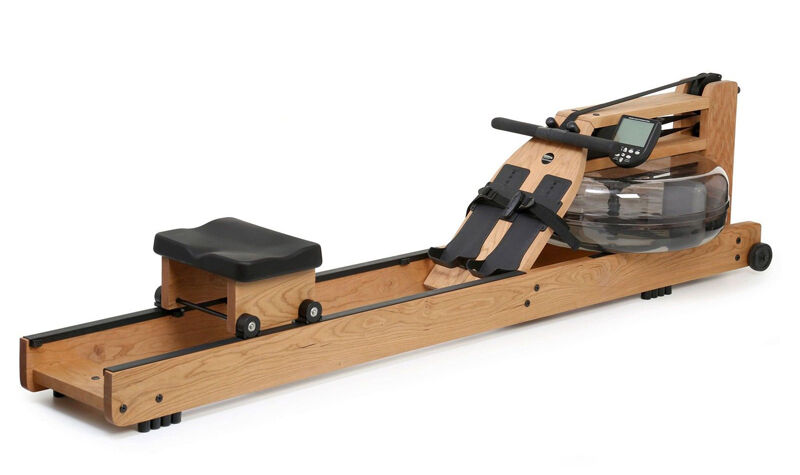 Rowing against water replicates the real feel of rowing without the risk of capsizing and, made out of beautiful ash wood, it would make a good looking feature for any home gym.
Pros: Durable, provides real feel of rowing against water resistance, offers heart rate monitoring using a chest strap, USB compatible with a host of rowing software such as NetAthlon, a virtual reality training and racing system
Cons: Wood is heavy, need to empty water periodically and use water purification tablets to protect against mould and bacteria
---
4
Concept 2 Indoor Rower Model D, From £550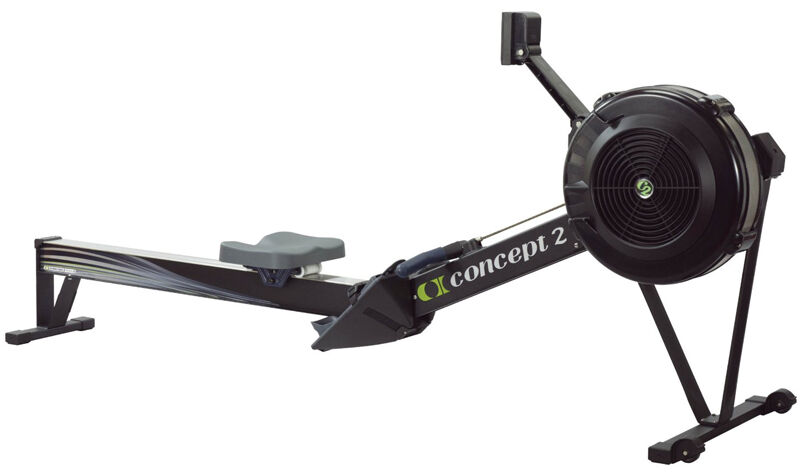 This top-end flywheel rower is lightweight, has wheels and a speedy release frame lock mechanism making it easy to manoeuvre and break down to save floor space.
Pros: Very smooth stroke action, nickel plated chain allows for longer time between oiling, offers detailed feedback, saveable data and programmable workouts to track progress
Cons: At 10 feet it's quite long if you have a small space and requires batteries for the monitor to work, air flywheel can generate plenty of noise when pulling hard
---
5
Kettler Kadett Outrigger Style Rowing Machine, From £429.08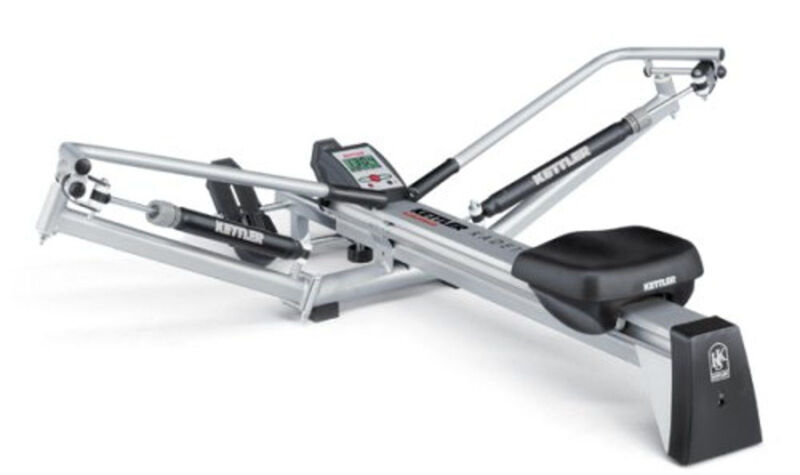 The outrigger design offers the closest action to the real thing, but not necessarily the closest feel to actually rowing on water. It uses hydraulic pistons as the 'oars' to provide resistance, which you have to alter manually by adjusting collars for a broad range of 12 different levels. You can also display your heart rate to give you greater feedback for your workout.
Pros: can use an ear-clip to record your pulse and display it on the monitor to track your heart rate, replicates real action of pulling oars, easily folds small for storage
Cons: Pistons are not as smooth as air, water or magnetic rowers, hydraulic parts can leak after a year, so will need to be replaced
---