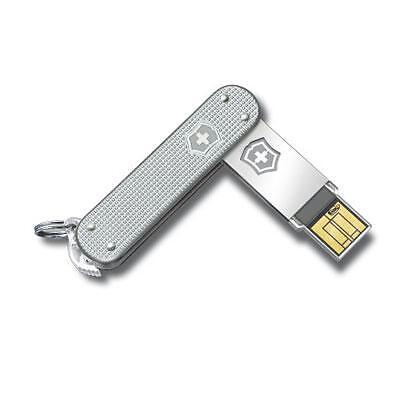 Many people find it necessary to have a USB flash drive these days, and they are right. Since almost everyone uses a computer, they deal with digital files daily and often need to bring the files with them wherever they go. Whether it is to transport music, pictures, or work-related files, a USB flash drive is a very helpful tool since it is small, light, and can hold almost any file that users need to store on it.
Although a USB flash drive is a very simple device, users need to know how to buy the right one for their data storage needs. Some things to consider when shopping for USB flash drives are how much data users plan to store on the devices and how often the devices will be used. A good USB flash drive must not only be compact and lightweight, but also able to store user's files safely. Buyers can find USB flash drives in various locations including online and offline stores.
What is a USB Flash Drive?
A USB flash drive is a simple storage device which users can plug into their computer's USB port to transfer data files. USB flash drives come in various shapes and sizes but are usually small with a length of no more than four centimetres. These portable devices have come a long way and are available in many different storage capacities and designs. A USB flash drive is a great device to store data on as it is much more easier to use than other media used for file storage, such as CDs or DVDs. Plus, some flash drives can even hold data of above 100 gigabytes (GB), which means that users can store a huge amount of files on them.
How to Buy a USB Flash Drive
There is a very large selection of USB flash drives in the market that buyers can choose from. To get the right flash drive, buyers must consider a few things about their data storage needs. First of all, buyers must decide how much data they plan to store on their flash drive. They must also consider some other factors such as the durability, security, and physical appearance of the USB flash drive. By giving enough consideration to these factors, buyers can select the right flash drive for their needs and preferences.
USB Flash Drive Storage Capacity
The first thing most people look at when buying a USB flash drive is the storage capacity. After all, the main purpose of a flash drive is to store files. Consumers should decide what they will be using their flash drive for. Those who plan to only store small files such as text files for school or work can get a smaller capacity flash drive of 8 GB or below. On the other hand, people who like to transfer their movies, music, and photos or who like to share their media files with friends can opt for a bigger capacity flash drive.
Media files, including audio, video, and image files, take up a lot more space than text files. Therefore, it is important for buyers to know what kind of files they want to store on their flash drive. Moderate to heavy computer users who transport many files usually need at least an 8 GB USB flash drive. However, it is always up to users to decide how much space they want their flash drive to have and how many flash drives they need.
USB Flash Drive Durability
Since USB flash drives are physically small, not all of them are very robust. Therefore, those who plan to use their flash drives a lot, and in a rough work environment, should get a durable device. When looking at the durability of a flash drive, users must consider the strength of the drive casing and also the USB connector. The outer casing should be robust so it does not break easily under heavy force. Users must also make sure that the casing cannot be easily pried open. The USB connector must also be securely attached to the flash drive and should not be shaky as this might mean that it will snap off when knocked against something.
USB Flash Drive Security
Some USB flash drives have a built-in security encryption to protect the files stored on them. This may include a backup function to produce backups of important files, password protection, or even fingerprint recognition. Users who store important, sensitive files, such as financial documents, work presentations, or business contracts, can opt to buy a flash drive with some security feature. Most flash drives come with a backup function, which owners can use to backup important files. However, when planning to transport truly sensitive files, it is better to get a flash drive with at least a password protection feature. However, buyers should remember that USB flash drives with extra security functions are often quite pricey.
USB Flash Drive Speed
Users who regularly transfer large files between their computer and flash drive should look for a USB flash drive with a high transfer speed. There are two kinds of speeds users should take note of: the read and write speed. The read speed is the time it takes for the computer to read and open a file on the flash drive. The write speed refers to the transfer speed, or how long it takes to save a file onto the flash drive.
To get high writing and reading speeds for transferring data between a computer and a flash drive, buyers can look for a USB 3.0--compatible flash drive. USB 3.0 flash drives are backward compatible with USB 2.0 ports, which many computers use. This means that buyers do not need to upgrade the USB 2.0 ports on their computer in order to use a USB 3.0 device. With a USB 3.0-compatible flash drive, users can expect to see transfer speeds of even above 50 megabytes per second (Mbps).
Other Considerations when Buying a USB Flash Drive for Transporting Files
Another consideration users can make when looking at flash drives is the appearance of the device. USB flash drives are available in various designs and colours. Some have caps to cover the USB connector, whereas some may have connectors which swivel or slide out from the drive casing. Those who want to be unique and express their personalities through their flash drives can choose devices with bright colours or unique shapes. Many flash drives also come with a slot to attach lanyards on. This is for decorative purposes but can also help prevent the flash drive from getting lost.
One important factor buyers should not ignore is their budget. Although USB flash drives are quite affordable, the ones with extra features, such as fingerprint recognition, can be very pricey. Buyers should also remember that the price of a flash drive goes up with its storage space. There are many brands of USB flash drives on the market and most of them can function perfectly well for any user. However, if buyers want to know what are the features of any flash drive, they should read the product's description, ask for details from the seller, or read online reviews.
Buying a USB Flash Drive for Transporting Files on eBay
You can find numerous kinds of USB flash drives on eBay. To find the right one for you, you can use the search bar on the eBay home page. Type in the suitable keywords, such as 'USB flash drives &' or '32 GB USB flash drives&'. When you lookup the flash drive that you want, eBay will provide you with a list of all related flash drives. You can also search for flash drives with security features or in a certain colour, such as 'red USB flash drive&'. On the product listings page, you can see the item description, price, and also delivery charge. Some sellers may have a promotion and sell their items cheap, so make sure you look at the details closely.
After selecting the flash drive that you like, make sure you read all the available information on the item. You should ensure that the flash drive's storage capacity, price, and any extra features are to your preferences before your purchase it. Also take note of its delivery time, payment method, and return policy.
Conclusion
USB flash drives are indispensable devices to have in this modern age. With a flash drive, people can transport any data files with them whether it is to work, school, or when travelling. USB flash drives come with a variety of storage capacities, designs, and also extra features. Things buyers should consider before buying a USB flash drive include the device's storage capacity, durability, data transfer speed, and security features.
Since each user has different data storage and transfer needs, they should choose a flash drive which is suitable for their usage and budget. Buyers can also choose the physical appearance of their flash drive if they wish to do so. Since many manufacturers produce flash drives in a variety of colours and shapes, buyers can find drives that can express their personalities. eBay is a great place to shop for flash drives as it has a large selection of them in various brands, storage capacities, and models.