New dawn organic skin and hair care
I do blog reviews for different companies and was recently asked to review this company that sells on ebay. They sell a large array of skin care treatments and if you look down the side column you will see what product is for each skin condition which is really handy if you are looking for something in particular. They sent me a patchouli healer soap and a peppermint shampoo and peppermint conditioner which is particularly for thin hair. This is the link to their ebay shop http://stores.ebay.co.uk/newdawnhandmadesoap/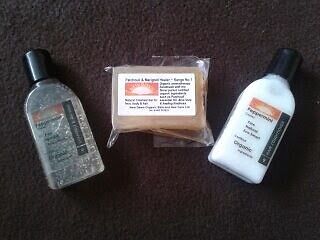 Great for sensitive skin
My daughter and I have eczema and sensitive skin and so I have to be careful what I put on our skin. If I use products with too much scent or unnatural ingredients then we tend to get a reaction. As the ingredients in these products were natural we had no adverse reaction or itchiness.

Great place to start
If you are looking for something for sensitive skin I would recommend doing on a search on ebay for natural soaps and creams and I would definitely start with this company. If you do buy handmade off ebay make sure that the ingredients are all clearly identified.