If i was to give some advice on buying stab proof vests it would be do your homework. Every stab vest is different, and the decision has to be made on what kind of weight you are looking for, and of course if you require ballistic protection as well as stab protection. In many countries, for example the UK the need for stab vests is greater than the need for bullet proof vests, in the majority of situations. As it happens police officers are generally equipped with dual stab/bullet protection, but parking wardens are equipped with knife resistant only vests.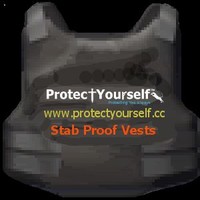 There are a number of materials used to make vests ranging from kevlar to polycarbonate and titanium. It really depends on your personal preference. Personally I like the feel and protection that a hard stab vest offers, especially against blunt trauma. Companies like Protect Yourself who sell these hard stab vests state that they are more effective against a wider range of threats than normal vests. If you require bullet protection a dual vest is the way to go. Price wise a good stab proof vest can cost anywhere from £190 - £500 depending on the protection level. I do often advice not to buy second hand body armour, though technically some protection is better than none, if it fails you can die. Body armour is a small investment to protect life.
When buying a vest on-line the best advice is to research the supplier, make sure they know what they are talking about, have a chat with them. Have a good idea of the protection you need, get a few prices, and take some time to make a decision. The armour you buy will serve you for many years, look for quality, as well as cost.