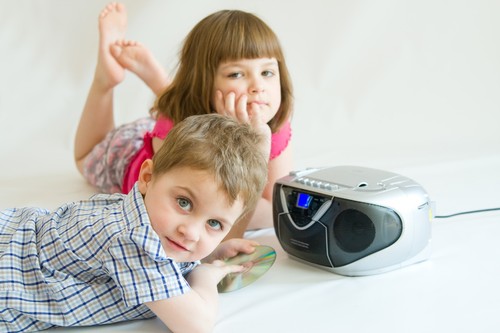 Children love listening to music and most kids would enjoy having a CD player that they do not have to share with the rest of the family. Indulge a child's burgeoning love of music by purchasing them their own CD player they can use and enjoy in their bedroom, playroom, or on the go while travelling in the car. When it comes to CD players, there are many types and styles, and while some may be more suited to smaller kids, some CD players may be perfect for teens that enjoy the sounds of DVD's as well as digital music, or MP3's.
Select the right CD player for your child, based on several factors, including your budget for purchasing the CD player, and where in the home the CD player will go. CD players are commonly divided into several categories according to the features they offer as well as portability, so choosing the right one for your child shouldn't be hard based on the desired features and how much you are willing to spend.
What to Consider Before Purchasing a CD Player for Your Child
Small children can be rough on their things, so if you're purchasing a CD player for a child that's very young, you may not want to spend a lot or get anything too fancy. On the other hand, a teenager that enjoys music may like having a more sophisticated, higher end stereo system, and if he takes good care of it, it could last him for years and years. Consider the individual child before purchasing, as well as what the needs are for the specific CD player, such as if you travel a lot and need one to help occupy your child on long drives.
Finding the right CD player for your child has a lot to do with your child, as well as how much you'd like to spend on the player and what kind of investment you're making in this type of electronic device for your child. CD players run the gamut from very affordable to higher end models, which may offer more features and be more complex than a simple, traditional CD player, which may only play CD's and have no extra features or amenities. Consider the individual child that you're buying the CD player for, and choose one that he or she will enjoy and be able to operate with ease. Age appropriateness is one of the biggest factors when you are buying any electronic for a child.
Types of CD Players Available
There are several common styles and designs of CD players that you'll run into when you're looking for a CD player for your child on eBay. Purchase the right one for your child based on age and need.
Stereo/Hi-Fi
A traditional style stereo CD player, also called a Hi-Fi, may be great for an older child that really loves music and would enjoy having all of the fun features of a real, grown-up stereo, such as an added radio and even perhaps a CD recorder to record songs onto blank, rewriteable CD's. Teenagers love making mix CD's with a variety of different songs on them, and this would be perfect for that situation. Stereos nowadays are quite stylish and may be slim and even have a wall mount.
A traditional stereo may have added speakers for enhanced sound, and some even come with the capability to play DVD's as well. For kids that like that retro sound, some old-fashioned hi-fis may even come with a turntable that plays records. They come in a variety of brands, prices, and styles, but a stereo or classic hi-fi is a perfect idea for a music lover that's a bit older, perhaps middle school or high school age.
Boom Box
A boom box is still a bit large, but it can also be carried from room to room. A boom box is a more portable option when it comes to CD players, and this is perfect for a child that would like to take the CD player from room to room, or maybe even use it outdoors. Most boom boxes have an attached handle for easy travelling, and the majority of these portable CD players also have a radio.
Boom boxes typically come in different colours, sometimes even bright colours that are geared specifically towards children. They are typically affordable and easy to operate, which makes them a great choice for school aged kids. Some older models may also offer a cassette player as well as a CD player. Brands like Groov-e make models especially for children.
Personal CD Player
A personal CD player is exactly as it sounds; it's a very small and compact CD player that the user can plug headphones into and listen to by himself. This is a wonderful option for parents that travel frequently with their kids, or kids that enjoy listening to music while other noise is going on, such as the television, and they want to be able to hear the music without interference. Personal CD players usually don't have a radio, but only offer the option to listen to a CD.
They come in different colours, and some may be more compact than others. Some personal CD players may also offer an option for the user to listen to MP3's as well. Higher end personal CD players may have better sound, more features such as adjustable bass settings, and even a feature that prevents discs from skipping.
CD/MP3 Player
A combination CD/MP3 player has a CD player as well as a port for an MP3 hookup, such as an iPod or other portable music device. This is a great option for most preteens and teens today that still enjoy CD's, but have an iPod as well. With one of these players, they could enjoy their music in both formats.
A CD/MP3 player is a bit more high end, and will cost more, but the user will get the added benefits of having the dock for his or her iPod, a radio, CD player and possibly even a remote control. These players can be portable or be similar to a more traditional stereo. Some CD/MP3 players even offer added features such as an alarm clock.
Karaoke Machine/CD Player
Young kids may have a lot of fun playing with a combination karaoke/CD player. These are made specifically for kids and have a child friendly microphone and easy to use buttons. Kids can put their favourite CD into the player and sing along. This is a great electronic toy for young children who like talking and singing into a microphone, and aren't serious music listeners quite yet.
They are usually portable and easy to carry around by hand, and come in a range of prices depending on how sophisticated the karaoke machine is. There are designs and styles of kids' karaoke machines that are made just for young children so they are easy and fun to use for little ones that are just learning to enjoy music and rhythm.
How to Buy a CD Player for Your Child on eBay
You'll find the perfect CD player for your child on eBay, whether you're buying a player for a music obsessed teen that still loves records and would love a stereo system, or a kindergarten age child that likes to listen to headphones while you're travelling in the car. Search CD players to bring up all the available options there are, and narrow the selection based on what features you're looking for, such as MP3 capability, or a handheld portable boom box type of CD player.
Kids enjoy listening to music, and it's a great way for them to learn about rhythm, beats, and even learn to dance, so help your child make his or her listening experience even more enjoyable by purchasing a great CD player on eBay from a merchant that's a Top-Rated Seller today. See if any extras can be bundled with the CD player, such as headphones, to create a great price for additional goods. A seller that lives in your area may arrange to do a personal pick up for your CD player, and this could alleviate the cost of shipping altogether, and create a unique, personalised shopping experience.
Conclusion
Kids are born with an innate love of music, so help nurture their newfound love of sound with a great CD player. For older kids, a stereo they will treasure for years with lots of cool features can be a great addition to their bedroom. A quality CD player can stand the test of time. For parents on the go, sometimes a personal CD player and some headphones are all that's needed to make travelling more enjoyable for everyone, or kids that like taking music wherever they go will love a portable boom box style CD player. No matter what their preference is, there is a perfect way for each child to enjoy the music they love.
Buying a child their own CD player will help them foster their own love of music and enjoy it on their own. They may find that music helps relax them after a long day, or that listening to their favourite CD's while sitting outside can be a great break after school. Give kids the gift of music with their very own CD player, whether it's your toddler's first CD player or your teenager's first CD/MP3 player.