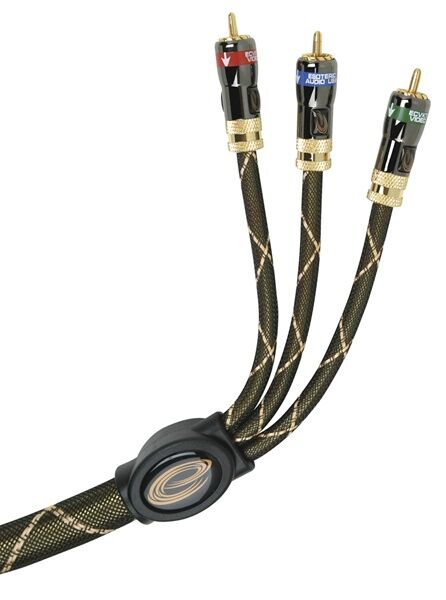 Component cables are an important part of a home theatre system. They are used to connect electronics together and transmit video signals between the two components. Several types of component cables are available, and finding the right one depends on the types of devices that need to be connected. Some devices can use standard component cables, while others require specialised cables. With so many component cables to choose from, it can be difficult to find just the right one. No matter what kind of cable is needed, shoppers can find what they're looking for easily on eBay.. Before making a purchase, shoppers should know how to perform an effective search on the site. On eBay, shoppers are able to search for the right component cable based on its type, connector, and other characteristics that meet their needs as well as choose a specific seller to do business with, ensuring the best shopping experience possible.
Searching for a Component Cable on eBay
Before shoppers can buy component cables on eBay, they have to know how to search for them. There are thousands of listings for component cables on eBay at any given time, which means that shoppers need to know how to effectively refine the results without missing out on any great deals. There are two ways to search for items on eBay: a basic keyword search or narrowing down listings by category. The way in which a shopper searches depends on if he is searching for something specific or just browsing.
Keyword Search
The keyword search is the best way to search for shoppers who already know what they're looking for. A search bar is conveniently located on each page so that shoppers can search for component cables no matter where they are on the site. Shoppers enter keywords to describe a specific item they're looking for, such as "PS3 component cable", and all listings that contain those words is displayed. The Advanced Search feature is available for those who need to perform a more refined search. With this feature, shoppers can choose words to include in the search as well as words to exclude in the search.
Shopping for Component Cables by Type
Shoppers who are searching for a certain type of component cable, but don't have a specific one in mind might have better luck searching for it by narrowing down the categories. This allows shoppers to perform a broad search and narrow down the selections based on the options that meet their needs. Searching this way ensures that nothing is missed. Shoppers can find component cables for TVs and home theatre accessories, video game systems, and computers or tablets.
TV and Home Theatre Accessories
Shoppers who are looking for component cables for their televisions and other home theatre components find what they need in the TV and Home Theatre Accessories Category.. From here they can select Audio Cables and Connectors or Video Cables and Connectors to see all of the cables that are currently available. Specifying "component cable" as the type furthers reduce the number of listings that are displayed on the page.
These types of component cables are used to connect DVD players, Blu-ray players, and audio systems to a television. Separate cables are needed for each device. When selecting the right component cable, shoppers should be sure to check the connections on each device to make sure that the connectors at the ends of the cord fits. The types of connectors are described in the section below.
Video Game Systems
Special component cables are needed to connect video game systems to a television or to the rest of the home theatre system. Shoppers can find these component cables in the Video Games and Consoles category under Accessories and Cables and Adapters.. They can further narrow down the results by specifying AV Cables and Adapters as the type and Component (YPbPr) as the AV Connection. If there are still too many listings to sort through, then shoppers are able to select the type of game system they have, price range, or cord condition. It is important that the connectors on the ends of the cable are compatible with both the television and the game system.
Computers and Tablets
Component cables can be used to connect a computer or tablet to a television. Many people use televisions as secondary monitors. One end of the component cable has a connector that is specially designed for the laptop or tablet, while the other end has a standard connectors for a television. The component cable transmits both audio and video between the two devices. These component cables can be found in the Computers/Tablets and Networking category under Cables and Connectors and Monitor/AV Cables and Adapters..
Shopping for Component Cables by Connector Type
In order to find the right component cable, it is crucial that the connector types fits the device. Some devices require specialised connectors, but most use the standard connectors. Shoppers can narrow down the listings on eBay based on the type of connector they need. Using this feature ensures that the that the buyer does not purchase the wrong component cable. The most common connector types are listed and described in the table below.
| Connector | Description |
| --- | --- |
| RCA | Most common type of connector for video; uses the YPbPr format for brightness-and-sync, blue-minus-brightness, and red-minus brightness signals |
| SCART | Most common type of connector for standard audio/video in Europe; transmits analogue signals |
| BNC | Circular connector that protrudes from the device; male connector has a turning ring that secures it in place; used with high end equipment |
| VGA | Connector found on laptops and some televisions; has 15 pins arranged in three rows; has a screw on each end to secure in place |
Most component cables have the standard RCA connectors on at least one end of the cable. This type of connector is used to transmit analogue audio/video and fits most devices. Since many newer televisions have a high definition display, HDMI adapters are required to connect component cables to HDMI ports. If both devices have HDMI ports, then shoppers should consider purchasing an HDMI cable instead of a component cable for best quality.
Characteristics of the Right Component Cable
In addition to the type of cable and the connectors, there are other characteristics that should be evaluated to ensure the choice of component cable is the right one. While these characteristics won't necessarily affect the function of the cable, they do affect convenience and appearance. Some of the other characteristics that shoppers should consider are length, brand, colour, and condition. Additionally, the price of the cable should fit within the shopper's budget.
Length
Aside from connector types, the length is perhaps the second most important characteristic of the right component cable. The cable needs to be long enough to reach between the two devices. Smaller devices or devices that are close together can likely use a cable between 1 m to 4 m in length. For larger rooms or devices that need to be separated, larger cables more than 25 m in length are available.
Brand
Brand isn't incredibly important when it comes to finding the right component cable, but some people are loyal to certain brands. Additionally, some shoppers like to have component cables that are made by the same manufacturer as the devices that they own. Some devices, like Apple products, often require proprietary cables. Specifying the brand in the search query makes it easier to find particular cables on eBay.
Colour
Component cables are usually available in black,, white,, or grey.. The colours do not affect the function of the cables, but they do affect the appearance. Wires that are exposed behind the electronics can appear unsightly. Choosing a colour that blends in with the background make the exposed cables appear less distracting.
New vs. Used
Shoppers can save money on component cables by purchasing used cables instead of new ones. It is important to examine the used cables prior to purchase to ensure that there are no signs of damage. The exterior of the cable should be intact, and no wires should be exposed. Likewise, the connectors on each end should be intact and in good condition. The price for a used component cable should be less than the retail price, and it should reflect the condition of the cable.
Choosing a Seller and Delivery Options
Once the buyer has sorted through all of the selections, he has likely narrowed the listings down to a few component cables that meet his needs. If the component cables are alike in every way, then the final decision comes down to the seller and the delivery options. This allows the buyer to work with the seller who can best accommodate his needs and ensure prompt service.
Feedback System
The feedback system is in place so that buyers can learn more about the seller before making a purchase. Shoppers can view the seller's overall percentage of positive feedback as well as the total number of transactions they've completed. Comments left by previous buyers provide more insight into the seller's reputation. Sellers who have provided quality service on a consistent basis are recognised as Top-Rated Sellers. Buyers are able to sort the listings to only show those posted by Top-Rated sellers.
Postage and Packaging
The cost of postage and packaging can sometimes cost as much as the component cable itself. Shoppers should be sure to factor postage fees into the overall cost of the cable when comparing different component cables for purchase. To save on the cost of postage, buyers can find sellers who offer free delivery or sellers who are located nearby. If the seller is close enough in proximity, then the buyer may be able to pick up the cable in person to save on the cost of shipping altogether.
Conclusion
No home theatre system is complete without the component cables to connect all of the devices together. These types of cables are used to transmit analogue video signals between a device and the television. While some of these devices use standard component cables, others require specialised cables that only work for that device. Because there are so many different cables to choose from, it is important that shoppers know what they're looking for to ensure they purchase the right cables for their specific system. eBay offers thousands of selections to choose from and makes it easy to find just what the shopper is looking for. By learning how to perform an effective search on the site, shoppers are able to look for the right cable based on its type, connector, length, brand, and other characteristics. Additionally, shoppers have a better selection on eBay than anywhere else because they get to choose the seller they want to work with and find delivery options that best meet their needs and their pockets.