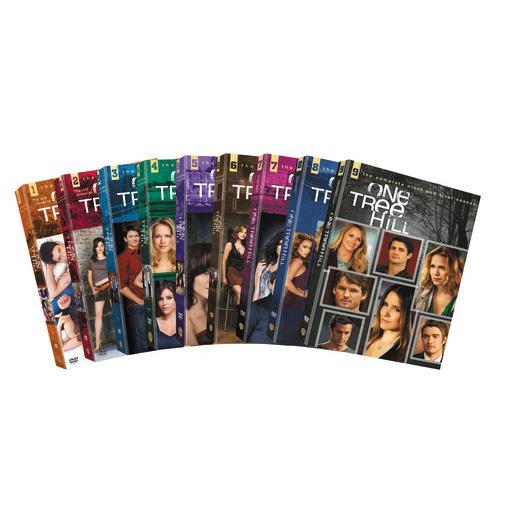 There's no better way to enjoy a favourite television programme than by watching episodes on a DVD collection. In addition to having access to a programme at any time, collected editions also offer buyers a range of special features, from posters and trivia cards to deleted scenes and more. Buyers can find DVD sets of all their favourite shows, from comedies to dramas and animation. These are available in different formats to fit a buyer's television screen, and are coded for use in different areas of the world. Choose from single season collections and box sets that collect every episode from a series run, as well as limited editions with special features.
DVDs of television programmes can be purchased new from electronics stores, department stores, and online retailers. A high number of used DVDs can also be obtained for low prices, and are sold at thrift stores and from private sellers in marketplaces like eBay. Look for DVDs with desirable features at the lowest prices to enjoy a favourite TV show anytime.
Choosing DVD Sets
A high number of modern television programmes can be purchased on DVD. In many cases, buyers have several choices available to them while shopping, including the screen format and region code of the DVD, as well as the edition of the release. Before shopping for specific shows, buyers should decide whether they'd like widescreen or fullscreen.
Fullscreen vs. Widescreen
DVDs are available in two screen formats. Widescreen reproduces the full, rectangular image shown in a movie theatre, and is suitable for use with LCD and plasma televisions. Fullscreen crops the original, rectangular image to a square, which results in imagery being lost at the edges of the picture. Fullscreen DVDs are designed for cathode ray tube (CRT) televisions.
Collected Editions
Television programmes released on DVD are commonly collected into individual seasons. These products feature every episode from a season and compile them on a series of discs. Nearly all television programmes with at least one full season have collected DVD editions that can be purchased. Releases of multiple seasons by the same company tend to follow a single packaging design, making each product a collectable part of the full set. Look for collected seasons of Sherlock, The Walking Dead, Doctor Who, and other popular shows.
In some cases, a product may include additional episodes or seasons. This is especially true of series that have been cancelled in the second season, but maintain a following large enough to warrant a DVD release. In these cases, a special edition may be available that collects every episode of the series together in one package.
Box Sets
Box sets of highly popular programmes can be found, as well. These have multiple single season collections together in a special package, and represent the entire series. Buying products this way can be less expensive than purchasing each season separately. Complete series collections also commonly feature special art and packaging. For example, a complete series may have original artwork that stretches across the bindings of each season's packaging, and can only be seen in its entirety when all seasons are together in order. Look for complete series of Friends, Sex and the City, Sopranos, and Lost, among others.
Multiple Editions
It is not uncommon for popular series to be collected on DVD more than once, in different editions. This may be the result of rights being transferred to a new company, or the release of special editions, such as those for anniversaries. Multiple editions of a collection may include different packaging, DVD menus, and special features like music videos. In some cases, a company may release two collections of a season at once, one of which is a limited edition.
Limited Editions
Limited editions are designed as collectors items, and are often released alongside standard versions. These products are normally priced higher than the regular edition, and contain different packaging and features. For example, a limited edition may include a poster with the cast of a programme, or a "making of" feature not available otherwise. In some cases, sealed versions of these limited editions can become difficult to find, and may sell at high prices in the secondary market. Try shopping online for limited editions that are no longer available from commercial retailers.
Region Codes
A technical aspect of purchasing DVDs buyers should be aware of is the region codes that indicate which part of the world a DVD collection is released in. These codes affect playability, language options, and other variables. Six formal region codes exist, though only five are commonly available to buyers in Great Britain. There is also a region-free code that can be purchased commercially, and is used for multiple regions. Learn about the regions covered by each code to choose compatible DVDs.
| Region Code | Area Covered |
| --- | --- |
| 0 | Region 0 is not a formal code, but is used to indicate that a product is region-free. These discs can be purchased commercially alongside DVDs with standard codes, and are set to be played in all six regions. |
| 1 | Region 1 covers the United States and its territories, along with Canada. |
| 2 | Europe and Great Britain are part of Region 2. DVDs with this code are also marketed in Japan, South Africa, and the Middle East. |
| 3 | Region 3 includes South Korea, Taiwan, Southeast Asia, and the special administrative regions of China, including Hong Kong and Macau. |
| 4 | Australia, New Zealand, and Papua New Guinea are included in Region 4, along with Mexico, South America, and Central America. |
| 5 | The Region 5 code is marketed in most of Africa, Asia, and Eastern Europe. It includes India, Russia, Ukraine, Afghanistan, and North Korea, among others. |
| 6 | Region 6 is reserved for China, and is not commonly found in other countries. |
DVD players are coded, and can not play discs from outside regions. This is mostly done to control retail prices, though it is also used to stage worldwide releases in segments. When purchasing a DVD set, be sure it matches the region code of the player being used. This information can be found in the owner's manual of the player, though if the product was purchased in Great Britain, chances are high it is already coded for Region 2 DVDs.
How to Buy Television Programme DVDs on eBay
eBay has a high number of listings for DVD collections. There are two easy ways to find these items, including using search terms and category options. Entering keywords is a flexible way to find general or highly specific products. For example, to see general listings for box sets, enter "box set dvd tv" into the search field. Or to find season three of the Mentalist, type "season 3 mentalist dvd." Search results can be refined with additional keywords, or by clicking on any of the category options that appear. Use these links to browse by genre, item condition, region code, price range, and more.
Read item descriptions before committing to a purchase. Be clear on the season or box set being sold, and determine whether it is a new or used item. In some cases, sellers may include information from the product, such as episode lists. Look for shipping charges associated with a DVD, as well as the shipping methods that are used. Sellers list their accepted forms of payment in an item listing, so be prepared to pay for your purchase once you commit to buying the product. If you have questions about the product or any aspects of the transaction, contact the seller.
Research sellers to ensure a positive transaction. eBay offers information about its users in item listings pages, including a positive feedback rating and the number of completed transactions by the seller. Additional information can be found by clicking on the seller's name. In the full profile, you can view comments left by previous buyers, along with average ratings about key aspects of a seller's performance.
Conclusion
DVD collections are a convenient and enjoyable way to watch favourite television programmes. They often contain extra features like interviews with actors and directors, along with deleted scenes and other bonuses. Programmes are collected by season, and products are normally packaged to form a complete edition with other installments. In addition, buyers can purchase box sets that include all seasons from a programme. These products are typically designed with special packaging and artwork not found in regular season sets. Limited and special editions are also available, and buyers can sometimes choose between multiple editions of the same collection.
Buyers should begin by deciding between fullscreen and widescreen. Widescreen replicates the original image shown in theatres, while fullscreen crops it to a square. Widescreen is suitable for LCD and plasma televisions, while fullscreen is a better option for tube TVs. The region code on a DVD dictates which areas of the world it can be played in, and relates to the region code of DVD players. Therefore, be sure to purchase compatible discs.
Television programmes on DVD can be purchased from department stores, electronics stores, and online retailers like those on eBay. Shop between sellers to find the best prices on products, and research products and retailers when making an online purchase. DVD collections are available for popular shows from the past and present, so begin shopping to build a collection that can be enjoyed again and again.