CHINESE FOSSILS
Ebay seems to be swamped at present with dubious Chinese fossils and everything from large amber pieces complete with scorpions, dinosaur skulls and dubious trilobites are on offer.
The most popular are Keichousaurus 'fossils' and usually have flowery names like 'dancing babies' and such like.
Keichousaurus are commonly found in China. They are Triassic in age. The trouble is every single one on Ebay from that part of the world is as genuine as pig feathers and dates to last week or last month.
Complaints to Ebay - despite a degree in Paleontology - fall on deaf ears and there might even be some listed to the right of this guide.
Examples: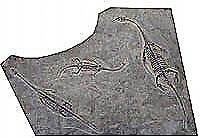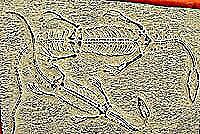 The first above is obvious - we have seen this cast sold four times in recent weeks. Identical, even downb to the bit missing at the top. The second is so ludicrous it hurts.
It is illegal to export genuine fossils from China - it is punishable by death.
These casts are usually plaster or resin - pick at them with a hot needle and see what happens - and many unsuspecting fossil collectors are being caught by them.
As long-established fossil dealers we have a huge client base and it's heartbreaking having to telll someone their 'genuine' piece is nothing but a shabby Chinese con.
A genuine Keichousaurus sells for triple digits so be advised. By the time your item gets to you it's too late as return postage to China is an expensive mistake.
On a final note.....this made us cry with laughter....until we saw it sold as genuine!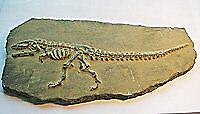 Caveat Emptor