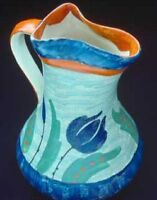 Myott, Son & Co. Lld was founded by Ashley Myott in 1898 in Staffordshire, expanding in the late 1920s to form the 'Alexander Potteries'. At this time, they also expanded their traditional tableware range to include hand-painted decorative wares in the new Art Deco style. It is this range that interests collectors most.

Decorators followed a pattern guide but as each is hand-painted, differences do occur meaning each piece is effectively unique. Red paint is very rare, with 'autumnal' oranges and browns being more common, along with greens and blues. Decorators did not sign or date their work.

A gold stamped mark was used 1930-42, and this Art Deco period is the most desirable one. The printed number is the pattern number. Impressed marks relate to a part of the production process.
Some pieces are marked 'B.A.G. Co. Lld' indicating that they were made for British American Glass for export. 'BAG' pieces are often more finely painted and there may have been exclusive BAG patterns.
A fire at the Myott factory in 1949 destroyed all records and pattern books making it hard for collectors to find out more. This may explain why interest in and values for Myott have not risen as much as for its contemporary Cia rice Cliff. However, this is changing rapidly.
Shape and pattern are the main indicators to value, beaky jugs (with long beak-like spouts) are sought after, often fetching £2,000-3,500. 'Wedge' and 'Cone' or 'Owl' vases are also prized and can be worth £1,000-1,500 each. Condition is important - brown and orange paints flake easier than other colours and reduces value considerably on common pieces.