Cabinet Types
So you've heard all these different words mentioned on ebay, and you're wondering what the heck they mean? Cocktail, Cockpit, Upright, Caberet, Sit-down, but what do the actual cabinets look like, and can you fit it in your house more importantly :-) This guide is going to be a glossary of terms used by people in listings, and a description that will hopefully lead you to understanding what they mean, and some of the common mistakes in labelling a cabinet people make.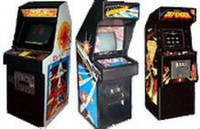 UpRight / FullSize / StandUp (abb. UR)

This is the regular shape and format of an arcade machine you think of when someone talks about arcade machines. You stand up when playing it, and generally are looking forwards to the screen. In the USA, these are always called uprights, in the UK we tend to call them a few different things if not upright, they are full-size, or standup machines. They all mean the same thing. Nearly always these machines have 19" monitors, and are designed to go through standard doorways. Larger monitor cabs do still go through doorways, but there are exceptions.
Cocktail / Cocktail Table / Table / Tabletop (abb. CT)

This is the next most common type of cabinet in the UK a 'cocktail table'. Sometimes people in the UK will call this a 'tabletop' machine. Tabletop shouldn't be used as a term because thats what you call a certain type of LCD/VFD handheld also commonly on the videogame/gaming theme. Sometimes these are incorrectly called a 'sit-down', understandable because you do sit-down to play it, but the term is used for another cabinet type and you shouldn't mix them :-) The picture above shows a Taito cocktail, this format of table is the most commonly found in the UK. Bootleggers and other manufacturers copied this construction and layout, and nearly all cocktails you find in the UK are either converted Taito cocktails, or based very closely on the format of players sit and control the game on the two longest sides, the body is suspended off the floor on 'legs' comprising two long feet at either end. The height is adjustable by loosening two bolts on either leg strut, but most of the time they are kept on their minimum setting so as to be as small and unobtrusive as possible, they allow for a 14" monitor vertically, and in a rare instance, a 19" monitor horizontally (i've seen them in photos, but have yet to see one surviving to this day). Taito was the first to make a cocktail in this format in about 1976, the same design was used by hundreds of other companies right through into the late 1980's. Easily moved around, go through standard doorways, can be carried easily by two people.
In the USA, the Taito format was not adopted, and instead Midway built a standard of cocktail that sat flush on the floor, players sat on the two shortest sides. This may have been in response to the small japanese design that doesn't really accommodate larger people very comfortably. The Midway design is not height adjustable, but is already set a bit higher, and they usually have much larger 19" monitors vertically, or 15" monitors horizontally (much more uncommon). You will see people selling 'build your own cocktail table' plans on ebay. These are plans made from measurements of the common Midway style cocktail. The people selling rebuilt cocktails, and newly made tables have created a term of their own now, called the 'USA-table' design to reflect that its an American thing.
Midway did not import and sell these style of tables in the UK back in the early 80's, so if you find one nowadays it could be a recent import, a re-made model, or maybe a special operator import from back in the day. This style of table is gaining popularity in the uk, mainly because of all the 'build-your-own' plans that are out there, and its a whole lot easier to make with stuff you can go and buy at the hardware superstore, than something that mimics the taito table where you would need metalworking skills to replicate :-) Fairly easily moved around, go through standard doorways. We like to call these 'shin-bashers' because carrying them one person at either end lifting from the control panels just isn't high enough to clear your shins and bashing often occurs :)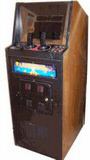 Caberet / Midi / Mini / Mini-Myte / Trimline (abb. CB)

These cabinets were a popular spinoff created in the early 1980's by Atari, and coined 'caberet'. Other manufactures soon followed suit, but couldn't use the 'caberet' name, so came up with their own (midway mini-myte, Taito trimline) etc. Essentially these are 'mini' versions of the full machine. They usually have a smaller monitor (but not always), a much smaller cabinet, much lower-key graphics and artwork. The idea was that these machines could fit into venues and locations that a full-size machine physically wouldn't fit into, or would just look too garish and out of place. As such, caberet machines always sport woodgrain sides, with artwork restricted to the front of the machine. Later on (and more recently with reproductions) people have added their own artwork, or reprints from very scarce original stickers that were available as extra from the manufacturer in the day. Very easily carried by two people, go through all doorways.
Cockpit / Sit-Down / Simulator / Sit-in (abb. CP or SD)

This cabinet is the biggest style you're likely to see. It is a Cockpit, but Atari called them Sit-downs, incorrectly people call them simulators, and other people grasping for a descriptive term will call them sit-in cabinets. This term is used for cabinets you sit inside. Simulator is not really the right thing to call it, as they do not have any motion parts. There aren't a great number of these cabinets that games were made in dedicated form, usually restricted to driving or flying games, Pole Position, Star Wars etc. Because of their much larger size, the designers often try to think of ways to make them easier to move around. Starwars cockpits for example are actually thinner than most upright machines, they have built-in wheels in the corners and are surprisingly easy to move around. Sometimes the manufacturer builds them with dissassembly in mind, whereby you can split the cabinet into two pieces to move around easier, not many do this though.
As with all things, there are exceptions to the rule, there are goofy cabinets that don't fit into these categories, but i would need the same amount of space again to tell you about all those, and you are unlikely to come across them in the UK. I hope this has been enough of an introduction into the main cabinet types that are around, and help with a glossary of terms and what they mean so you can get further in your collecting. There are even more cabinet types for more modern games, but agian i'm not going to go into that in this document. Enjoy!
written on a windy, rainy day 09/07/2006 by Andy Welburn