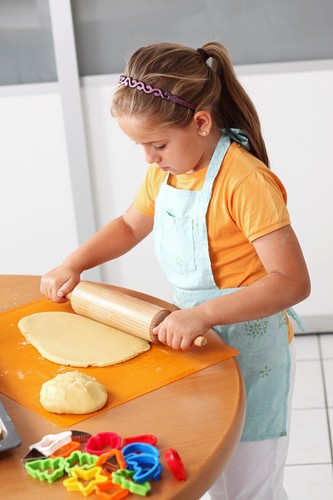 Cake decorating is a sugar art that uses icing, frosting, and other edible substances to make plain cakes more aesthetically pleasing. Cake decorating is done both as a profession and as a hobby. In the western world, cake decorating has evolved with such popularity that it is often featured in contests, on television shows, and even in many baking blogs. Cake decorating is useful in a variety of situations including weddings, graduations, baby showers, birthdays, and other celebrations. Cakes have the ability to take both traditional geometrical shapes, as well as three-dimensional persons, places, and objects. Cake decorating cutters are used to create different shapes, designs, themes, and styles using icing, frosting, and cake batter.
There are a wide variety of decorating cake cutters available for purchase at baking specialty stores, department stores, and online at websites such as eBay. Before shopping, consumers should consider what type of edible cake decoration substance they are intending to utilise, as well as the designs available, and even some examples of the themes of cake decorating cutters that are available. Making note of these factors allows buyers to adequately narrow down their cake decorating cutter search.
Types of Edible Cake Decoration Substances
Cake decorating cutters are typically manufactured for all types of edible cake decoration substances. However, while most cake decorating cutters are used on a variety of different edible cake decoration substances, it is wise for consumers to understand the differences among the cake decoration substances available prior to purchasing anything. Understanding the texture and use of different edible cake decoration substances helps consumers decide what kind of decorating cake cutters to purchase.
Gumpaste
Gumpaste is a sugar dough that is traditionally used for creating flower designs, as well as shapes to decorate the outside of plain cakes. While gumpaste is mostly pliable, it is not as forgiving as cake batter, and often requires sharper, more exact decorating cutters.
Fondant
There are two different types of fondant. Generally, fondant is a mouldable frosting that is used to create shapes and designs when decorating cakes. Fondant is also available for purchase in multiple bright colours, allowing users maximium flexibility of style.
Poured Fondant
Poured fondant is a liquid, pourable frosting that is traditionally poured on cake, spreads quickly, and then dries. Poured fondant has a shiny appearance and is flavoured and then baked. Therefore, poured fondant is usually consumed with the cake that it decorates. Some cake decorators pour this type of fondant into a cake decorator to create a thin shape or design. As such, cake decorators with tall, thick, non-stick edges should be used to contain this quick-spreading, liquid substance.
Rolled Fondant
Rolled fondant is a dry, firm frosting that is typically rolled out with a rolling pin and draped over cake. Rolled fondant has a uniform, matte appearance, and is not baked or cooked. Therefore, it is usually tasteless, and as a result, removed before eating. Some cake decorators use rolled fondant for flat cake decorations. Because rolled fondant does have a dry, firm texture, it also requires sharper, more exacting decorating cutters.
Cake Batter
While gumpaste and fondant are popular edible cake decoration substances to use when creating cake decorations, cake decorators also use cake batter itself to create intricate designs, themes, and shapes. Because cake batter is extremely soft and pliable, it is typically cut using a variety of different decorating cutters ranging in sharpness and thickness.
Types of Cake Decorating Cutter Designs
There are various types of cake decorating cutters available in a multitude of different styles and designs. The types of cake decorating cutter designs are used for all edible cake decoration substances.
Patchwork Cake Decorating Cutter
Patchwork cake decorating cutters cover a variety of people, places, and things. Patchwork cake decorating cutters include an internal stencil that makes the cut-out more intricate and complex. Therefore, patchwork cake decorating cutters are particularly popular for detailed cake designs, such as wedding cakes using a bride and groom cake decorating cutter..
Silhouette Cake Decorating Cutter
Silhouette cake decorating cutters also cover a variety of people, places, and things, but are much more simplistic than patchwork cake decorating cutters. Silhouette cake decorating cutters include only an outer stencil of the chosen symbol or shape. Silhouette cake decorating cutters range from basic shapes such as hearts, circles, and squares, to more complex shapes such as dinosaurs, doves, and bells.. Silhouette cake decorating cutters give the cake decorator creative freedom to design the internal surface of the cut-out.
Frill Cake Decorating Cutter
Frill cake decorating cutters are used to create a ruffle lining for a cake. Frill cake decorating cutters come in either a straight-edge or garret shape. Straight edges are used for cake decorators who plan on applying the frill freehand. Garret frill cake decorating cutters are usually circular in shape, resembling a donut-hole, and are applied around a circular cake. Frill cake decorating cutters come in different widths and curves and are more appropriate for use on rolled fondant, cake batter, or gum paste to create a frilly-lace appearance. Frill cake decorating cutters often come in packs of one or four stencils.
Crimped Cake Decorating Cutter
Crimped cake decorating cutters have a basic outer stencil that is repeated over and over again until it reaches the middle interior of a cutter. As the design repeats, it typically gets smaller and smaller as the circumference of the shape decreases. Crimped cake decorating cutters are popular for use with floral designs, to create the appearance of a three-dimensional flower with multiple petal layers.
Quilt Cake Decorating Cutter
A quilt decorating cutter is similar to the frill decorating cutter, except that it places a design right on the cake or the cake decoration substance. A quilt decorating cutter is a solid design, usually zig-zag or curved, that can be applied to create a direct design. Unlike most other cake decorating cutters, the quilt decorating cutter does not produce scrap material. As a result, a quilt decorating cutter is used to place designs directly on the cake, or used in combination with other decorating cake cutters. For example, cake decorators use quilt decorating cutters to design the interior of silhouette cut-out, or frill cut-out.
Cake Decorating Cutter Themes
Cake decorating cutters come in a variety of themes. Narrowing down the theme or celebration that a buyer plans on using the cutters for, may in fact help to narrow down the wide selections that are available online at eBay. While cakes are made and decorated for an infinite number of reasons, there are a few popular themes that might require cake decorating cutters more than others.
Wedding
Cakes are not only created for the wedding reception, but also for multiple other events that lead up to a wedding including, the bachelorette party, engagement party, and wedding shower. Therefore, when creating a wedding cake, consumers should look for cake decorating cutters, such as silhouette cutters of interlocking rings and bells, patchwork cutters of a bride and groom, and patchwork and crimped floral cutters.. Frill and quilt cutters are often also used for adding additional fancy and feminine designs.
Graduation
Graduations are also another popular time for cake decorators. When looking for the appropriate cake decorating cutters for graduation cakes, consumers should search for patchwork cutters of the school seal, crest, and symbol. Additionally, silhouette cutters of the graduate's name,, as well as the traditional tam and regalia, are also common symbols used on graduation cakes. Again, a quilt cutter is appropriate for making extra direct designs onto the cake, or on the interior of the actual silhouette cut-outs.
Birthday
Birthday cakes are popular, whether the guest-of-honour is a child or an adult. Birthday cakes open the door to creative possibilities for all kinds of different cake decorators. Birthday cakes range from traditional styles with silhouette cutters of balloons and letters, to themed birthday cakes. Themed birthday cakes range in style and design, and even more unique themes like beach, nature, and sports are often used as well. For example, for a beach-themed birthday cake, a consumer should search for patchwork designs of beach balls, umbrellas, and people, and use the quilt cutter to create a beach scene, such as the ocean waves and sand, directly on the cake.
How to Buy Cake Decorating Cutters on eBay
The different possible designs and themes of cake decorating cutters available for purchase are seemingly endless. eBay has a wide selection of different cake decorating cutters available ranging from frill cake decorating cutters, to silhouette decorating cutters and beyond. Let's say you are interested in finding balloon cake decorating cutters for a traditional birthday-themed cake. Simply navigate to the eBay website portal and type balloon cake decorating cutter into the keyword search bar located on any eBay page. After you click search, all of the different types of designs encompassing birthday decorating cake cutters available are then populated for you. Additional cake cutters can be located on the eBay website portal using exactly the same method.
eBay provides buyer-friendly functions to ensure that you are getting exactly the product that you are purchasing, such as specific cake decorating cutters. eBay's Top-rated seller function helps you buy from sellers who provide adequate descriptions, consistently deliver their products, and charge fair postage. This function is just one way eBay makes shopping for cake decorating cutters easy and hassle-free.
Conclusion
Cake decorating continues to become more popular, and more elaborate with the passage of time. As a result, there are an infinite number of possible designs and themes for buyers to choose from when shopping for cake decorating cutters. Luckily, there are a few ways to narrow down the selection. Buyers should consider what type of cake decoration substances they are planning to use so that they buy adequate cake decorating cutters for that substance. In order to decide what types of cake decorating cutter designs to purchase, it is helpful for the consumer to first narrow down the theme of the cake that is to be used.
Today, cake decorating is done by both professionals and novices alike. Regardless of skill level, there are cake decorating cutter designs to meet all ranges of consumer needs. With just a few key ideas in mind, buying cake decorating tools, such as cutters, is both fun and easy.