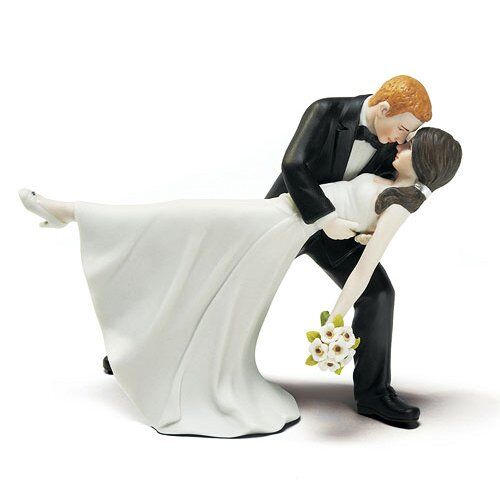 Cake toppers are made for cupcakes and traditional cakes and come in a variety of shapes and figures. Some are intended to stand on top of the cake, while others lie flat on the cake. Cake toppers add a special touch to complete the decorations for any festivity. However, shopping for one can be hard since there are so many options to choose from. The choice is an important one because the topper has to match the tone of the festivity, which can be either formal and elegant or whimsical and funny.
Cake toppers are made of many materials, including metal, acrylic, or even edible rice wafers. Some kinds can even be personalised with a photo and text if desired. In order to choose the perfect cake topper, a shopper should know about the types of cake toppers available for different cakes, the topper themes available, and the materials from which cake toppers can be made. The perfect cake topper can then be bought at party supply stores or online at eBay, where a wide selection of toppers are available.
Types of Cake Toppers
There are two basic kinds of cake toppers. One type is intended for cupcakes and the other is intended for larger traditional-style cakes. The two types differ in both size and style.
Cupcake Toppers
Cupcake toppers can either stand vertically on top of the cupcake, or lie flat on top. Naturally, these toppers are smaller than those made for regular cakes. The majority of cupcake toppers have children's themes, like popular television characters, but there are also cupcake toppers for every holiday in the year, from Valentine's Day to St. Patrick's Day. Some candies and sprinkles are also called cupcake toppers.
Cake Toppers
Cake toppers for larger cakes can also stand vertically or lie flat. Wedding-themed cake toppers dominate the category of stand-up cake toppers, while edible sheets printed with photos and text are a popular choice of topper for other events. Rhinestone letters also make beautiful toppers for weddings as well as other events.
Cake Topper Themes
While there are some toppers that can be used in various situations, the majority of toppers are made with a specific theme. The most common themes are birthdays, weddings, christenings, anniversaries, and holidays like Christmas or Valentine's Day. Having some ideas for each theme can help one pick the right topper.
Birthday Toppers
Birthday cake toppers can often be personalised with the age and the name of the birthday girl or boy. These can be simple flags on toothpicks or more elaborate arrangements with feathers or stars with text. There are also flat toppers with customisable designs including pictures and text on edible rice paper.
Wedding Toppers
A very popular type of cake topper is used with wedding cakes. The bride and groom figurines are traditional toppers for cakes, but today a multitude of unique variations on the traditional bride and groom are available. For example, figurines can be personalised so that each figurine is holding a miniature object that represents the couple's likes and dislikes. Their clothes and expressions are sometimes changed to match the couple's personality as well. Other wedding topper ideas are candy flowers, rice paper butterflies, or even fresh flowers.
Christening Toppers
Christening toppers are much like birthday toppers. Many are personalised with a photo and the name of the baby being christened. They can be edible or made of a solid material that can be saved as a memento of the event. Apart from personalised cake toppers, there are also baby-specific decorations like tiny feet or flowers made of sugar that can top the cake.
Anniversary Cake Toppers
Sugar flowers and diamante numbers are popular anniversary cake toppers.. Orchids, roses, lilies, and many other flowers can be made from sugar paste and make a beautiful and elegant addition to any cake. Numbers can also be made from one of several materials, including metal, rhinestones, and acrylic. Interlinked heart toppers are appropriate for anniversaries. Of course, generic decorations like butterflies or stars can be used for anniversaries as well.
Holiday Cake Toppers
Holiday toppers include those made for Valentine's Day, St. Patrick's Day, Easter, Mother's Day, Father's Day, Fourth of July, Halloween, Christmas, and New Years Day. These decorations are an inexpensive way to add some cheer at office parties or other festivities on annual holidays.
Cake Topper Materials
Cake toppers come in many different materials. Each one has benefits and disadvantages that should be considered. There is also a significant difference in price and quality among cake toppers.
Acrylic
Acrylic cake toppers are the most inexpensive of all topper types and are generally disposable. Rhinestone or diamante toppers are made with acrylic, which is a type of plastic. These are a great option for an affordable and attractive cake topper that can be disposed of after the cake is cut.
Metal
Metal cake toppers are more durable and also slightly more expensive than acrylic toppers. A benefit to purchasing metal cake toppers is that they can be kept and reused for multiple occasions. There are various kinds of metal used for cake toppers. One should always check that they are lead-free and food-safe. Also, some metals may tarnish over time, which may be in a factor in the cake topper purchase.
Glass
Glass toppers are fairly inexpensive and add an elegant touch to a cake. Glass should be lead-free. They make good keepsakes and can be reused. However, they are not as common as acrylic toppers that look like glass. Glass toppers are delicate items and should be handled with care.
Ceramic
Ceramic toppers are generally the most expensive type of topper, but many high-quality ceramic cake toppers become treasured figurines that can be put on display if desired. They are breakable and used for the most formal occasions.
Edible Cake Toppers
There are two basic kinds of edible toppers. One type is made from sugar or icing. These include sugarpaste flowers and butterflies or icing sheets that can be printed or airbrushed with photos. The other kind is wafer paper. This is usually made from rice, although other types may be available. Rice paper or wafers can also be printed with any design. Any edible topper is fun for adults and children alike, and are fairly inexpensive.
The table below compares the characteristics of different topper materials in order to help a shopper choose the best type.
| Topper Material | Benefits | Disadvantages | Price |
| --- | --- | --- | --- |
| | Durable, affordable, attractive | Sometimes low quality | Low |
| Metal | Reusable, durable | May tarnish | Medium |
| Glass | Reusable, attractive | Delicate | Medium |
| Ceramic | High-quality, reusable | Sometimes expensive | High |
| Edible | Fun, easily personalised | Not reusable | Low |
There are other topper materials that can be found in custom-made or one-of-a-kind creations. Be sure that the topper material is food-safe before buying.
How to Buy Cake Toppers on eBay
A wide selection of cake toppers is found online on trusted sites such as eBay. eBay is popular for its easy search options and secure seller feedback system. By using eBay, you can find the right cake topper for any occasion from the comfort of your home, with just a few clicks of the mouse.
To start searching on eBay, enter the search term 'cake topper&' in the search box on any eBay page. You can browse through all the listings that appear or narrow down the search by choosing the appropriate category. Within the correct subcategory, there are additional search criteria such as price, type, theme, and material, to help you refine the search quickly. You can also change the keywords and search within the correct subcategory to find cake toppers with a specific design, like hearts or butterflies.
When you find a topper you like, the next step is to read the listing carefully and look at all the pictures the seller has included. Then check the seller's feedback score and click on it to see more details about the seller's history on eBay. This feature ensures that buyers can find trusted and reputable sellers to buy from.
Conclusion
Cake toppers add the finishing touch to a cake that leaves guests surprised and delighted. There are toppers for cakes of all shapes and sizes, from cupcakes to large rectangular cakes. Many cake topper types can be personalised for events like birthdays and christenings. Other toppers are suitable for specific days of the year like Valentine's Day or Christmas. Still others top cakes on formal occasions like weddings and anniversaries and become cherished mementos of those special days.
Cake toppers are available in a range of prices. Acrylic cake toppers are widely available and inexpensive. Ceramic toppers are at the other end of the price scale and are not as commonly used. However, ceramic cake toppers can be used after the event as a figurine and memento, which often makes up for the higher price tag. By learning to shop on eBay for cake toppers, anyone can take the hassle out of party decorations and find unique topper designs for any special event.