Please do an Ebay, or even a Google search under camcorders for MX7000, MX 7000, MX-7000, or even MX 7200 either 'Sony, JVC, or Canon' and the results are the camcorders are identical but with differing brand names stuck on, none of the manufacturers make these model numbers, all have the same identical accessories, even the bag! and ALL are FAKE. The camcorder itself is very tacky, the big thing on the front that looks like a lens, is not, it is a terrible viewfinder, the lens is the little bit under it, and the image quality is awful.
I know because my mother -in- law paid £100 for one from a street market, she took it back after showing it to me and got a refund luckily.
I do believe some of the sellers don't realise what they are selling. I have advised Sony, and Ebay, who are supposedly still investigating.
I doubt wether it is even worth £25. Unsuspecting buyers are paying loads for them here, see 320128641700.
Some of these are still appearing, see: 220051894303, 300052352592, 150063132971, 200049929489.
14/12/06, see also: 140064227936, and 260064598749.
26/06/07, see also: 130127880178. 250134070066. 160131567339. 120136035453. 260132110007. 200123129934. 250136010944.
If you do see anyone bidding on these fakes, just drop them a line to advise them, and direct them to Ebay's reviews like this one, After all, i'd want someone to tell me i was bidding on a known fake!
Also, some sellers are wise to the tell-tale MX7000 label, and are selling as, i.e. : 'Sony 4.1Mp digital camcorder', they are also now being badged as MX 7200 as well.
The camera and accessories are of course the same. Unfortunatley there just a few of us who are reporting these item numbers to Ebay, and are emailling sellers, and bidders to advise them. One or two of us insert an Ebay 'auction' item explaining these are fakes.
UPDATE 13/08/08. Recently i advised a buyer of one of these things to open a dispute to ebay and or paypal saying the item is 'not as described', you may well get lucky and obtain a refund. Or you could simply open a dispute saying the item never arrived, and get your refund that way. BUT....make sure your are not going to get anywhere with the seller before doing this. This recent buyer incidently did'nt buy a 'fake' as it was not described nor displayed as a Canon / JVC / Sony. so what she got was the same rubbish camcorder, but unbranded.

UPDATE 27/03/09. Recently I have been advised by a well-wishing Ebayer that these camcorders are still appearing, but like a virus they have mutated. Some are now being sold as the MX30-7000 MAXIM, These seem to be unbranded, so they do not break copyright, but they are the same rubbish camcorders.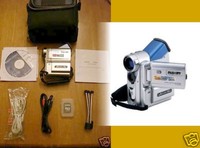 Keep up the good work, and spread the word.
Keep telling ebay about these fakes by quoting the item number/s.