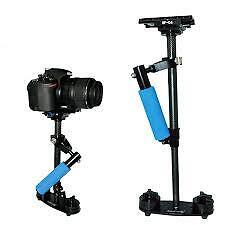 A camera must
Brand new and high quality.
Bidirectional base plate with fine adjustment system can be adjusted freely to any direction.
The quick release plate with scale can record the dynamic balance for different equipments.
Pulling the adjusting knob can separate the quick release plate form the base.
High-precision bearings, low-friction joints.
Stretch adjustment reduces the clump weights greatly.
Extend quickly for shooting at a higher angle.
Polished chrome counter weight.
Super smooth gimbals, accurate motion.
Comfort grip handle.
Specifications:

1.Color: Black
2.Material:
-Body and Rods: Carbon Fiber
-Handle: Sponge
3.Maximum Length: Approx. 39cm
4.Minimum Length: Approx. 26.5cm
5.Body weight: Approx. 0.985kg
6.Capacity Range: Approx. 0.2-2kg
I purchased
SF-04 New Carbon Fiber Stabilizer Steadicam and a Stabilizer carry bag
Great stabilizer to make smooth pictures with ease , im really happy with the quality and price of mine from ebay .. under £60 would definitely recommended from starter to professional .Excellent carrying comfort due to the padded grip, well gliding joints for smooth, fluent movements. Made of high-strength aluminum, light to hold, easy to operate.It can be widely used on all kinds of professional camcorders, SLR, DSLR cameras and DVs etc.For fluent, steady and blur-free filming, even with rapid camera movements, simple balancing with weights and variable adjustment possibilities.