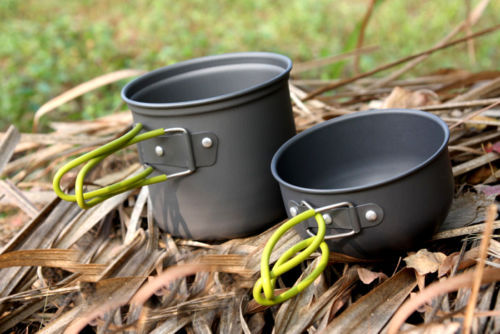 When camping on holiday, making a long outdoor trek, weekend hiking, going to a festival, taking a family holiday, trekking solo, or as a couple, it is important to take appropriate camping cookware. Camping represents one of the best ways to experience the great outdoors. Cooking outdoors can be an adventure for people of all ages, and for that some camping cookware should be taken along.
As well as being fun, camping is an extremely cost-effective way of going on holiday, while offering great flexibility and versatility, especially when using specialist cooking equipment designed for camping. eBay lists all sorts of camping cookware that can easily be ordered with home delivery. Before you order camping cookware, make a list of what you think is needed, and also search relevant items within the search term; camping kitchen on eBay.
The list does not have to be long, but consider taking:
* A camping can opener and cork screw
* A camping cookware source of fuel
* Camping Cutlery and plates
Many other items of camping cookware are available on eBay.
Conditions at camp sites, festival sites, wilderness destinations or even the end of your garden vary, so, to get the most out of the experience, be adequately prepared with the right equipment, especially when it comes to camping cookware. Preparing food provides additional freedom, particularly when travelling somewhere remote or conversely, somewhere developed, but expensive to eat at restaurants.
Excellent Materials for Camping Cookware
One important decision to make is what materials the camping cooking equipment should be made from. This relates to weight, ease of packing and durability. Here are some of the options:
Stainless Steel Camping Cookware
Stainless steel is one of the most common cooking materials used when camping. Although something like titanium may be better at resisting heat, stainless steel is highly resistant to scratching and is a good choice for smaller groups, couples or solo travellers. It's also a good choice for a regular camper rather than an occasional camper. Items that could be useful to take on a camping adventure are:
* Thermal Travel Mugs
* Whisky Hip Flasks
* Whistling Camping Kettles
* Mugs (including folding mugs)
* Cutlery and tin openers
* Petroleum lamps
* Portable barbecues
* Cooking pots
* Folding Stools
Titanium Camping Cookware
Titanium cookware has a coating to make it completely non-stick making it easier to clean. This metal strikes a good balance between weight and durability, however some kit made from it can be a little more expensive than other products on the market. There are few camping products available at present but it is a growing market.
Melamine Camping Cookware
This material is a bright, flexible and durable option for cutlery, mugs and plates. It is typically coated to be 100 percent non-stick. It packs down easily and is not difficult to store or clean. Designs tend to be bright, modern and fresh. Useful melamine camping cookware includes:
* 16 or 24 piece dinner sets
* Plates of various sizes
* Brightly designed kitchen and serving bowls
* Mugs and Cups
* Butter Dishes
* Salt and Pepper Shakers
* Children's Kitchenware
* Baking trays
Plastic Camping Cookware
The good thing about plastic is that it's a hard material to damage. Plastic cookware, especially utensils, offers a lightweight and space-saving alternative to metals. Collapsible items allow further room to be saved when packing. Useful plastic camping cooking items include:
* Egg Boxes
* Sporks
* Mugs
* Plates
* Cutlery
* Cutting Knives
* Wine Glasses
* Thermos
* Pitchers
* Beer Glasses
* Jerry Cans
* Salad Bowls
* Water Bottles
Enamel Camping Cookware
This is a very tough metal and so another good choice for camping gear. On the downside, Enamel dents more easily than some other materials. Camping cookware that can be found in enamel are:
* Plates
* Bowls
* Mugs
* Teapots
* Baking Tins
* Milk Pans
* Pans
Below is a table that outlines the best materials for camping cookware.
| | | | |
| --- | --- | --- | --- |
| Material | Pros | Cons | Why buy? |
| Stainless Steel | Long lasting | Food can stick | When planning on numerous camping trips |
| Titanium | Easily cleaned | Can get scratched | For consummate ease |
| Melamine | Easily cleaned | Can become damaged | Ease of washing up |
| Plastic | Hard to damage | Can be flimsy | Lightweight, durable space-saver |
| Enamel | Sturdy and lightweight | May dent | For sturdy kit |
Camping Cookware Checklist
* Camping Stove
To cook a family meal, go for two burners, but a single ringed portable stove should be enough for a solo backpacker or a pair. Alternatively, get both for a large group that will be cooking and also boiling water for hot drinks to go with the food. There is also the option to invest in a folding double burner which takes up less room than most single burners tend to. Also remember fuel. Be safe when you use camping fuel.
* Camping Cookware Pots and Pans
One good rule of thumb is to think in terms of one pot and one pan per pair, and choose cookware from the materials described above, depending on precise requirements, how many are in the group, destination and how often the cook ware will be used.
* Cups, Plates, Bowls and Tumblers
Think in terms of one of each per person. Consider the weight that can be carried and how durable the kit needs to be. It will be worth packing one or two spare dishes and other items - beware of taking any sort of cup made of glass unless staying in a caravan. Use durable plastic ones instead as they will not shatter.
* Cutlery
One set per person should suffice, but, again, it's a good idea to pack spares. A good multi-purpose alternative to an entire set of cutlery is a Spork - a spoon, fork and knife in one - which are harder to loose and easier to pack.
* Tin Opener
This is something of high importance that is often forgotten, versions with a butterfly wing design work especially well for camping.
* Scissors and a Good Knife
Essential for chopping meat and opening packets, it is worth investing in knives which come with a sheath for safe storage. A Swiss Army penknife has many uses and most include a handy scissor attachment. (For wine drinkers, it should also have a corkscrew attachment.)
* Other Camping Utensils
Most meals necessitate a stirring spoon made from plastic or wooden, which can also be used as a serving spoon, along with a spatula for frying food.
* Extras
Some of the equipment required when camping and cooking is often forgotten and it's surprisingly easy to leave them behind, that is why it is important to purchase all the necessary items before leaving. This includes matches or a lighter, rubbish bags as well as cloths for cleaning up.
Buying Camping Cookware on eBay
Whatever camping cookware is still needed, it can be found with ease on eBay and being able to shop in a place and at any time of day is very convenient. It's easy to find exactly what you need, and many sellers are happy to offer free shipping.
Once making a list of the exact products that you need go to eBay and look in the camping cookware section. Then, depending on what you require, click on specific categories like stainless steel camping cookware or camping cookware sets, whether you need a camping stove, utensils or anything else.
Narrow down your search by typing in any additional words related to the specific item you have decided upon (preferential brand or material) in the search box, eBay also has a search tips page to help.
After deciding upon the perfect product numerous options will be available for how to proceed with the purchase, either place aBid, Buy it Now, or put down the maximum you are prepared to pay using the Best Offer function. The transaction will be secure as eBay are partnered with PayPal.
Conclusion
Camping is one of the best ways of returning to the simple pleasures of a more stripped down, uncluttered lifestyle. It is important to take camping cookware if you are staying over-night. However you go camping, and no matter how many family members you take with you, it is important to take appropriate camping cookware when sleeping outdoors.
eBay lists all sorts of camping cookware that can easily be ordered with home delivery. Before you order camping cookware, make a list of what you think is needed, and also search relevant items within the search term; camping kitchen on eBay. Here is a final list of cooking items that may be needed on a camping expedition.
* A Stove and fuel for it
* Mugs (perhaps folding mugs)
* Cutlery or sporks
* A portable barbecue (plus fuel)
* Cooking pots and pans (including a milk pan)
* Plates of various sizes
* Kitchen and serving bowls
* Salt and Pepper Shaker
* Children's Kitchenware
* A Baking tray
* Cutting Knife and a can opener
* Wine Glasses and a cork screw
* A thermos
* Pitchers
* Beer Glasses
* Water Bottles
* A Teapot
* A Camping Kettle
* A lighter and a bottle opener
* Rubbish bags
* Cleaning items
Food will be a key part of any camping trip - so take everything needed to prepare it, however far from civilisation the venture is planned for. It's possible to find all the best products at affordable prices on eBay.