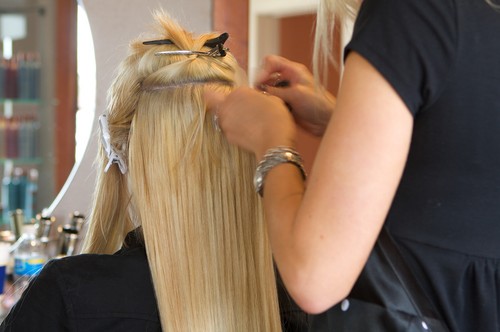 Hair extensions have become increasingly popular amongst everyone from celebrities to everyday housewives and working women. The reason for this increase in interest is mainly because of the incredible benefits that hair extensions add to one's style. They allow women with limp or short hair to get longer, fuller looks instantly and can add texture and colour to anyone's look. However, the care of hair extensions can be rather confusing and many first-timers may worry that they are too ill-informed to commit to trying extensions with their own hair. They may wonder whether there are different methods of upkeep. They may ask questions such as, "Can hair extensions be styled?" or "Can I colour hair extensions?"
The good news is that the answers to these questions are easy to determine. Indeed, the care of hair extensions is not as complicated as one might fear. With a little bit of background knowledge about the types of hair extensions that are available today as well as the particular needs for styling, caring for, and even colouring those hair extensions, even the most hesitant customer can confidently and happily sport a new, 'extended' hairstyle in no time.
Different Types of Hair Extensions
Before making any decisions about hair extensions, a basic background in the types available and what they can and cannot provide for users is essential. There are two main choices when it comes to hair extensions: human hair extensions and synthetic hair extensions.
Human Hair Extensions
Human hair extensions are by far the most popular amongst celebrities and those with extra money to spend on their hair. This is because, as their name implies, human hair extensions are made from actual human hair and, as such, the advantages of choosing human hair extensions over synthetic hair extensions are numerous.
First, because they are made of real hair, human hair extensions respond to all styling processes the same way as one's actual hair does. This means that washing, drying, styling, and even colouring can all happen together. There are practical advantages to human hair extensions as well. That is, because human hair extensions are composed of the same cellular material as a user's real hair, they look more natural. If they get wet in the rain, for example, they dry with the same natural wave that real hair does.
Synthetic Hair Extensions
On the flip side, the main advantage of synthetic hair extensions is price. As synthetic hair extensions are made of smooth plastic fibres, their production is much less restricted than human hair extensions, which must be grown and cut naturally, from people. One downside to synthetic hair extensions is that this plastic-like consistency can present styling issues, since not all products, tools, and colourants can be safely used on them.
On a positive note, the styling done to synthetic hair extensions is far more permanent than that which is done to human hair extensions. Since the plastic that makes up the strands of synthetic hair is far more mouldable than human hair, synthetic hair extensions set to curl with heated rollers, for example, hold their shape for days, not hours, as is the case with human hair. Synthetic hair extensions also add more volume to the hair with fewer connections. This means that fewer synthetic extensions need be applied to achieve the same look, as the texture of synthetic extensions are controlled in the manufacturing process.
Colouring Hair Extensions
Since the molecular composition of the two types of hair extensions obviously differs quite a bit, the treatment of human vs. synthetic hair is also different. And, although it is possible to colour both types of hair extensions, the methods used are quite different and important to note before deciding upon the right extension to get and attempting to colour them.
Colouring Human Hair Extensions
As covered in the previous section, the major advantage to using human hair extensions is that they behave exactly as one's real hair. That behaviour is extended to the colouring of extensions as well as other aspects, such as washing, drying, and styling. This is because all human hair, whether naturally occurring or added through extensions, is porous and therefore able to accept colouring.
This means that any colourant used on one's natural hair can be used on natural hair extensions. There is no special treatment needed; just colour the extensions along with the natural hair in the same manner, taking care to compensate for any shading differences. That is, if the extensions are darker than the natural colour of one's hair, they need to be coloured earlier or later, depending on the colour of the dye.
Colouring Synthetic Hair Extensions
Unlike human hair extensions, synthetic hair extensions require special treatment when they are coloured. This is because the plastics used to make synthetic hair do not have the same porous property of human hair and therefore do not accept regular human hair colourant the way natural hair does. Because of this, for a long time, there was no way to colour synthetic hair extensions at all. However, creative stylists and adroit companies have recently added some options for those interested in colouring synthetic hair extensions.
Specialised Hair Colourants
Since the composition of synthetic hair is so different from human hair, it is necessary to use specialised hair colourants made to colour synthetic hair. These colourants are more like fabric dye than the kind of hair colouring used on real hair. This means that it is necessary to colour the synthetic hair extensions separately from one's actual hair and that the two colours may not match up exactly. The best way to have this done is therefore through a professional hair stylist who can work with these differing colours to make them appear more natural.
Do It Yourself and Get Crafty
For those interested in colouring their synthetic hair extensions more outrageous shades, such as blue, pink, or orange, there is a really simple, if seemingly silly, way to go about doing so: permanent markers. Creative stylists have discovered that, although human hair colourants won't work on synthetic hair plastics, permanent markers, such as Sharpies, do. This, obviously, can only be used on light-coloured extensions and is limited to the spectrum of colours offered by permanent markers, but it does work and the colour won't bleed. In addition, there are some companies that offer wig-colouring permanent markers for exactly this purpose.
Getting Hair Extensions
Once users understand the key differences between human hair and synthetic hair extensions, including how to colour each, the personal choice of getting hair extensions for themselves becomes easier. The final choice users need to make then is where and how to get the extensions and the colourants one needs. Both human and synthetic hair extensions are available for professional and personal application.
Professional Application
Professional application of hair extensions is really the best option. Professional hair stylists know how to apply the extensions as well as colour them in order to make them look more natural and last longer. However, this option is also extraordinarily expensive, which makes it potentially out of reach for people on a budget.
At-home Application
The other option for getting hair extensions is to apply them yourself, at home. At-home hair extensions can either be temporary clip-ins or permanently glued-in extensions similar to those administered at a professional salon. Buying hair extensions as well as their colourants is pretty easy, since they are available at a variety of locations, from beauty shops to department stores. They are also available for purchase online through websites such as eBay.
Buying Hair Extensions and Colourants on eBay
Shopping on eBay for hair extensions and colourants is a great way for users to save time and money on the purchase of materials needed for a new look. The sellers on eBay offer everything from temporary colourants and clip-in extensions to salon-grade permanent colourants and professional extensions.
The eBay shopping process begins when users register for new accounts or sign into their existing ones. After this, the site is built for easy use. Buyers can simply type in what they are looking for into the general search bar which is located on the top of every page. Start with a general term such as 'clip-in hair extensions' to get a feel for what is available.
The results that pop up may number into the thousands, but there are ways to limit them through additional, more targeted searching, such as 'blond clip-in human hair extensions' or using the advanced search feature. Once a manageable number of results appear, users can simply browse results for the proper length, colour, and type of hair extensions or colourants.
Conclusion
Choosing to update one's look through the addition of hair extensions is a great way to effect a dramatic change to one's appearance in a short time. However, there are many questions that people commonly ask when making this choice, such as whether it is possible to colour hair extensions. The answers often depend upon whether or not one has chosen human hair extensions or synthetic hair extensions and, if colouring, whether the desired colour is natural or something a little more funky.
Both human hair and synthetic hair extensions can be coloured. However, the methods used vary greatly. Whereas human hair extensions can take advantage of the same types of colourants as one's real hair, synthetic hair extensions need to be coloured separately with substances that act more like fabric dyes. Once this is understood, users can make an informed decision about the best type of hair extensions for them as well as whether or not they decide to colour their hair extensions at all.