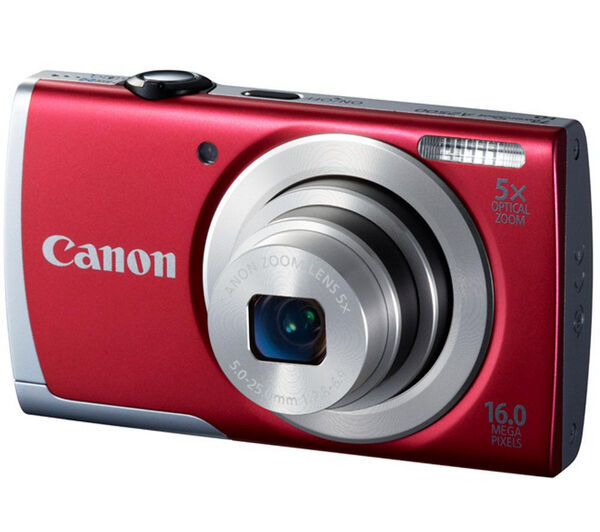 Canon is a leading manufacturer of high-quality digital cameras and other photographic and imaging equipment. Given the size of Canon's camera range, it can be difficult, especially for the beginner photographer, to know which models to consider when looking for a new camera. Canon cameras come in models suitable for all levels of capability, from the absolute beginner to the all-terrain photographer.
About Canon Digital Cameras
Canon has an excellent reputation for producing high-performance cameras. The range of digital cameras includes entry level compacts, high-end digital single lens reflex cameras (DSLRs) and everything in between. Canon continues to utilise the latest technologies and advances to produce the best cameras at superb value.
Compact and Bridge Digital Cameras
Canon produces compact digital cameras in two series, IXUS and Powershot. Powershot also includes bridge cameras for advanced functionality.
IXUS
The IXUS range of stylish and portable compact cameras features several impressive models. Make sure to check the model's specifications against the intended use of the camera. Resolution ranges from 10.1MP to 16.1MP, giving a decent resolution on all models and a resolution sufficient for printing clear A4 images on the higher end models. All image sensors are size 1/2.3. Most are CMOS image sensors, which are better regarded when it comes to most performance criteria, while some are CCD. Focal length ranges vary from 24 mm to 120 mm to 28 mm to 336 mm (35 mm equivalent), meaning there is some variation in performance, but all models give a range incorporating standard, wide angle and telephoto shots. Optical zooms range from 5x to 12x and combined optical and digital zooms from 20x to 48x. The optical zoom is the most important zoom and, unlike digital zoom which simply enlarges images without adding information, it is indicative of the camera's actual magnifying power. f numbers, which are an expression of maximum aperture or light capture potential, range from f2.7 to f3.4. Lower numbers indicate a greater maximum aperture and better low light performance. f2.7 or similar can produce good images in dim conditions without a flash. All models have lens based image stabilisation.
Other features offered by models in the range include face detection, LCD screen with approximate 100 per cent coverage and a variety of shooting modes including fish eye, soft focus, and monochrome.
Powershot
From portable compacts to bridge cameras with the manual control of a DSLR, Powershot features advanced performance cameras for all purposes. Several of the compact cameras have advanced controls.
Compact Cameras
Powershot's point and shoot compact cameras have excellent resolution, with most offering 16MP and others offering 14.1MP or 12.1MP. Most models have a focal range of 28 mm to 140 mm (35 mm equivalent), but some offer 28 mm to 224 mm, 336 mm, 392 mm, 448 mm or even 25 mm to 500 mm. Optical zooms vary, with models offering 5x, 8x, 12x, 14x, 16x and even 20x. 20x is an excellent optical zoom on a compact camera and offers superior performance for long distance shots, whereas 5x, though sufficient for general use, will not handle long distance focusing. Combined zoom varies from 20x through to 80x. Maximum f numbers range from 2.8 to 3.9, with lower numbers giving better image quality in low light conditions. Several models have lens based image stabilisation. Other features offered by models in the range include face detection, adjustable brightness LCD screens with approximate 100 per cent coverage, optical viewfinders and a variety of screen modes. Some models offer really enhanced manual controls and some also have built-in WiFi or GPS. The Powershot D20 is waterproof, freeze proof, dust proof, and shock proof, suitable for use in demanding conditions. It can be used underwater and has enhanced underwater functions including macro. These are especially useful features for the more adventurous photographer, whose camera would need to survive in difficult terrain.
Bridge Cameras and Super Zoom Bridge Cameras
Powershot's more advanced bridge cameras offer resolution between 12.1MP and 16MP. While the G series models have modest focal ranges covering 24 mm to 140 mm, the SX series have superb focal ranges covering a wide angle 24 mm through to super telephoto 720 mm, 840 mm and 1200 mm, placing them clearly in the super zoom category. Optical zooms in the G series are 4x to 5x, and in the SX series 30x to an incredible 50x. Maximum f numbers range from f2.0 to f3.4. Intelligent image stabilisation is incorporated in both the G and XS series. Other features offered by the G series include an enhanced ISO range, extending from 80 to 12800, fast continuous shooting modes, superb variety of customisable scene modes, RAW image capture and enhanced connectivity.
The SX series ISO range extends from 80 to 6400, less in some models, and it features a variety of scene modes and special features, including RAW image capture and additional software for RAW processing.
DSLRs
Canon produce a wide range of DSLRs and it is worth doing some research on the various features and functions. Several models have advanced functionality that beginners may not require, and all models conform to Canon's high standards with regards to camera performance and image quality. Entry level and mid-level DSLRs have excellent resolution, with 18MP typical. Built-in sensor cleaning systems ensure that sensors remain in optimum condition.
Special features on models include predictive autofocus, customisable white balance, anti-reflective LCD screens, electronic live view, fast continuous shooting, and RAW image capture. All models have advanced manual controls. Higher end DSLRs feature superb resolution up to 22MP, full-frame resolution, full aperture metering and an ISO range of 100 to 25600.
Special features include high-quality pentaprism optical viewfinders with approximate 100 per cent coverage, high resolution anti-reflective LCD screens with 100 per cent coverage, a variety of shooting and picture modes, continuous shooting of up to 12 frames per second (fps) and advanced HD movie recording functions. Additionally, there are advanced image processing functions including noise and chromatic aberration reduction, and RAW image capture and processing. The lightweight, robust magnesium alloy bodies are water and dust resistant, making them ideal for use in tough conditions.
Conclusion
Canon produces high-performance digital cameras suitable for the beginner through to the professional. Compact and bridge digital cameras are found in two series, IXUS and Powershot. IXUS cameras are stylish and portable, with resolution up to 16.1MP and focal length range from 24 mm to 336 mm, allowing wide angle and telephoto shots as well as standard range shots. Optical zooms extend to 12x. Maximum f numbers extend to f2.7, thereby including models with good low light performance. Whatever the style of photography and intended use, from casual photography and holiday use to the serious amateur and professional, there are a variety of Canon digital cameras from which to choose.