The Canon EF 50mm f/2.5 "Compact Macro" is one of the most frequently used lenses in my camera kit. I have been finding that really close-focus photography is an artfully expressive way to capture truly interesting visual images. A whole new world of incredible detail is revealed when you look through this "World Class" optical glass.
The Canon EF 50mm f/2.5 Compact-Macro Lens
This is a so-called "mid-grade" model that is very affordable. It is well constructed but you would not confuse it with one of the "L" series professional lenses. It is way too light to be a pro model. However, it does have a few important things in common with them. First, this lens takes INCREDIBLY SHARP photographs, truly as sharp as a pro lens. Second, it has a very useful "distance scale window". It is constructed of high-grade materials, like all mid-grade lenses, and it has the top-of-the-line lens mount, which is stainless steel, just like the "L"s. This lens was not designed for constant rough handling or extreme weather conditions, like the expensive pro models, but it has proven to be completely reliable.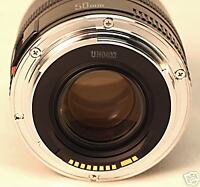 The Stainless Steel Lens Mount
Note the Additional Gold Contacts For The Optional "Life-Size" Converter
The Compact Macro features nine elements, arranged in eight groups, in a "floating" optical system for improved focusing accuracy, especially at very close distances. The front element extends as you focus, but it does not rotate, so circular polarizers and special effects filters are never a problem to use. The front element is deeply recessed behind the 52mm filter threads, so a lens hood is not needed, you could say that it is sort of "built-in". There is a numbered scale on the extending barrel, printed in yellow markings. These are magnification ratios that apply when the lens is used with the optional Life-Size converter. These ratios are found in the distance scale window when the lens is used solo.

The Distance Sale Window With Macro Ratio Indications
The Canon EF 50mm f/2.5 Macro Lens provides a 1:2 magnification factor, without the matching EF "Life Size" converter, which is optional. However, when mated with the Life Size Converter, this combo delivers true 1:1 images. I use the converter often, but I find that I don't really need all of the time. The "half life-size" images are perfectly sufficient for many of my purposes. You can still make a bug's eyes look like baseballs, even without the converter. This is especially true on a "small frame" digital SLR. It should be noted that when this model is used on Canon's Digital Rebel, XT, XTi, 10D, 20D or 30D cameras, it becomes the equivalent of an 80mm lens, which is an extremely useful focal length.
The Canon EF 50mm f/2.5 Macro is very compact and yet surprisingly versatile lens, especially for a Macro design. It is small and it is light enough to be very comfortable to carry around for hours on end. It also "balances" very nicely on semi-pro camera bodies, making it a pleasure to handle.
Compact, Elegant & Simple... An Incredibly Capable Lens
Notice The Deeply Recessed Front Element, No Hood Required
I am amazed by how superbly this model performs for non-macro applications. The aperture is fast enough for almost any situation and it is incredibly free from any visible distortions. When a broad depth of field is needed, the minimum aperture of f/32 gives it to you. It helps that I use a "crop factor" camera most of the time because only the "sweet spot" of the lens is used, even when shooting "wide open". This practically eliminates the softness in the "corners" that some film camera users have noted. Best of all, it is a really, really sharp lens, and I mean "L class" sharp! Color and contrast in my images are consistently outstanding and completely pleasing to the eye.
The Canon EF 50mm f/2.5 Macro employs the AFD "Arc Form Drive" auto-focus design. It is not the quickest mechanism and it is not nearly as quiet as a USM lens, but for the price it is very respectable. Besides, when I do use this model for really close-up shots, I always use manual focusing anyway. The shallow depth of field in these tight shots requires that you have the freedom to bring the exact subject element that you intend to "feature" into perfectly crisp focus. The extremely fine focus adjustment of the Compact Macro gives you the ability to be incredibly precise with your desired focus point.
This lens produces just about the best "bokeh" of any non-professional lens that I have ever used! Portraits really have that vibrant three-dimensional quality, with the most pleasant "silky"looking blurred backgrounds that you will ever see produced through a sub-thousand-buck lens. There are two technical reasons for this superior capability; the aperture is sufficiently large and it features a very capable six-blade diaphragm.

Flower At Indian Park, Montoursville, PA
Notice The Background Blur!
As a "walking around" lens, this is as good as any prime within its price range. The macro feature is like the icing on the cake! When I call this model "versatile", I really mean it. The photo of the sailboat shown below was taken at infinity focus and produced results as sharp as any "normal" prime lens with the price catagory. Very few "true macro" lenses would have been able to capture this shot. This model is faster and sharper than almost any zoom lens that you can buy, at any price. It does a great job of performing many tasks extremely well. It's a killer portrait lens and a very good lens for "street" photography. It's also a fine choice for architecture, nature hiking, landscapes and adventure photos. If it were not a Macro, it would still be worth every single penny that it costs... but fortunately, it is a true Macro too!

Sailboat Under Dark Clouds On Rose Valley Lake
I must say that Macro photography is where this lens really springs to life. I love using it to take product photos because it has a very comfortable "working distance" for my light stand setup. However, to get the most out of it, you will need to wake up your creative juices and look at things directly through its magical Macro eye. You can capture some of the most artistic close-up shots that you have ever seen or imagined. Just glue your shooting eye to your viewfinder and take a short walk. You will find beautiful things to capture with every single step you take.

Beetle At My Feet
If you are a scientist and need to do high resolution / high magnification photography, purchase a Wild-Heerbrug research microscope with a Canon EF mount adaptor for $12,000.00. If you want to have fun with some very exciting "eye-opening" photo opportunities, get a Canon EF 50mm f/2.5 Compact Macro and turn yourself loose in a brand new world!
Every photo that appears in this guide was shot through the Canon EF 50mm f/2.5 Compact-Macro Lens, Including the pictures of the lens! I am very sorry that the full-size images can not be displayed in the eBay Guide format, the resolution is truly amazing to see.
If you have found this Guide to be informative or interesting, please let me know by clicking the "YES" button below. Your vote is completely anonymous. However, your comments and criticisms are always welcomed. I am happy hear about ways to improve my reviews and guides so that more people can find useful information in them. Your "helpfulness" votes are the only compensation that eBay Reviews and Guides authors receive for their efforts. We can only achieve that goal with your support. Your votes are used exclusively to determine writer's rankings. Encourage us with your votes and we will return the favour by supplying you with a lot more informative Buyer's Guides and honest Reviews.
Copyright © 2006 All rights reserved.