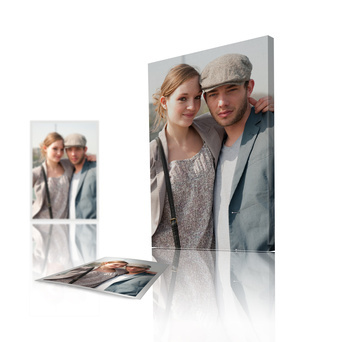 Canvas prints are an affordable way of displaying pieces of artwork in your home or workplace.
Designed to replicate the look of an original piece of art, these reproductions offer a unique alternative to posters and paper prints.
This eBay guide offers general advice and takes you through some important principles and options to consider when purchasing a canvas print.
Types of Canvas Print
There are several options available to you when it comes to purchasing a canvas print. Some of the more common options are outlined below.
Custom/Personalised Canvas Prints: These prints are created using your own images, such as physical or digital photographs. Many retailers and sellers offer this service, with various options available to customise your print.
Stock Canvas Prints: These are prints of stock images such as photographs or paintings that have been mass-produced for widespread distribution. They are typically affordable prints created using economical materials and printing methods.
Limited Addition Canvas Prints: These are usually high-priced prints of original works by recognised artists. Because only a limited number of each piece is usually created, they are typically paired with provenance or a certificate of authenticity.
Canvas Printing Options
There are many printing options to bear in mind when purchasing a canvas print, some of which may be left up to you as the buyer. The following information is provided to help you in your decision-making process.
Printing technique
Whilst printing technologies are continually advancing, the two conventional methods of canvas printing are Dye Sublimation and Ink-jet printing.
Ink-jet prints
Also known as giclées, these prints are created using a digital image of a photograph or piece of art. The images are usually printed using professional high-resolution ink-jet printers, producing incredibly detailed copies of the original article.
The ink-jet method of printing is often used for photographs due to the digital nature of the printing leading to more exact representations of the original artwork.
Note: The term giclée is often used by print shops to imply high quality printing. Since it is an unregulated term, however, there is no inherent guarantee of quality. You should therefore focus on the other definitive indicators of quality discussed here.
Dye Sublimation
Sometimes referred to as repligraphs, these prints are created using a heat-pressing technique to transfer an image onto polyester canvas. This method enables deep penetration of the ink and creates a warmer, softer tonal quality than that of ink-jet prints. Colours can be exceptionally brilliant using this technique due to the bonding of the dye with the synthetic canvas fibres.
Resolution
Image output resolution is a key factor to consider when purchasing a canvas print. Measured in dots per inch (DPI), the resolution settings of the printer will determine how clear and sharp the image created is and how vibrant the colours appear.
The higher the DPI, the greater the quality of the image will be. A higher DPI will take longer to print and will use more ink, so whilst the quality will improve, you should also expect an increase in price.
Whilst there is a wide variation in the resolution offered by sellers, you should expect the quality to range from around 360 DPI to 2880 DPI. Photo-quality printing is usually done at around 1440 DPI.
It is important to note that the size of your canvas influences the resolution required to maintain satisfactory image quality. If you are uncertain, you should ask the seller for advice about the resolution required for your specific canvas.
Note: If you are uploading your own digital images to a seller to create a print, make sure the input resolution of your digital picture is great enough to maintain a quality image once it is printed onto canvas. Whilst it is possible to decrease the quality of a high-resolution image, you cannot increase the quality of a low-resolution image.
Type of Ink
The kind of ink that is being used for your print is also worth noting, especially if you wish to display your print for years to come.
Dye Inks: These inks are generally cheaper and offer a potentially brighter, richer image due to their wider colour gamut. This being said, there is a discernible trade-off with longevity. Prints created using dye inks tend to fade considerably with exposure to sunlight, sometimes within a matter of weeks.
Pigment Inks: These inks have a narrower colour gamut than dye inks, so images may appear less radiant. Pigment inks are not as susceptible to the impact of sunlight exposure. In ideal conditions, prints using high-grade pigment inks can last a lifetime without fading.
Effects
With custom prints, sellers may also offer you the chance to add additional effects to your image. These effects include pop-art, black and white or sepia colours.
Canvas Properties
Whether you wish to purchase an existing canvas print or custom-create your own, there are many different canvas options you should consider before making an informed decision.
Canvas Material
There are two principal types of material used for canvas prints:
Cotton canvases are made using natural cotton fibres, whilst polyester canvases use synthetic strands of fibre which mimic the texture of cotton.
Polyester canvases are cheaper to produce and thus offer you cheaper prints, making them suitable if you are on a strict budget.
With polyester, however, the ink tends to rest on the surface of the canvas instead of penetrating the fabric. This means that polyester canvases may be more susceptible than cotton to stretching and cracking in the future.
You will also find retailers offering cotton and polyester composites. There will be varying qualities of canvas using both materials. Nonetheless, it is largely accepted that cotton canvases offer a more exact colour representation for most prints, as well as better standing the test of time.
With cotton canvases tending to cost more than polyester canvases, the budget of the buyer is clearly an important factor in material selection.
Note: Retailers may not specify the canvas material they use to produce their prints. If you specifically desire cotton or simply wish to know which material is used you should contact the seller to find out.
Canvas Weight
Another important aspect to consider when purchasing your canvas print is the thickness or 'weight' of the material.
Canvas weight is measured in grams per square metre (GSM). Typical values for canvas prints vary from around 320 GSM to 420 GSM. The thicker the canvas, the more ink can be absorbed to create a better print. The canvas should also be more durable.
If your seller does not mention the weight of canvas your print will come on, you need only ask them.
Canvas Print Framing
Typically, canvas prints are stretched over a basic wooden frame known as a stretcher frame. The fabric is then attached to the back of the frame using staples or glue. This technique is known as gallery wrapping. It allows you to hang your canvas without visible hardware or the need for additional framing.
Most images will be printed so that the edges of your frame are covered in blank material. It is also possible, however, to have the image continue around the sides of the frame. This type of print is known as full-bleed, and gives a more three-dimensional quality to the print.
You may wish to have your canvas print mounted in a different style, such as in a visible wooden frame. There are specialist shops that provide framing services, or you could ask your seller about the framing options they provide.
Note: Some sellers may not specify whether their prints are provided stretched over a frame or simply rolled up in a tube. If you are unsure, you should contact your seller. If you choose to buy a rolled canvas print, don't forget to buy stretcher bars as well.
Canvas Shapes and Sizes
Canvas prints are commonly sold in rectangular or square shapes of various sizes.
Many sellers offer custom frame sizes up to around 40" (1m). Indeed, large format printers are capable of producing prints directly onto canvas rolls measuring 59" (1.5m) or more.
Below is a basic size guide to consider when you are looking to purchase a canvas print.
Dimensions

Size

Landscape/Portrait

Square

Small

8.3" x 11.7"

(A4)

11.8" x 11.8"

21cm x 29.7cm

30cm x 30cm

Small - Medium

11.7" x 16.5"

(A3)

16.5" x 16.5"

29.7cm x 42cm

42cm x 42cm

Medium

16.5" x 23.4"

(A2)

23.6" x 23.6"

42cm x 59.4cm

60cm x 60cm

Medium - Large

23.4" x 33.1"

(A1)

33.1" x 33.1"

59.4cm x 84.1cm

84cm x 84cm

Large

33.1" x 46.8"

(A0)

39.4" x 39.4"

84.1cm x 118.9cm

100cm x 100cm
There are many other size options available: remember to check that your print is available in the size that you require. Sellers should also be able to offer advice regarding suitable canvas sizes for your custom images.
Other Considerations
Varnish
You may like to check whether your print comes with a coat of varnish, as this will provide several immediate advantages:
Damp and mould resistance
Increased UV protection
Cracking and chipping prevention
Wipe-clean canvas
Colour enrichment.
Ready-to-Hang?
You may also like to confirm that your canvas comes with canvas wall hangers or picture hooks, so as to minimise additional spending.
Copyright
Many pieces of artwork are the copyright property of the original artist or photographer. If a retailer offering canvas prints does not have the necessary rights to reproduce such images, then they may be in breach of copyright law. Make sure you feel comfortable that the seller producing your canvas print owns the right to print such images. You need only ask if you are unsure.
Canvas Print Maintenance
Following a few easy steps will ensure that your canvas print remains clean, vibrant and damage-free.
Cleaning: Your canvas print should be cleaned as often as other items of household furniture. Cautious, gentle dusting with a dry cloth is advised, although a slightly damp cloth may be used on varnished prints.
Position: Your canvas should be positioned outside of direct sunlight to prevent fading. Whilst UV inks and special varnishes can reduce the impact of the sun's UV rays, it is still advised to hang your canvas away from direct sunlight.
Heat sources can also have a damaging effect on the canvas and its wooden frame, so avoid hanging your print directly over a fireplace or radiator.
Atmosphere: Your print should be hung in dry conditions, as moisture will be absorbed by the canvas and cause potential distortion. You may still hang canvas prints in a bathroom, as long as the conditions are not too humid or damp.
Storage: Always store your canvas print in a protective environment, such as bubble wrap. Try to keep the print upright and refrain from placing heavy objects on top of it.
Where to Buy Canvas Prints
Whether you want a customised print or a ready-made design, there are several places to buy or create your canvas print. This includes a number of online and high-street retailers, such as home improvement and department stores, photograph and art specialists.
Remember, prices will vary considerably from seller to seller. This is due to the extensive number of options that have been discussed here.
The most sensible thing for you to do as a buyer is shop around: try to find similar items and compare prices until you are happy that you are getting the right deal.
Find Canvas Prints on eBay
You will find a wide variety of canvas prints for sale right here on eBay. Many sellers also offer custom canvas prints with a direct-upload system for your digital images.
Once you have decided on the type of print you want, you can find them quickly and easily on eBay.
Category
First of all, navigate to the Art category and click on Canvas/ Giclee Prints.
On the left of the page, you will notice a list of options including: Subject; Sub-Type; Condition; Price; Style; and Colour. You can use these options to narrow your search, depending on what exactly you are looking for.
Keyword Search
If you have a specific print in mind, you may wish to use the Keyword Search bar near the top of the page. For example, if you want a canvas print of a tiger, simply type the keyword "tiger" (without quotation marks) into the Search box. Select, "Search title and description" to expand your results. Visit eBay's Search Tips page for more tips on searching with keywords.
If you can't find exactly what you're looking for, try browsing eBay Stores or tell the eBay Community what you're looking for by creating a post on Want It Now, or save a search on My eBay and eBay will email you when a matching item becomes available.
Buy Canvas Prints with Confidence
Make sure that you know exactly what you're buying and understand how eBay and PayPal protect you.
Know Your Item
Read the details in the item listing carefully.
Remember to add delivery costs to your final price. If you're buying a high value item, check that the seller will insure it until it is delivered to you.
If you want more information, click the "Ask seller a question" button on the seller's profile or the "Ask a question" link at the bottom of the item listing page.
Always complete your transaction on eBay (with a bid, Buy it Now or Best Offer) otherwise you will not be covered by eBay Buyer Protection.
Never pay for your eBay item using an instant cash wire transfer service like Western Union or MoneyGram. These are not safe ways of paying someone you do not know.
Know Your Seller
Research your seller so that you feel safe and positive about every transaction.
What is the seller's Feedback rating?
How many transactions have they completed?
How many positive responses do they have?
What do buyers say in their Feedback?
Are they positive about the seller?
Most top eBay sellers operate like retail shops and have a returns policy.
Do they offer a money-back guarantee?
What are their terms and conditions?
Buyer Protection
In the very unlikely event that you do not receive your item or it is not as described, eBay Buyer Protection covers your purchase price plus original delivery cost.