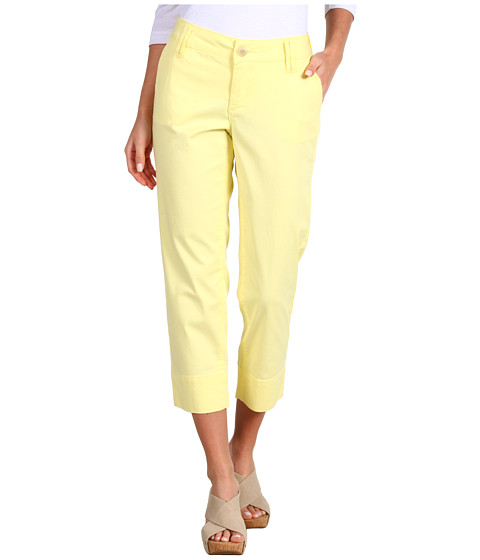 Capri trousers are shorter than regular trousers. Their exact length varies based on the style of the trousers. They can reach anywhere between the knee or ankle in order to be classified as capri trousers. The trousers come in a number of variations with different fabrics, cuts, and fits. They can be sporty, casual, and even dressy. These trousers are perfect for the warmer months when women need to stay cool and stylish but do not want to entirely show off their legs. They are more capable of making an appropriate fashion statement than shorts are. Even when they are dressed up, shorts are still very casual.
The capri fashion trend is worldwide and they are known by many names such as cropped pants, pedal pushers, and clam diggers. Regardless of the name, though, the trousers are a staple item in most women's wardrobe. Unfortunately they can be confusing to pick out simply because there are so many things to choose between. The kind of material, the level of formality, the cut, and how they fit are things to take into consideration. The following sections will describe in detail how to go about purchasing a pair of capri trousers.
History of Capri Trousers
The style of capri trousers was introduced on the Italian island, Capri, where the trousers got their name from. The fashion spread to other countries like wildfire once a few well-known celebrities were seen wearing them. Their popularity particularly soared when Audrey Hepburn was photographed in a pair of tight, black capri trousers in the 1950s. They went on to become one of her signature pieces along with her flat shoes. The trousers continued to stay fashionable through the hippie days of the 1960s, but they died out afterwards and made their comeback in the 1990s and again in 2006.
Finding the Appropriate Size of Capri Trousers
The biggest factor to consider with capri trousers is their length. Taller women with longer legs will find that capris usually come just below their knees. While shorter ladies will have a difficult time finding trousers that are higher than their ankles. In order to figure out how long the cropped pants will be, read the product description to see what the inseam measurement is. Then take that measurement and see where they will come to on the legs.
| | | | | | | | | | |
| --- | --- | --- | --- | --- | --- | --- | --- | --- | --- |
| Size | 1 - 2 | 3 - 4 | 5 - 6 | 7 - 8 | 9 - 10 | 11 - 12 | 13 - 14 | 16 - 16 | 17 - 18 |
| Hip (cm) | 91 | 93 | 96 | 99 | 101 | 104 | 106 | 109 | 111 |
| Hip (in) | 36 | 37 | 38 | 39 | 40 | 41 | 42 | 43 | 44 |
| Waist (cm) | 66 | 68 | 71 | 73 | 76 | 78 | 81 | 83 | 86 |
| Waist (in) | 26 | 27 | 28 | 29 | 30 | 31 | 32 | 33 | 34 |
Another quicker way to determine a size is to look at the sizes on several pairs of regularly worn trousers. The sizes will be the same between the garments. The only difference is the inseam length.
Capri Trouser Cuts
How capri pants are cut has a big impact on how they look and fit. Their shape can enhance or take away from a figure. The chart below lists the various cuts as well as their pros and cons.
| Capri Trouser Cut | Description | Pros | Cons |
| --- | --- | --- | --- |
| | Capri trousers that reach down to the ankles | These compliment women with long legs by breaking up the lines | Make short legs look shorter, can make the legs appear wider, and they have to be worn with high heels |
| | Very loose fitting with flowing fabric. Somewhat resembles a skirt | Has a dressy appearance. Compliments taller, slender women | Shorter ladies have to find ones that go no further down than the knees. These can add the appearance of weight and are best worn by slim women |
| | Reaches half way between the knees and ankles | Compliments both short and tall women. Can be worn with both high heels and flats | Depending on the shape, can make calves appear very small or very large |
| | The ends of each trouser leg as well as the waistline have a drawstring | Very comfortable | Unflattering on most women due to the boxy, scrunched up look that adds weight |
| | Is tight around the thighs and then flares out at the end | Attractive on tall, slim women | Few people can wear flared capri trousers because they make the thighs and calves look larger. They also make legs look short so they are best worn with high heels |
| | Reaches just below the knee | Universally attractive on nearly all women | More casual than the other lengths |
| | Capri trousers that are skin tight and hug the legs | Has a sleek, stylish look that does not add weight to legs | Will not hide any body blemishes |
| | Capri trousers with no flare or taper | Has a professional look and is flattering on most body types. Can be casual, professional, or dressy | No cons |
| Stretchy | Made with stretch material that hugs the legs | Ideal for athletic activities. More modest than athletic shorts | Does not keep the body as cool as athletic shorts. Does not hide any body blemishes |
| Tapered | The legs of the trousers get smaller as they go down from the waist | Flattering on most women, makes a figure look more slim, can be casual, professional, or dressy | Adds weight to the legs if sized too small |
The difficulty with wearing capri trousers is that they easily shorten the legs and add weight. High heels can take away some of that weight and add the height back in. Ankle length trousers also have the ability to make the ankles appear large and bulky. To avoid this, make sure the trousers reach right above the thinnest part of the ankles.
Capri Trouser Materials
When selecting the fabric for the trousers, consider three things. First, think about how casual or dressy the trousers have to be. Certain materials, such as linens, are classier than jeans. Second, think about the comfort of the fabric. Leather does not breathe and denim only breathes a little. So on hot days, they may not be ideal. Third, think about how easy the maintenance will be. Denim can be thrown in the washing machine without a second thought, while leather is more difficult to wash, and linen requires ironing.
Where to Shop for Women's Capri Trousers
Since capri trousers are currently in style, they are fairly easy to find at local shops around town. With the exception of the colder months, they are usually in stock all year round. Women with shorter legs or larger frames may have a more difficult time finding capri trousers that fit them and flatter their figure, though. They need trousers that fit a specific way, so they often times end up having to go from store to store looking for them. Online websites like eBay provide a better way for them to shop because they can view hundreds of products in one place and the majority of the sellers will list the exact measurements of the trousers so that they know right away if they are the right length and fit.
How to Purchase Women's Capri Trousers on eBay
eBay has one of the largest selection of women's capri trousers, listed by sellers from around the world. To start looking through them, type the keyword phrase of what you are looking for into the search bar and then click the Search button. Try things like "Women's Capri Trousers", "Tapered Capri Trousers", or "Leather Capri Trousers".
After bringing up a page of product listings, try narrowing down the results by selecting the brands you are looking for, entering in your price range, clicking on your preferred colours, and choosing the material. To save money, you can also shop for used clothing, or sell the clothes that you have outgrown to pay for the new ones you are buying.
Before ordering, check the seller's feedback to see what their past customers have said about them. This will give you a good idea of how they will most likely handle your order. Also verify what sizes the seller has. Sometimes they have multiple sizes and they expect the buyer to specify what they want. Lastly, verify the shipping charges. If there are any, these will add to the overall cost of the pants and some sellers have a calculation tool that will tell you how much the shipping is based on your location.
Conclusion
It goes without saying that capri trousers are fabulous when worn the right way. Women of all body types can wear them if they keep a few fashion rules in mind. The ladies with shorter legs can appear just as tall as they normally do by making the longest lines possible with the clothing. Plain, straight or tapered capri trousers with high heels are the way to go in this case. Try dressing up the look with a frilly, button-up blouse and a long necklace. The style possibilities are nearly endless with capri trousers, and with the information provided in this guide, women can easily go and quickly purchase several pairs of capri trousers to experiment and accessorise with. All it takes is a little understanding of what cuts are available, how to flatter a figure, and what materials to choose from to give ladies the confidence they need to find a pair of attractive and stylish capri trousers.