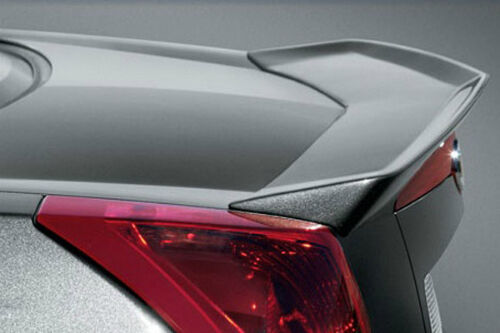 Car spoilers are not purely a trendy addition to a car. They may look fabulous, but they also serve a purpose. Spoilers are designed to improve aerodynamics and increase stability of the car. Spoilers have been around on passenger vehicles since the mid 1960s. Some car models are fitted with spoilers as standard, either on the boot or beneath the front bumper, but it is also possible to add them after buying the car.
Car models that have spoilers fitted can also have them replaced or customised for optimum performance. It is important to remember that bigger is not necessarily better when dealing with spoilers. The type and size of spoiler is crucial to optimising the performance of the car. Selecting the wrong type can result in more drag, thereby reducing speed, acceleration, and stability.
There are a variety of spoiler types available and they are made from a range of materials. They can be found from a range of car dealers or can be purchased on eBay in both new and used condition. With a little mechanical know-how drivers can install their own spoilers successfully or can take their car to a suitably qualified mechanic for proper installation.
Overview of Car Spoilers
Car spoilers were first produced for passenger cars in 1962 for the Ferrari GTO, which had a very limited production run of just 39 vehicles. In the modern era, they are a common feature of many cars. There is some debate around whether spoilers actually improve the performance of cars. Some claim that when driving at legal speeds, a spoiler is redundant. However, enthusiasts and professionals agree that fitting a car with the correct spoiler improves performance greatly and is a long-term investment because of the improvement in fuel efficiency.
Drivers that wish to add a spoiler must make sure that they choose the right size. Spoilers built for high speeds actually create more drag on smaller, lower performance cars. Spoilers designed for ordinary passenger vehicles do not work well on high performance cars, adding drag, lowering performance, and decreasing fuel economy.
Materials for Car Spoilers
When purchasing spoilers, buyers should consider the advantages and disadvantages of the materials available. Relatively inexpensive spoilers may be made of a material that is weak or too heavy, and often have a short lifespan.
Fibreglass Spoilers
Fibreglass is a popular choice for a spoiler because the material is reasonably inexpensive. Fibreglass is durable and can withstand high pressure and exposure to the elements. In the case of spoiler construction, fibreglass is further strengthened with a tough resin that is heated and hardened. Fibreglass is not the least expensive option and many mass producers of spoilers choose not to use it because of the intensive labour required during production. However, fibreglass is a good, solid choice for relatively inexpensive, good quality custom-made spoilers.
Carbon Fibre Spoilers
Carbon fibre is an extremely durable material with a long lifespan. This option is comparatively expensive, but lasts much longer than other spoiler materials. It is also very lightweight, which means that it does not add unnecessary weight to the car, thereby optimising performance. This high strength material also has fatigue resistance, which means that it does not wear out as quickly as other materials. It is also resistant to sun exposure, and so does not become brittle. Carbon fibre is most commonly used to produce high-end, custom-made spoilers.
Polyurethane Composite Spoilers
Polyurethane composite is the least expensive type of car spoiler. It is a plastic resin that is moulded and hardened. Other chemical components are added to provide more plasticity and elasticity. This is because polyurethane alone is very fragile, and can crack and shatter. This material also has the shortest lifespan because it becomes increasingly brittle with age, which is accelerated by continuous exposure to the elements and air pressure. The lifespan can be prolonged with regular maintenance and a good quality sealant to limit the rate at which the phenols escape from the material. Keeping the car under cover when not is use, such as in a dry garage, can also help to prolong the lifespan of polyurethane composite spoilers.
Silicone Spoilers
Silicone is an excellent, if comparatively expensive, choice for car spoilers. It is incredibly strong, but retains a degree of plasticity, which means that it does not crack or become brittle with age. Silicone is also resistant to damage from the elements, including extreme heat or cold. Silicone spoilers are resistant to ultraviolet damage; are inert, which means that they do not sustain damage from most acids, as well as alkaline substances; and they do not sustain damage from oils or common road debris.
Summary of Materials for Car Spoilers
The table below summarises the advantages, disadvantages, and comparative costs of the spoiler materials. This allows buyers to assess which option is best suited to their vehicle and their budget.
Material

Advantages

Disadvantages

Cost

Fibreglass

Durable

Malleable

Withstands air pressure

Withstands exposure to the elements

Intensive labour required for construction

Only a moderate life span

Can crack

Reasonably priced

Carbon fibre

High quality

Strong and durable

Lightweight

Long lifespan

Withstands pressure and exposure

Fatigue resistant

Ultraviolet ray resistant

Expensive

Can crack with blunt force impact

Very expensive

Polyurethane composite

Inexpensive

Mass produced

Can be customised

Brittle

Short life span

Ages with exposure

Most affordable

Silicone

High quality

Extremely durable

Lightweight

Inert

Resistant to corrosion

Longest life span

Does not turn brittle

Does not wear

Expensive

Expensive
The buyer can use the table above to make an informed purchasing decision. Buyers should take into account their available budget as well as their aesthetic and performance needs.
Popular Types of Spoilers
There are a huge variety of spoiler types available. Many of them look sporty and appealing, but do not add anything to the performance of the car. The most popular functional spoilers provide pleasing aesthetics, as well as performance-improving aerodynamics.
Front Spoiler
A front spoiler is affixed to at the bottom of the front of the car, usually beneath the front bumper. It stabilises airflow and turbulence against the undercarriage of the vehicle. This reduces resistance, improves stability, and improves traction. As the air passes through the spoiler, the flow is interrupted and forced upwards toward the radiator. This has the added benefit of providing additional cooling to the engine. This action reduces drag and significantly reduces fuel consumption.
Pedestal Spoiler
A pedestal spoiler is one of the most popular choices for drivers who want a sporty look, as well as improved performance. Pedestal spoilers look similar to rear wings and are mounted on the boot of the car. Pedestal spoilers are best suited to high performance cars and those that drive at higher speeds on the open road. Using a pedestal spoiler on cars that only take short, slow journeys actually increases fuel consumption and drag, which reduces overall performance. As air passes over the rear of the car, the downward motion and pressure is interrupted because air is forced outward instead of directly downward. This reduces drag and helps to create lift.
Lip Spoiler
A lip spoiler is a smaller version of a pedestal spoiler and functions in much the same way. It is mounted on the boot of the car. A lip spoiler is less visually obtrusive than a pedestal spoiler. It is best suited to cars that do not generally travel at high speeds, as it produces less interruption because of the slightly altered angle and height. It still helps to achieve a sporty look and improves fuel consumption and reduces drag, but is far more effective at lower speeds.
Lighted Spoiler
A lighted spoiler is most commonly a pedestal or lip spoiler set with bright LEDs. These spoilers are aesthetically pleasing, but can also improve performance. The lights provide additional safety when driving at night. They should not be so bright that they interfere with other road users or produce too much glare. Good quality lighted spoilers provide the same aerodynamic and fuel efficiency benefits as other functional spoiler types.
How to Buy Car Spoilers on eBay
eBay offers a range of spoilers to improve the performance and fuel efficiency of your car. Searching from the eBay home page provides many results. Buyers can narrow down their search by adding specific terms, including the car's make and model, or the specific spoiler type, such as "Mazda 6 rear spoiler". Buyers have the option to choose new or used models. Buying used spoilers is a great way to acquire high quality products at a reduced price, provided the items are in good condition.
Choosing a Seller
Choosing a seller is vital to ensuring a smooth transaction and a top quality product. Before committing to a purchase, buyers should always check the feedback of the seller. This ensures that the seller has an excellent eBay reputation and provides good quality products and customer service. If a buyer has any queries about the item then they should contact the seller before completing the transaction. They can also ask for further details and additional pictures if required. The vast majority of sellers are happy to help and respond in a timely manner to any queries.
Conclusion
Contrary to popular belief, spoilers are not only aesthetic accessories. A properly formed, high quality spoiler can increase the performance of a car dramatically. Choosing the type of spoiler is important because the right type can improve fuel efficiency by reducing drag and enhancing stability. This saves money in the long run and reduces some wear and tear to the vehicle.
Drivers should consider the types of journeys that they take most frequently to assess which type of spoiler can increase their vehicle's performance. The material used to construct the spoiler is another important aspect to consider. Spoilers made from polyurethane composite may initially cost less, but more expensive silicone models have a much longer lifespan. Carbon fibre is durable, but it may crack in certain conditions. Finding the right spoiler for any car is simple when using eBay, and there are great deals for both new and used models.