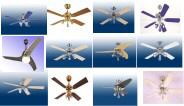 How To choose the correct size fan for you room.
Use our simple guide to select the correct blade size for your room.
The blade size is measured from the tip of one blade to the tip of the opposite blade.
First - Measure your rooms width and length in meters
Multiply this (IE: Width X Length)
Look on the below chart for your blade size...
Room Size Guide
Rooms Up to 10 SQM - Use a fan size upto 76cm / 30"

Rooms Up to 15 SQM - Use a fan upto 105cm / 42"

Rooms Up to 25 SQM - Use a fan upto 132cm / 52"
If you room is larger use more fans!