Some of people observed that the price of silver didn't really go up since last year. instead of going up, it keeps dropping. Therefore, quite a lot of people has already lose faith in investing in silver. but here i have some information that i managed to get from one of the guy from our country, Foo Voon Dih. he has contributed a lot of information regarding bullion market. in this review, i borrowed his article without his permission. LOL. but anyway, I will ask him later.
Foo Voon Dih:
Here is post related to silver price movement. (Initially I wanted to put this information into the new book I'm writing, but when I think again, by the time my book get published, this information would already been outdated. So I'm sharing this information in this blog instead.)
Gold and silver are good brothers. When gold goes up, silver goes up; when gold comes down, silver comes down. Technical analysis is all about using historical data to anticipate future price movement. In this post, gold past performance is used to predict current silver price movement.
I have drawn a triangle to represent gold price was consolidating in mid 2006 until late 2007. Then a flag is formed. Price movement was trapped in the flag for a while. Once gold price broke the flag pattern, price shoot up to WAY HIGHER than historical peak.
Now let's look at silver chart. Nature of silver price is more volatile than gold. It is expected to see silver price has a bigger fluctuation compared to gold (in terms of percentage).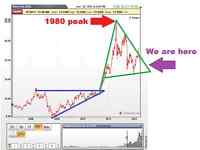 Similar to gold, silver price has form a triangle from 2008 until late 2010. Once the triangle is consolidated, a flag is formed. We are in the flag right now. There might be another small dip within the flag, but it doesn't really matter. Once the flag is matured, we can expect silver price will shoot to 1980 high and go beyond it, just like how gold price did.