Hello! Right this guide is a little bit about postal services, because it took me a long while to get my head around it, as every time i went to the post officer it was different prices Further down is some price lists. So here goes.
My shop
I believe the best way to send a parcel is by using 2nd class, its cheaper for you and the buyer it also looks much better if your item is cheaper and to be delayed by one more day it is much worth it. The only time i do any other postal options is if a customer asks me for either first class next day delivery etc.
Now the best possable way of postage is by making it as light and as small as you can, however you have to make it safe and make it unbreakcable, because the last thing you want is bad feedback. So make it compact try and spread the item if possable across and make it as thin as you can. There is no need to put 7 rolls of parcel tape around a parcel just put enough so it is shut and would be noticed if opened. Put your self in the buyers possition, what you would like to see when you get a parcel deliverd.
Once you have put the item in as small as you can but as safe as you can and you put just enough parcel tape on, then try and push all the air out of the parcel ( envelopes) Because believe me Royal mail will charge you for air in your parcel, then once you have done all that get your self a cheap pair of kitchen scales and try to work it out roughly so your not so suprised when you go to the post officer.
Once you have done that you are ready to go!!


This is a link to my shop, where you can see some of my items aswell as how i work out my postage prices for some items.

My shop



Im going to be inserting some royal mail prices now via some pictures, this might help you out a little bit hopefully.

This picture is for first and secound class postage which are the most common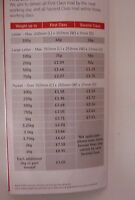 This is for special delivery services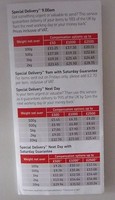 You will find alot more information at a royal mail of postoffice, but this is just a quick guide to help people :)

If you found this guide useful please press the yes button :) It would be greatly apprechaited

Thank you
RCW-World Wears

My shop