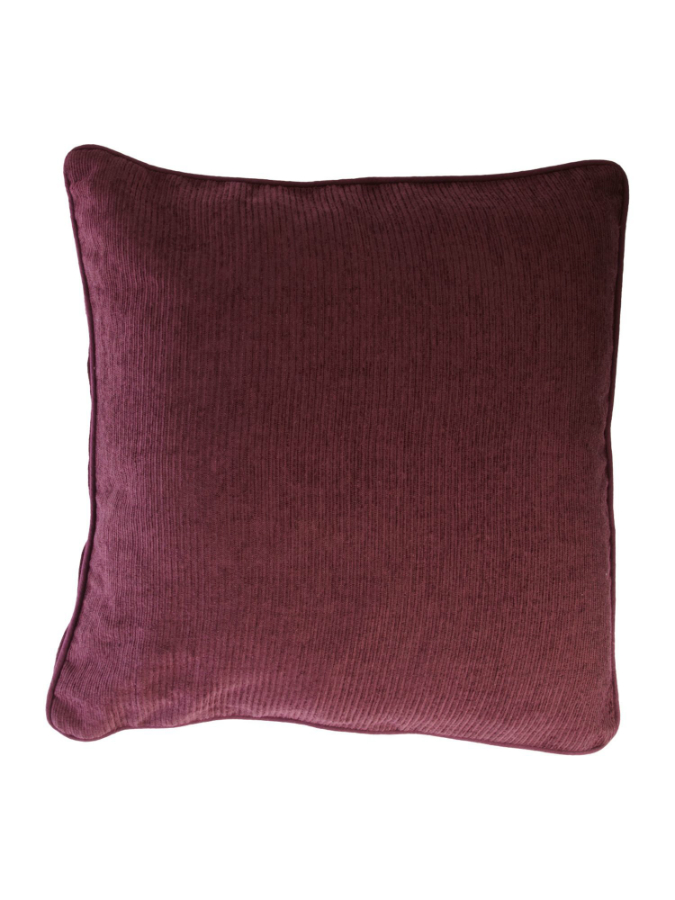 A chenille cushion cover is a soft material covering to fill with feathers or other material for padding. The cover holds and protects the filling inside and together the two pieces provide support while sitting on or leaning against it. Chenille cushion covers are made of different types of yarn and fibres. Buy cover based on intended use for cushion, and preferred style and pattern of chenille fabric.
About Chenille Cushion Covers
Chenille refers both to the type of fabric and to the type of coloured yarn used to make the cover. The fabric is named after the technique used to make it. As a yarn, chenille has a fuzzy feel. As a fabric, its texture is soft and tufted. Chenille has an iridescent appearance, although it is not made of iridescent fibres. In different lights and from different angles, the material changes its look. The cushion covers come in different sizes, colours, and styles. While some covered pillows serve solely decorative purposes, others are seats for chairs or side pillows for sofas. Chenille yarn dates back to the 18th Century. In the 1920s and 1930s, the word chenille referred to tufted bedspreads with embroidery that became popular in Dalton, Georgia, US. The fabric began to be used for other items than bedspreads, such as cushions, in the 1930s. The Chenille International Manufacturer's Association formed in the 1990s to improve the manufacturing process of chenille. While cushion covers were originally handmade, today, machines combine the pile and core yarns together to form the covers.
Choosing Chenille Cushion Covers
Chenille cushion covers vary by types of fibres of which they are composed and by their styles. Place cover, with filling, on furniture to add cosiness and beauty to the room of a home or to add rich tones to an office. Try pairing matching covers over matching pillows on a piece of furniture to create a sophisticated look.
Types of Material Blends for Chenille Cushion Covers
Chenille cushion covers are composed of different blends of yarn and fibres. Common types are cotton, acrylic, viscose (rayon), and polypropylene (olefin). The following table lists each type of yarn and description of each one.
| | |
| --- | --- |
| Cotton | Pure 100 per cent cotton chenille yarn has a soft feel and plush look. The stitching on cushions varies; examples of common stitches are garter, cable, and ripple. |
| Acrylic | Like cotton, acrylic is soft to the touch. Acrylic is a synthetic fibre, whereas cotton is natural. The material absorbs dyes well and, unlike cotton, resists shrinkage. |
| Viscose | Viscose is used to make rayon. Viscose is spun from raw fibres and it is a combination of long and short stands. The long strands are durable while the short ones are soft to the touch. |
| Polypropylene | Used to make olefin fibre, polypropylene has strength and, like acrylic, it holds colour well. Polypropylene is resistant to staining and therefore suits a durable environment. |
Chenille is made of different percentages of and combinations of the yarns in the above table. Select material to use for cover based on its usage. As a seat pad, for example, the cover likely functions better when it is made of a durable chenille blend. Rayon and olefin are quite durable and, therefore, are good choices. Cotton blends are stronger than 100% cotton and are commonly used for cushion covers. If the material covers an accent pillow in a room rarely used, a blend less durable works fine. If there are concerns about wrinkles for fabric, acrylic is a good choice as it is not likely to wrinkle over time. Another consideration when buying a cushion cover is whether it needs to be stain resistant. While polypropylene is a stain resistant material, cotton is not a good example.
Style of Chenille Cushion Covers
Lending themselves easily to all kinds of decor, it makes sense to buy a chenille cover with a style that will match the rest of the room. A country style cover, for example, may not match a contemporary designed space. Common styles of decor for homes are modern, contemporary, and traditional. The following table lists the home styles with descriptions of each style.
| | |
| --- | --- |
| Modern | Modern style has current touches such as a trendy colour or pattern. |
| Traditional | Traditional style is a classic style that is orderly and predictable. Covers in traditional style have gentle curves and they may match to sofa pattern. |
| Contemporary | Contemporary decor embraces a less-is-more approach and uses strong lines on furniture and other pieces in a room. A contemporary cushion cover, for example, may be a single colour with one bold diamond in the centre as embellishment. |
| Country | Country style is casual and comfortable. The cushion cover style appears handmade with relaxing tones. |
| Antique | Antique style homes and cushion covers have a classic yet old-fashioned look. Cover may have a busy patterns and be colourful. |
| French Country | French Country style combines earthy and chic tones. The cushion covers often have classic patterns. |
| Novelty | Novelty cushion covers have unusual designs on the material and are within homes that have a lot of character. |
| Vintage/Retro | Vintage or retro styles of homes are reminiscent of past decades. Cushion covers may be colours popular in past decades, such as sunbeam yellow in the 1970s. |
| Victorian Style | Victorian style covers, like the room decor that they suit, look like they originated in British culture. |
Chenille covers can be various colours. While one shell can be a solid colour, another one can be several different colours. This makes coordinating the cushion with the rest of the room a simple matter Buy the item that has a colour that matches the space in which it will appear. Patterns can combine with colour. The below table lists common patterns with descriptions for chenille cushion covers.
| | |
| --- | --- |
| Floral | Floral refers to a classic flower design. The pattern can be a small part of the fabric or cover its entire area, and the flowers can be small or large. Floral pattern is often used within Traditional and Country styles of rooms. |
| Animal Print | Animal print resembles skin or fur pattern of an animal. Animal print is often used with Novelty style. |
| Striped | A striped pattern is made of horizontal or vertical lines. On cushion cover, the pattern is classic rather than trendy. The number of stripes and width of stripes vary per cover. This pattern suits Traditional and French Country room styles. |
| Checked | Checked pattern of small squares suits a variety of room styles, from Contemporary to Victorian style. |
Buy a chenille cushion cover of a pattern and colour that will match to the style of surrounding room. Also, choose cover that matches in size to the pillow or other material that will fill it. Common sizes of covers are 45 X 45-cm and 40 X 40-cm.
Chenille Cushion Cover Maintenance
While chenille is cosy and adds style to a room, the fabric does require maintenance. Tufts of the yarn can become undone and create holes in the cover. In addition, the pile attracts and holds dust. Chenille cushion covers also require delicate washing. For a long lasting cushion, make sure that the label instructions on the cover are followed, or check for washing instructions as explained by the seller in the eBay Description section to ensure the best care of the material.
How to Find Chenille Cushion Covers On eBay
Begin a search for chenille cushion covers on eBay by going to the homepage. Click on the All Categories tab at the left side of the page. Then, under All Categories, select Home & Garden.. Click the option Furniture & Living, and then select Home Decor. From the categories that appear on the page, select Cushions. Click the title Material, halfway down the left side of the page, to open a drop-down menu. Select Chenille from the list. Under Type, select Cushion Cover. Browse the search pages for items of interest. Refine the search for Style, Main Colour, and other options. Another way to search eBay for chenille cushion covers is by entering a keyword or key-phrase into the search box at the top of the eBay homepage. For example, type in chenille fabric or cushion covers. Browse the search pages that result for the best item.
Conclusion
A chenille cushion cover holds and protects its filling while adding softness and style to a room. The cover needs to be large enough to fit over padding to go inside and of a material durable enough for where it will rest. Select a fabric pattern and colour for the cover that matches to decor of surrounding room. Select a chenille cushion cover that meets all practical and design needs.