Chinese lanterns make for beautiful, romantic lighting and decorations for the home, outdoor garden, or a special event, such as Chinese New Year. A few different types of Chinese lanterns exist, in various shapes and sizes, with different lighting options. Whether choosing hanging or floating lanterns, they are available in a wide range of colours to suit any taste.
Types of Chinese Lanterns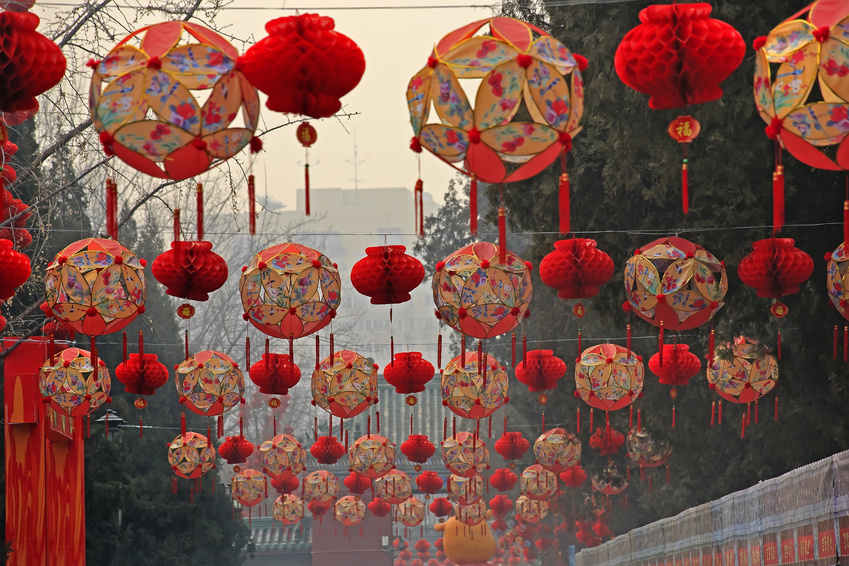 The most common type of Chinese lantern is the paper lantern. Inexpensive, readily available, and in a wide range of colours and sizes, paper lanterns may be the floating or standard type. Chinese paper lanterns are simply made, with paper and either a collapsible thin bamboo or wire frame. Candles are often used to light paper lanterns. Other types of Chinese lanterns include silk and vinyl lanterns. Silk lanterns are ideal for special occasions and are quite expensive. Vinyl Chinese lanterns are more expensive than paper lanterns and are far more durable.
Chinese Lantern Size and Shape
Traditionally, Chinese lanterns are circular. Hung from the ceiling, round Chinese lanterns, sometimes called hanging lanterns, make for a beautiful illuminated scene across a room's ceiling. Square lanterns are also popular. Either hung from the ceiling or set on tables, they make for attractive lighting and decoration pieces. Unique shaped lanterns in the shape of dragons, flowers, or animals, are also available. However, these tend to be more expensive than the traditional round or square lanterns. Lanterns come in a wide range of sizes, from small 15 cm lanterns, through to large 50 cm lanterns and bigger.
Chinese Lantern Lighting Options
Candles are the traditional method of lighting Chinese lanterns. Candles provide a soft, warm, glowing light through the lantern, making for a spectacular illumination when used in a group together. For those who do not want to use candles for safety reasons, other lantern lighting options are available. Solar Chinese lanterns are the ideal choice for use as outdoor lighting as they are safe, easy to use, and inexpensive to run. LED Chinese lanterns suit indoor use and are more practical than candle lanterns.
Floating Chinese Lanterns

Floating lanterns are often called Chinese sky lanterns. Using a lightweight paper lantern lit with a flame, these lanterns are lit and release into the sky to float up and away. Once the flame burns out, the lanterns float back to the ground. Floating lanterns make for a spectacular scene when released in large numbers. This is a popular tradition for weddings and New Year's celebrations.
Chinese Lantern Colours
Chinese lanterns come in all different colours. Red lanterns are the most popular and ideal for celebrating the Chinese New Year. Often with special Chinese symbols, characters, or dragons, red silk lanterns are often kept for very special events. White Chinese lanterns are also quite popular. Other lantern colours are available, and make for wonderful decorations for special events, like weddings, parties, and Christmas and New Year's events.