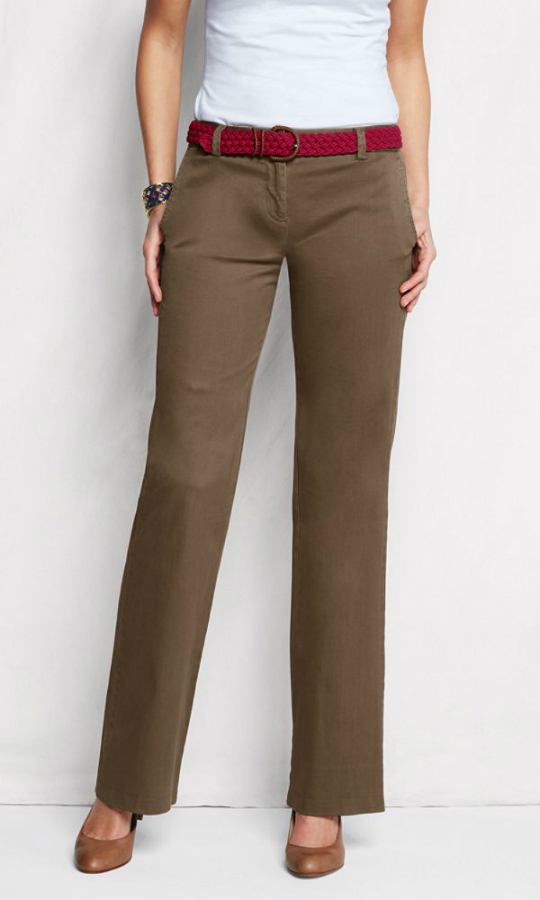 Chino cloth is a twill fabric that is unique in that it is durable, lightweight, comfortable, and versatile. Trousers made with chino cloth are casual but they also have the ability to be slightly dressy or professional when paired with the right apparel. Originally, the trousers were made only with one hundred percent cotton and non-stretchable, but now there are more varieties of the chino fabric because manufacturers have blended the cotton with synthetic materials to achieve more degrees of stretch and fits.
These trousers are a staple item in women's wardrobes because of their comfort and ability to go with nearly any combination of tops and shoes. Essentially, they are the perfect balance between casual jeans and dressy slacks. Finding them and buying them is not difficult, but does require some forethought and preparation. This guide will assist women in getting chino trousers by discussing how to find the right size, the different cuts of trousers available, what body types they flatter, and where to purchase them.
History of Chino Trousers
The word "chino" comes from the Spanish language and translates as "chinese". Chino trousers originated as strong cotton material trousers that were worn with military uniforms in the U.K. and the United States. They were called chinos because of the fact that the material was imported from China. In the United States, chino trousers are referred to as khakis. The khaki name came from the fact that the trousers were always dyed a khaki colour. The trousers were lightweight, but also durable which made them ideal for warm weather. The tan colour was used because it helped the soldiers blend into the Indian landscape during the British occupation of India.
Civilians adopted chino trousers in the early 20th century for semi-formal occasions. They were often seen in schools and colleges where casual clothing was still not acceptable. Today, the trousers are available in a multitude of styles and they are still popular with both men and women
How to Size Women's Chino Trousers
It is always important to make sure that trousers fit correctly because they can ruin the entire outfit by drawing everyone's eyes to their flaws. Finding the right size is fairly easy and only requires a few simple measurements. However, it should be noted that the cut of the trousers and the blend of materials will play a big part in how they fit. For example, slightly stretchy chinos will be tighter even though the size is correct. They are designed to be that way.
To find a size, measure the hips, waist, and inside leg in inches or centimetres. Then refer to the chart below. If this is not possible, pull out several pairs of old trousers that still fit and see what sizes they are.
| | | | | | | | |
| --- | --- | --- | --- | --- | --- | --- | --- |
| UK SIZE | 6 | 8 | 10 | 12 | 14 | 16 | 18 |
| Hips (cm) | 60.5 | 63 | 68 | 73 | 78 | 83 | 90.5 |
| Hips (cm) | 23.75 | 27.75 | 26.75 | 28.75 | 30.75 | 32.75 | 35.75 |
| Waist (cm) | 86 | 88.5 | 93.5 | 98.5 | 103.5 | 108.5 | 116 |
| Waist (in) | 33.75 | 34.75 | 36.75 | 38.75 | 40.75 | 42.75 | 45.75 |
Rather than list the actual inside leg length on their trousers, manufactures list them as short, regular, or long. Measure from the crotch to the middle of the heel to figure out which category of trouser lengths to look for.
| | | | |
| --- | --- | --- | --- |
| UK Size | Short | Regular | Long |
| Inside leg (cm) | 76 | 81 | 86 |
| Inside leg (in) | 30 | 32 | 34 |
Before selecting an inside leg category, consider what the trousers will be worn with. Women who want semi-formal trousers to wear with blouses and high heels should look for trousers that are a little longer, to accommodate for the extra height of the heels.
Types of Chino Trousers for Women
After determining what sizes to look for, the next step is to figure out what type of chinos to get. There are different cuts, styles, and colours. The chart below lists the available options.
| Type of Chino Trousers | Description |
| --- | --- |
| | Trousers that flare out very slightly after the knees to accommodate for boots or larger shoes |
| | Characterised by large patch pockets on the sides of each thigh. Convenient for carrying around items such as wallets or mobile phones. These can only be worn in casual settings |
| | Flared trousers widen more drastically after the knee than the boot cut chinos do |
| | There are no pleats on the front. These have a clean cut look. They can be casual, semi-formal, or professional |
| | Pleats run down from the waistline in order to help the trousers fit more comfortably. These are professional or semi-formal, but not casual |
| | Relaxed fit trousers are semi-loosely fitted and comfortable. They are flattering because they do not hug the legs so they hide body blemishes |
| | Slim fit trousers are tighter and hug the legs. However, they are not form fitted like skinny jeans are |
| | Straight cut chino trousers fall in a straight line from the waist and are comfortable as well as attractive |
Do not stress about which cuts are best worn at different occasions. The majority of the chino trousers can be dressed up or down despite their cut. The only exceptions to this are the cargo trousers and the pleated trousers.
Select Flattering Chino Trousers
The biggest hassle with shopping for any type of trousers is finding ones that compliment a figure. Every woman is shaped differently which makes it hard to figure out which trousers each individual should look for.
| Body Type | Description | What to Wear |
| --- | --- | --- |
| Petite | Petite women are proportionately smaller than average all over, and are under 5 foot 3 inches tall | Wear slim fitting chino trousers and avoid anything that is too baggy. The tighter trousers will give the illusion of height |
| Plus Size | Plus sized women have voluptuous, curvy figures and wear sizes XL and over | Select wider legged trousers such as the straight cut and the relaxed fit. These will balance the figure out and flatter the legs |
| Rectangular | Characterised by minimal curves with hips, waist, and an upper torso that are the same width | Add curves to the body by getting trousers with pleats and a nipped waist. Boot cut and flared trousers will also help add curves |
| Tall | Women over 5'8" are considered to be taller than average | Stay away from tight chinos that make the legs look lanky. Stick with straight cut, relaxed fit, or boot cut trousers. |
| Triangle | Women with a lower body that is proportionately larger than their upper body | Only wear chino trousers that do not draw in after the hips. Straight cut trousers will create lines that reduce the size of the hips, rear, and thighs |
Choosing flattering pants that women feel comfortable in will help them feel confident and enjoy their day more rather than worrying about how their trousers make them look.
Where to Shop for Women's Chino Trousers
Most women know that shopping for trousers is difficult because it is hard to find pairs that appeal to them, flatter their body, and are affordable. Brands also constantly change how they make their trousers so what fits one year, may not fit the next year and shoppers have to start all over trying to find what they need. Going from shop to shop can get tedious, especially since there are usually only a few styles of chinos available at each location. The easier solution is to shop online because women can browse through thousands of products rather than just a few at each shop. Websites like eBay allow ladies to stay at home and make better decisions on what they want because there are more options available to them.
How to Purchase Chino Trousers on eBay
Start on the eBay homepage and use keywords to search for what you want. More general searches like "chino trousers" will bring up far more results to look through than specific searches such as "women's blue cotton chino trousers". Now you can either begin shopping directly, or you can narrow down the listings shown by choosing your trouser size, which brands of chinos you would like to view, and the colours you like.There are always great deals to be found on eBay so if you like to bargain shop, enter in your price range and then sort the listings based on the lowest price first. Another option is to look at all the used trousers as well. Pre-worn clothing that has minimal wear and tear can be much less expensive than brand new apparel.
Conclusion
Those who have discovered the benefits of chino trousers make them a regular clothing item in their wardrobe. Their ability to be transformed from casual to semi-formal makes them irreplaceable and popular. They have a sophisticated look even when worn casually that gives women the appearance of poise and refinement, and high heels, modest jewellery, and a dressy blouse can enhance them even more. Women who add these trousers into their daily lives cannot go wrong. The only requirement is that they find chinos that fit them properly and flatter their figure. Although these were once difficult tasks, this guide has shown women how they can accomplish their goals and quickly purchase chino trousers that are perfectly suited to their body and lifestyle.