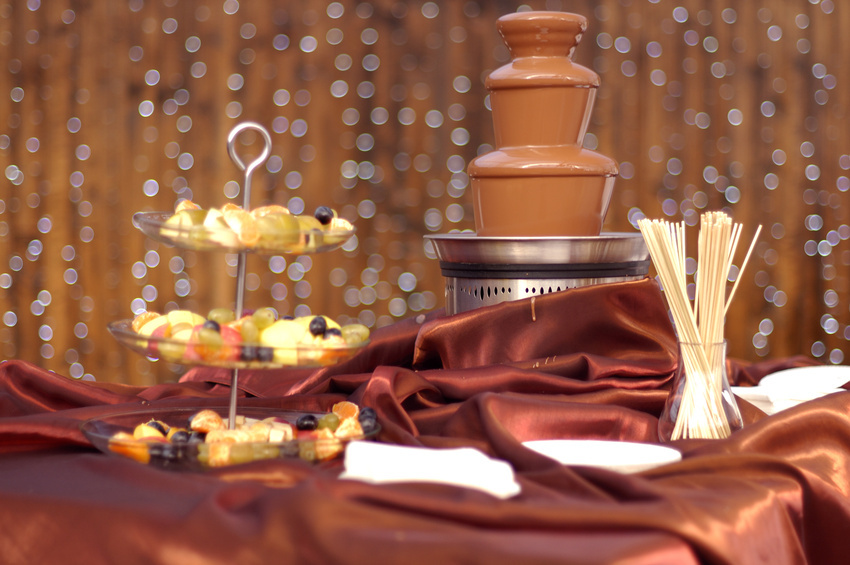 A chocolate fountain is not only every chocoholic's dream, but can also turn any casual buffet into something fancier. While it used to be that only professional caterers could afford these devices, chocolate fountains are now widely available to homeowners. With so many models and types on the market, buyers may find it difficult to choose one. However, by doing the necessary research, they can make the right decision and purchase the chocolate fountain that suits their needs.
Choose the Right Type

A chocolate fountain works by pushing up pre-melted chocolate from the heated base through the main pipe and then allowing it to flow down naturally to the bowl, where it can cycle back through the fountain. Chocolate fountains usually come in two types, depending on the use: commercial and home versions. A commercial chocolate fountain tends to be larger and can churn up to 15 kg of chocolate at a time, while the home version is smaller and has plastic parts, though there are some with stainless steel materials. Those who want to serve up a lot of chocolate or perhaps use it as part of their business should purchase a commercial model, while a home version would suit those who want to use it occasionally for parties or potlucks.
Find a Quiet Operation Model
A chocolate fondue fountain has at least one moving part, the auger or pump, which siphons the liquid up to the top of the unit. This action can make a lot of noise, which is why a quiet operation or whisper quiet model is a good idea, so the fountain won't disturb guests. Plus, a fountain that doesn't make any noise is usually a sign of a high-quality model.
Check the Levelling Mechanism
It's always a good idea to use the fountain on a level surface; however, this may not always be possible. Some people might want to take the chocolate fountain machine to parties at other people's homes or even outdoor events and they won't know the set-up in advance. In such a case, a levelling mechanism or adjustable feet would be very useful. That way, the owner can adjust the base as needed to ensure the fountain can operate efficiently, no matter where they place the unit.
Materials are Important

The fountain's materials are also an important consideration. Most commercial fountains use stainless steel, which ensures an even temperature and durability. However, these are often harder to maintain and typically not dishwasher-safe. Particularly if the manufacturer attached the heating unit to the chocolate fountain base itself, it definitely must be hand-washed so as not to destroy the electronics inside. Plastic fountains, on the other hand, are usually dishwasher-safe, which makes for easy clean-up, but they don't last very long. Buyers should decide which would best suit their needs so they can choose a fountain that can serve them well.