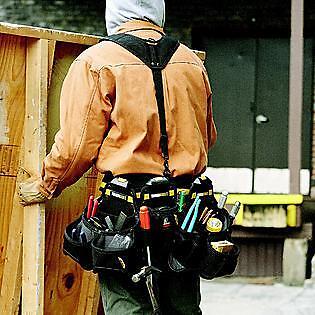 Which is best for you, tool rig or
tool apron
?
Both styles of are designed to hold and organise many more tools than can be carried by hand and provide all the convenience of having all your essential tools within arm's reach. They each help get the job done with greater ease, efficiency and of course safety, but can offer other different and valuable benefits depending on your profession, preferential choice and work situation.
The basic structure of a tool rig is a very tough work belt that buckles up at the front and has pouches and loops added which may be removed and used separately or moved around for the most convenient and comfortable positioning and to create room for additional tool holders.
The 'modular components' format is the most versatile, allowing for almost complete customisation if you wish. The separate components supplied usually have slightly larger capacity than those found on a tool apron, providing extra storage space for tools. Tool rigs are typically more expensive for equivalent materials and size. With wide stronger back supports, often padded, tool rigs can come with additional support through a suspension system. This can either be from the beginning or added later to tool rigs with 'D' loops.
It is sometimes possible to order a hand specific rig where best tool locations for either the right handed or left handed people can be provided for. This helps ensure an even greater level of convenience when working in any environment and provides the extra customisable aspect that so many trade professionals require.
No front obstruction of your legs makes a tool rig perfect when climbing or moving around a lot on the job. The greater weight carrying capability is useful, particularly if the suspension option is taken - spreading it across shoulder straps which themselves are often padded - essentially it is capable of holding more weight with greater safety and comfort than an apron.
This is the best option of work belt for anyone working for long periods up ladders and an ideal choice for builders, roofers or others involved in outside timber working for basic structures and framing. Popular in the USA, rigs simply have the versatility to best match one's own personal 'spec'. Exceptional storage mixed with a high level of convenience has made tool rigs an essential part of any workman requiring a wide variety of tools and materials for any one job.
A tool apron is again based principally on a belt, but this time like a domestic apron, worn at the front and buckling up at the side or back. Having permanently fixed and riveted pockets and pouches they are not hand specific with the storage on both sides almost always in a symmetrical formation. They are particularly good in any situation where you need a select few tools very close at hand. Typically, tool aprons provide a cost-effective alternative to the rig equivalent, making them popular with many tradesmen and DIY enthusiasts.
Traditionally the most popular choice in the UK, tool aprons are lighter and usually easier to remove, some coming with quick release buckles. The fixed pouches cannot move to uncomfortable or difficult positions and the tool aprons can come in smaller sizes than the tool rigs and may be better suited for certain trades.
Advantages Of A Tool Belt
Many of the oil tan leather or suede leather tool aprons have open pouches capable of holding small hand tools, nails, screws and accessories. The leather style tool aprons will usually have a couple of hoop rings for hammers and also an integrated tape measure holder making them popular with carpenters and general builders.
Tool aprons are can also made from lightweight canvas materials and these are popular for their flexibility and comfort. These are also a good value option as they are generally cheaper than the leather versions of tool apron and suit trades with lighter work tasks and DIY enthusiasts.